UPDATE: Congratulations to Rhonda Gentry, assistant principal at Lingle Middle School. She won the two SPAMALOT tickets and dinner at Kosmos. Her 'knight' is so excited to go with her!

Awesome giveaway today, girls! If you like to go to the theater AND you like to laugh, you'll definitely want to throw your name in the hat for these tickets — TWO opening night tickets to see the hilarious SPAMALOT musical at the Walton Arts Center on Friday, November 19th at 8 p.m. Plus, we're throwing in a dinner gift certificate at nearby Kosmos Greekafe!! Yum.
You may remember that this show came to Northwest Arkansas last year and was a HUGE hit with audiences. So they're back again this year to entertain those of us who weren't lucky enough to score tickets to the show last time around.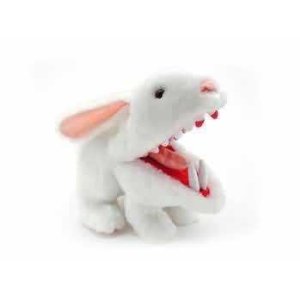 If you have a husband or boyfriend who thinks he doesn't enjoy the theater, this is THE show that will change his mind. And if he likes Monty Python,  this is a MUST-SEE show. So we'll call this a "Boys' KNIGHT Out" giveaway, and if you win the tickets you can either go with your knight in shining armor or let him take a buddy who loves Monty Python, too. Imagine all the "cool wife" points you'd score with this one. (Speaking of cool, this little plush "killer rabbit" which is featured in the movie is an item we found on Amazon.com. Click on the fierce bunny to get details on it. Great holiday gift idea for a Monty Python fan.)
Tickets range in price from $59 to $79. We're including a dinner gift certificate for Kosmos Greekafe on Dickson Street, so the dinner plus the two tickets mean this is a FREE date night that would normally cost you nearly $200!!
About the show: SPAMALOT racked up its share of Tony Awards, including the one for Best Musical. It's a story about King Arthur and the legendary Knights of the Round Table. It's based on the screenplay of the classic movie "Monty Python and the Holy Grail," which is laugh-out-loud funny. SPAMALOT features a chorus line of dancing divas and knights, Frenchmen with gas, killer rabbits and a legless knight.
There will be three showings of SPAMALOT at the Walton Arts Center: Friday, November 19th at 8 p.m.; and Saturday, November 20th at 2 p.m. and again at 8 p.m. Click HERE for more ticket info or to buy tickets online. You can also call the Box Office at 479-443-5600.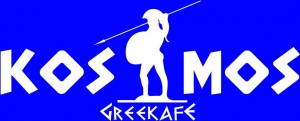 About the food: If your guy is a real man's man, then we know he'll love the food we've picked out to go with this comedy. It's a big, juicy Gyro at Kosmos Greekafe, which is just steps away from your theater seats at the Walton Arts Center. They not only serve big manly gyros but also lots of incredible salads and pitas, the Kosmos burger, Greek iced coffee and so much more. Click here to see the Kosmos menu.
HOW TO ENTER: To throw your name in the hat for the tickets and the dinner gift certificate, just click the orange comment button below and tell us what makes your "knight in shining armor" laugh out loud. The kids? Your jokes? The Three Stooges? Can't wait to hear your comments. But remember that giveaways are always chosen at random, so don't feel like you have to write the funniest comment to win. You can also e-mail your entry to us at giveaways@nwaMotherlode.com.
HOW TO INCREASE YOUR ODDS: Remember that your odds of winning go way up if you help us out by spreading the word about this giveaway. You get an extra chance to win for each person you tell. So send an e-mail to friends or family, and be sure to put giveaways@nwaMotherlode.com on the CC line of your email so we can give you proper credit.
Good luck in the drawing! And pass the Spam!