Mamas, we know most of you hate doing laundry as much as we do. We've talked about it more than once over the past 13 years since nwaMotherlode launched.
So we were thrilled to hear about a wonderful wash and fold service in Northwest Arkansas. It's called the Suds Club and membership definitely has its benefits: you never have to do laundry again.
Of course, some of you may like doing laundry. We get that. But what about your friend who just had a baby? Or the one who's been sick for a few weeks? We're betting she'd appreciate some wash and fold gift card love!
The Suds Club is available throughout Northwest Arkansas. There are two businesses under one umbrella, and they work in tandem to offer a variety of services, including free pickup of your dirty laundry – then free delivery of your clean, folded (or dry cleaned) laundry. Today Cleaners, in Washington County, is the sister company to Old Town Dry Cleaners, in Benton County. As they like to say, professional care and high-quality service runs in the family.
Speaking of family, Mark & Dana Mathias own both of these dry cleaning businesses. They had a life change about three years ago when Mark retired after 34 years from JB Hunt Transport corporate. They sold their small farm in the Brightwater Valley and bought the established Old Town Dry Cleaners (Benton County) and Today Cleaners (Washington County).
They are very hands-on owners and have a great team of seasoned employees to work with. They have three grown children and are looking forward to their first grandchild in July! Quality and customer service is their #1 priority. "We believe in treating our customers the way we want to be treated," Mark said.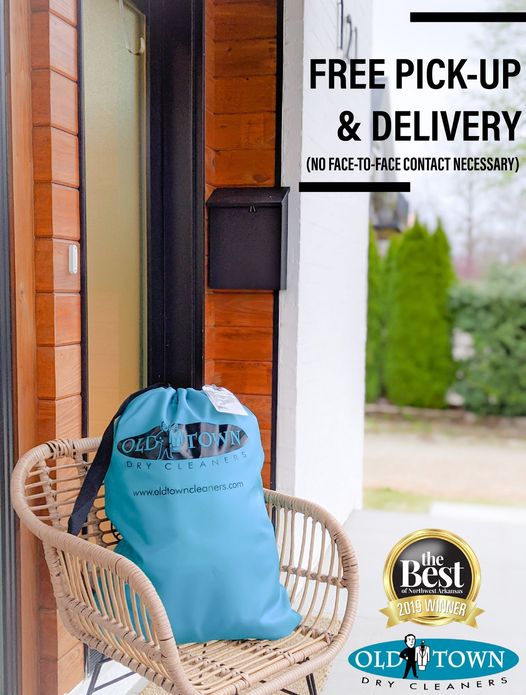 How it works: The Suds Club is a monthly subscription program and you can choose which package works best for you, based on the size of your family. Members receive a wash-and-fold bag fit to their plan, transparent monthly billing, and a stress-free service plan fit. Mark told us they're meticulous about separating all washer and dryer-friendly items by color, treating stains, and folding your laundry with love and care. They also always check pockets, just like a good laundress should. (Mark says they've found all kinds of interesting things in pockets!)
If you've ever used a wash and fold service before, you'll know that .59 cents a pound is pretty darn good!
Old Town and Today Cleaners also offer dry cleaning, shoe/zipper repair, alterations, gown preservation, leather, fur and rug cleaning. Oh, and they also clean uniforms, which is music to our ears.
Contact Mark at (479) 586-0061 with any questions or to get started with the Suds Club at  Old Town Cleaners or Today Cleaners.
P.S. We *might* just have a special laundry-based giveaway coming up soon, mamas. Stay tuned ….