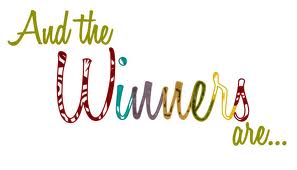 When we launched the first-ever Mom's Choice Awards, in partnership with Kid's Directory of Northwest Arkansas, we had no idea we'd be swamped with more than 19,000 votes! It's incredible. The lesson here is: When you want good opinions, ask a lot of mamas!
This massive collection of preferences has resulted in the 2012 Mom's Choice Award winners. There is a winner and a runner-up from Washington County and from Benton County  in 35 categories, as determined by votes submitted by the readers of Motherlode and of Kid's Directory.
Feel free to save this link or print out the list so you can refer to it year-round. That way you'll always know which business to check out when you need a mom-friendly company in Northwest Arkansas. We'll be writing about several of these Mom's Choice Award winners during the next few months so you can learn more about them and what they offer.
Without further adieu, here's the list. Congrats to all the winning businesses!
Best Vet Clinic
Washington County
Wedington Animal Hospital
Stanton Animal Hospital
Benton County
Faithful Friends Animal Clinic
New Hope Animal Hospital
Best Shoes
Washington County
Warren's Shoes
Shoe Carnival
Benton County
Warren's Shoes
Dillard's
Best Family Practice Clinic
Washington County
First Care – MANA Clinics
Northwest Family Care
Benton County

Mercy Clinics
WellQuest Medical Clinic & Spa
Best OB/GYN
Parkhill Clinic for Women
HerHealth by Washington Regional
Benton County
Mercy Clinics
Pinnacle Women's Health Care
Best Martial Arts Studio
Washington County
Mid-America Karate Academy
Impact Martial Arts
Benton County
Mid-America Karate Academy
ATA Martial Arts
Best Cheer Instruction
Washington County
Williams Center Dance & Gymnastics
Power Cheer Athletics
Benton County
Infiniti Athletics
Aspire Gymnastics Academy
Best Private School
Washington County
The New School
Shiloh Christian School
Benton County
St. Vincent de Paul Catholic School
Providence Classical Christian Academy
Best Tutoring Service
Washington County

Kumon
Learning Rx
Benton County
Kumon
Learning Rx
Best Weight Management Clinic
Washington County
Roller Weight Loss & Advanced Surgery
Metabolic Research Center
Benton County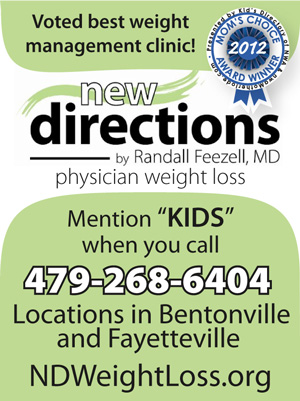 New Directions Physician Weight Loss
Metabolic Research Center
Best Art Studio
Washington County
The Art Location
Painting with a Twist
Benton County
Imagine Studios
Crafty Cottage
Best Cosmetic & Spa
Washington County
Glo Limited NWA
LaVida Massage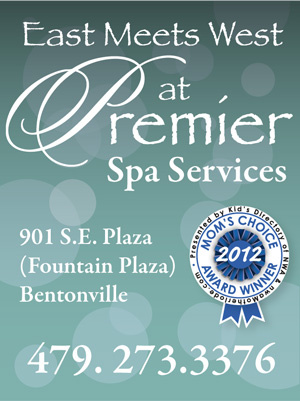 Benton County
Spa Botanica at Embassy Suites and Premier Dermatology & Skin Renewal Center & East Meets West at Premier (tie)
Elite Day Spa
Best Photographer
Washington County
Amber Lanning Photography
Rachel Tate Photography
Benton County
Lisa Mac Photography
Jessica Ritchie Photography
Best Family Law Practice
Washington County
Tolley & Brooks, PA
Taylor Law Partners, LLP
Benton County
Kelley Law Firm
Matthews, Campbell, Rhoads, McClure & Thompson, PA
Best Hair Salon
Washington County
Freshair Salon
Shag Hair Salon
Benton County
Reflections Salon & Day Spa
Cabin Red, A Salon and Brieshi Salon & Spa (tie)
Best Music Lessons
Washington County
Stephanie's Musique and Suzuki Music School (tie)
Ben Jack's Arkansas Music
Benton County
Arkansas Musicworks
Ben Jack's Arkansas Music
Washington County
Butterflies & Frogs
Central United Methodist Church, Fayetteville
Benton County
Wild About Learning Academy
The Children's Hour
Best Toy Store
Washington County
Toys R Us
Melody's Choices
Benton County
Dilly Dally's
Melody's Choices
Best Mother's Day Out
Washington County
Cross Church, Springdale
First School, First United Presbyterian Church
Benton County
Central United Methodist Church, Rogers
Cross Church, Pinnacle Hills Campus
Best Date Night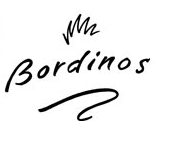 Washington County
Bordinos Restaurant
Mermaids Seafood Restaurant
Benton County
Bonefish Grill
Ruth's Chris Steak House
Best Kid-Friendly Restaurant
Washington County
Chick-fil-A
Red Robin
Benton County
Chuck E. Cheese
Mad Pizza
Best Drive-Thru
Washington County
Chick-fil-A
Sonic
Benton County
Chick-fil-A
Sonic
Best Birthday Place
Washington County
Boingo Bounce
Chuck E. Cheese
Benton County
Fast Lane Entertainment
Jump!Zone Party Play Centers
Best Maternity Clothes
Washington County
Two Chic Maternity Boutique
Target
Benton County
Motherhood Maternity
Target
Best Children's Clothing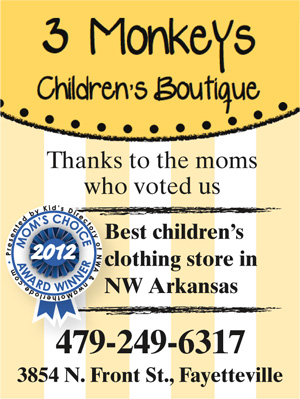 Washington County
3 Monkeys Children's Boutique
Gymboree
Benton County
The Children's Place
Gap Kids
Best Dance Lessons
Washington County
Williams Center Dance & Gymnastics
Rhythm & Shoes Dance Studio
Benton County
All That Dance
Ballet Westside Dance Studio
Best Gymnastics Lessons
Washington County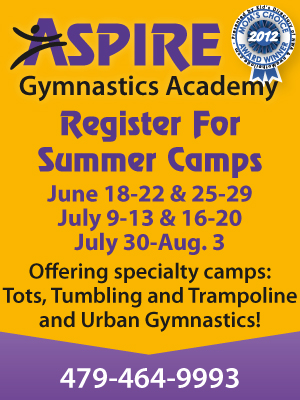 Williams Center Dance & Gymnastics
Hopes & Dreams Gymnastics
Benton County
Aspire Gymnastics Academy
The Little Gym of Rogers
Best Pediatric Clinic
Washington County
NWA Pediatric Clinic — A MANA Clinic
Northwest Health System Best Start Pediatrics (Willow Creek)
Benton County
Mercy Clinics
Bentonville Pediatrics, PA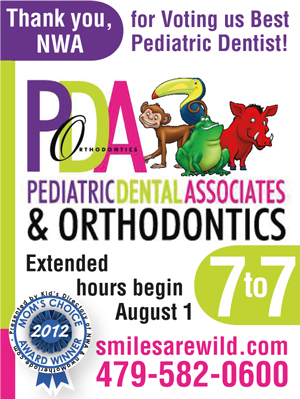 Best Pediatric Dentist
Washington County
Pediatric Dental Associates & Orthodontics
Pediatric Dentistry, Dr. Jeff Ward
Benton County
NWA Pediatric Dental Clinic, Dr. Jeff Rhodes
Pediatric Dentistry, Dr. Brent Caple
Best Orthodontist
Washington County
Roblee Orthodontics, Dr. Richard D. Roblee
Storms Orthodontics, Dr. Darrin Storms
Benton County
Dr. Derek Brown, Orthodontics Exclusively
Arkansas Orthodontics (Razorbraces)
Best Handyman
Washington County
Handyman Connection
Cornerstone Home Services
Benton County
Handyman Matters
Mister Sparky
Best Appliance Store
Lowe's
Sears
Benton County
Metro Appliances & More
Lowe's
Best Gift Store
Washington County
Melody's Choices
Bella's Gifts
Benton County
Kate Austin Jewelry & Gifts
Signed Sealed Delivered
Best Housecleaning
Washington County
NWA Natural Cleaning
ServiceMaster
Benton County
Merry Maids
Zecena Cleaning
Best Carpet Cleaning
Washington County
Stanley Steemer
Sears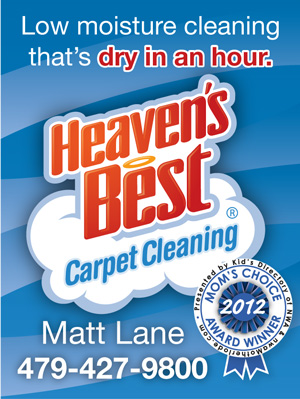 Benton County
Stanley Steemer
Heaven's Best Carpet Cleaning
Best Preschool
Washington County
The New School
First School, First United Presbyterian Church
 Benton County
WILD About Learning Academy
The Children's Hour