Mamas, we want you to meet the new owner behind Yum Yo's Frozen Treats in Northwest Arkansas, the sponsor of our monthly nwaMotherlode calendar of events.
We met Connie Jo Bowen many years ago at the Northwest Arkansas Boutique Show and immediately connected with this kind-hearted, fun-loving person. We were so happy to hear that she was running two of our favorite frozen treat shops!
Get to know her (and Yum Yo's!) better in this Q&A:
What inspired you to switch careers and buy the local Yum Yos stores?  
​Brad and I were looking for something to occupy my time after retirement that would give me flexibility in my schedule. I've always loved eating at Yum Yo's, so when I found out the businesses were for sale, I was thrilled.
We love the products and the idea of selling "fun & smiles" and being able to offer part-time jobs to local teenagers. We hope to teach them team work and the importance of a good work ethic and excellent customer service. It has been a perfect fit and now I can enjoy a frozen treat at any time!
What are some of your favorite moments as a "fun & smiles" provider?
It is always fun to watch the kiddos get excited about picking their flavor of ice cream/yogurt and making the decisions of their toppings. Some kids will run from the front door to grab their cup and are so excited to make their masterpiece.
What new changes do you see on the horizon?
The first year (March 2020 until April 2021) was spent navigating a new business venture in the middle of a pandemic and quite honestly, we just propped ourselves up and didn't make any changes just to survive and learn the business.
Since April, we have worked with the University of Arkansas Small Business and Technology Development Center to design a new logo which will be introduced soon on social media and in-store signage. We have not made many changes, we still have the same great flavors of FroYo that we change out about every two weeks and a great variety of toppings.
In the next few weeks we will be changing our process for marketing frozen drinks and focusing on those a little more. Most people don't realize we have fruit smoothies, frozen coffee drinks and shakes as well as parfaits.
Do you cater?  ​
We love to cater for any event and we have "All You Can Eat Parties" that allow a group of 10 to eat all they want for an hour for one set price. We also love to GIVE BACK and will be happy to accommodate fundraisers by giving back a percentage of our sales to churches, schools, sports teams, health causes and so on.
What's your favorite thing on the menu? Toppings?

​I love our fruit smoothies! We offer 7 different fruit flavor bases that customers can customize with their favorite flavor of yogurt. My favorites are Pina Colada mixed with Raspberry Dole Whips or Mango mixed with Birthday Cake. YUM! Our toppings bar offers an immense variety of fresh fruit, candy and nuts — I always top-off with coconut, Caramel Truffles, Oreo Cookies and chocolate syrup.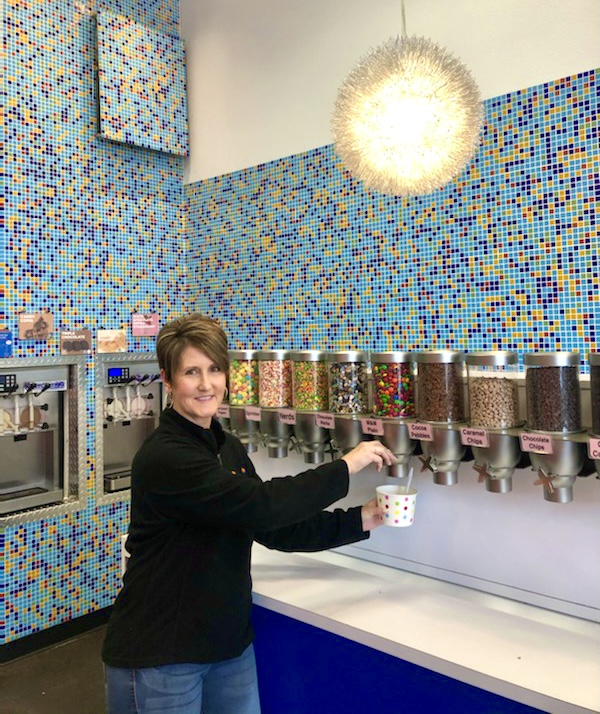 Tell us about your employees.

The Yum Yo's Team always keeps me on my toes! They are a great Team of young adults who always ask great questions, keep the stores clean, and engage with our customers to offer flavor suggestions and help. Sometimes it can be overwhelming for a "newbie" to get started building their FroYo masterpiece and the Team is always there to help.
Tell us about your family.
Brad and I are graduates of Springdale High School (sometime in the early 80's, ha) and we have 5 boys ranging from ages 30 to 16.  We have 2 granddaughters and live on a farm west of Tontitown.  We all like the outdoors; camping, music festivals/concerts and big family dinners centered around meals prepared on the Green Egg or over an open fire.
What do you appreciate most about living in NWA?
Brad was born here and I moved to Arkansas from Colorado in the 9th grade. We love that our family members (all but one son) are still local. We have seen enormous growth in NWA over the years and appreciate there is still a "home town" feel with many additional benefits of parks, greenway trails, expanded sports facilities, music venues and growth in restaurant choices.
We are thankful that we have the opportunity to operate two small businesses where we grew up, provide jobs, support economic development and put smiles on the faces of our customers by offering a great-tasting frozen-treat.

There are two Yum Yo's locations (Rogers at the Pinnacle Hills Promenade Mall or in Fayetteville at the Northwest Arkansas Mall). You can find frozen yogurt, parfaits, Italian ice, gelato or even a Starbucks Frappucino blended with frozen yogurt (called FroYocinno). They have a BIG menu. Some of the other things you'll find on the menu include Dole Whips, Red Bull power slushes, fruit smoothies, floats, and specialty frozen yogurt pies. They even have non-gluten, dairy-free and vegan options on the menu!