We're so excited to have a calendar on nwaMotherlode now! If you look at the categories on the left, it's right under the giveaways girl.
Here's our first calendar installment for May (there are still some great events coming up so check it out!). We'll be publishing a June calendar late next week, so please email us information about next month's events to calendar@nwaMotherlode.com. We'll be sure to add.
One of the events coming up this weekend is the Block Street Block Party: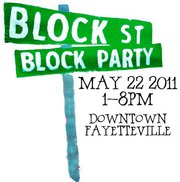 Keep Fayetteville Funky! The party will kick off with a ribbon cutting to recognize the recently completed street renovations on Block Avenue. After that, the street will be blocked off to make room for a diverse lineup of art, music, and other activities. Also in the works are a tie-die booth, a flash mob, hula hooping, puppet shows, African dancers, a Parisian market, face painting for kids, trunk shows, and a Tibetan prayer-flag workshop.
Date: Sunday, May 22
Time: 1 – 8pm
Location: Block Street (Downtown Fayetteville)
More Info: www.facebook.com/blockstreetbusinesses