July 2022: Northwest Arkansas Calendar of Events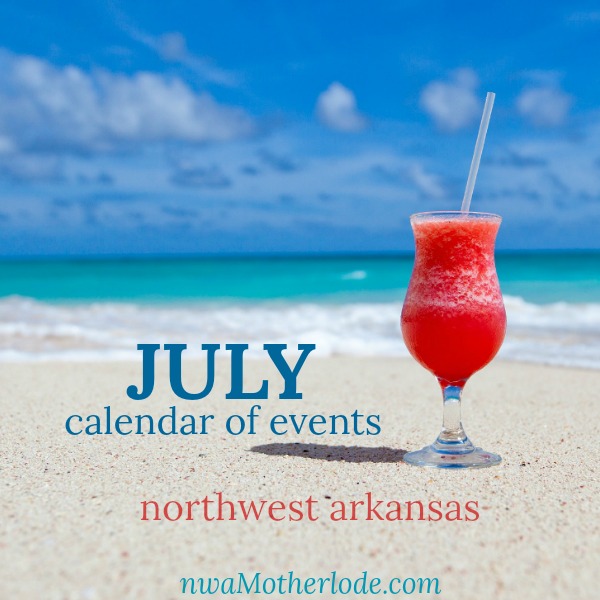 July is bursting with events, mamas! Here's our list of where to see 2022 fireworks. We also put together a Summer 2022 bucket list for even more ideas for things to do in Northwest Arkansas!
There are lots of other events happening around town, too! Click on the name of any event below for more details:
Partners in Play at the Amazeum is designed especially for children ages 6 and younger to explore, play and discover with their adult caregiver. July's theme: Block Party! It's a build-a-thon! Come build and create with a variety of materials. Partners in Play is included in daily admission and Amazeum membership. Limited number of play baskets for Partners in Play are available on Mondays and Wednesdays – Saturdays from 10-12 pm in Studio Grow.  
Date: Throughout the month of July (the themes change each month)
Times: Amazeum times, Monday 10 am to 5 pm; Tuesday CLOSED; Wednesday through Saturday 10 am to 5 pm; Priceless Nights* Wednesday 4:30 to 7:30 pm; Sunday 1 to 5 pm
Location: Scott Family Amazeum, Bentonville
The 112 Drive-In will show Grease at 9 p.m. and Footloose after that. Prices $10 per person ages 13 & up, children ages 6-12 $5 each, and age 5 & under free.
Dates: July 1-2-3
Times: 9 p.m.
Location: 112 Drive-In, Fayetteville
First Friday is a monthly festival series featuring live music, food trucks, multiple family-friendly activities, and local vendors. The free community event welcomes all members of the community and is produced by the non-profit Downtown Bentonville Incorporated.
Date: July 1
Time: 11 a.m. to 9 p.m.
Location: Downtown Bentonville
Walmart is hosting a free, weekend-long event celebrating Jurassic World Dominion in theaters. Come by Walmart to experience fun Dino Domination activations from brands like Mattel, Dr Pepper, and Funko. Check out Jurassic World fan vehicles and meet a baby dinosaur.
Date: July 1-3
Time: Noon to 6 p.m. each day
Location: Pleasant Crossing Walmart, Rogers
Bring your bike to the Bentonville Public Library and they'll everything you need to decorate it. There will be crafts, a book giveaway, food, face painting, princess storytime and more. At 11:30 a.m. there will be a bike parade that will go past the Bentonville Square. This is a free event. Registration is required.
Date: July 2
Time: 9 a.m., bike parade at 11:30 a.m.
First Thursday on the square, an annual event series produced by Experience Fayetteville, is a free, community-centered event that features a combination of music, food, art, and fun.
Date: Thursday, July 7
Time: 5:30-9 p.m.
Location: Fayetteville Square
Visit Crystal Bridges for a day of multisensory exploration and experience the museum collection in a whole new way. Designed for guests with and without vision loss, this free, drop-in event features gallery activities that focus on access and inclusion by engaging all your senses. Come explore touchable maps, unique fabric textures, sounds, and more as the museum bring artworks in the permanent collection (and even the building itself!) to life in new and accessible ways.
Date: July 9
Time: 1-4 p.m.
Location: Crystal Bridges Museum, Bentonville
Pert Near Sandstone will perform on July 7. On the 14th, Brennen Leigh will be the featured concert.
Dates: July 7 & 14
Times: 7-9 p.m.
Location: Gulley Park, Fayetteville
Trike Theatre's Summer Musical Theatre Production Camp will present, Disney's Descendants: The Musical. Based on the popular Disney Channel Original Movies, Disney's Descendants: The Musical is a brand-new musical comedy featuring the beloved characters and hit songs from the films
Date: July 7-9
Time: varies
Location Thaden School Performing Arts Center, Bentonville
Nine-foot Public Art Installation to be Unveiled in Bentonville
The City of Bentonville's Public Art Advisory Committee (PAAC) has announced a new permanent, public art installation that will be unveiled July 14 on Main Street. The work, Found, is a 9-feet-tall sculpture featuring polished, steel-face letters that will form "Bentonville" in a stacked jumble. It was built by heartland-based artist, Timothy Jorgensen, and was selected by PAAC from among 23 large-letter proposals submitted by various artists.  
Found is the 17th permanent or temporary work introduced through PAAC in partnership with Visit Bentonville, contributing to the more than 130 public artworks throughout the city. The city adopted a formal policy about artwork in 2007 with the objective of encouraging residents and visitors to "encounter works of public art that will surprise and delight with artwork that celebrates the city's history, its entrepreneurial spirit, and growing diversity." 
Date: Thursday, July 14
Time: 5:30 p.m.
Location: Train Station Park, 400 S. Main Street, Bentonville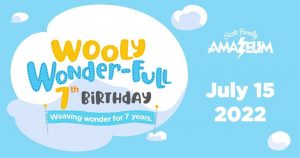 Wish the Amazeum a Wooly Wonderful 7th Birthday! They have promised festivities and fluffiness. The children's museum will celebrate in seven "wooly ways," explore each fleecy activity during  pop-up activities all day. Think Finger Knitting, Felting, making Pom Pom party hats, and more.
Date: July 15
Time: 10 a.m. to 5 p.m.
Come dressed as your favorite fairy or woodland creature. Before dark, community groups will offer engaging and fun activities like fairy house building, nature stations, face painting, giant bubbles, an obstacle course and more! There will be pony rides, a live mermaid, fairy, pirate and unicorn, plus butterfly stilt walkers roaming the grounds. Guests may bring blankets and lawn chairs. A variety of food trucks will be available. The Firefly Shoppe will have fairy wings, swords, wands, glow sticks, and other festival items for sale.
Advance tickets are $15 for adults and $5 for children 0-13. Tickets at the gate will be $20 for adults and $10 for children 0-13. Tickets are nonrefundable.
Date: Saturday, July 16
Time: 5-10 p.m.
Location: Botanical Garden of the Ozarks
In honor of Harry Potter's birthday, the Friends of the Elkins Public Library is partnering with the City of Elkins Parks & Recreation Committee to host a themed movie night in the park. Harry Potter and the Sorcerer's Stone will be shown at Bunch Park. The evening's concessions (including themed Cookie Decorating kits from Nellie B's) will be a fundraiser for the Friends organization. In addition to themed snacks, there will be wand making, a photo booth and more. Harry Potter Movie Night is part of the City of Elkins 2022 Outdoor Family Fun Series.
Date: July 23
Time: Activities and concessions start at 7:30 pm, and the movie will begin around 8:30 pm.
Location: Bunch Park, Elkins
The Friendly Bookstore is an all-volunteer nonprofit operated by the Friends of the Rogers Public Library, and all proceeds go to benefit the Rogers Public Library. The bookstore is hosting a grand opening event to celebrate a new location at 1114 W. Poplar Place in Rogers. There will be food, music, an Encanto storytime and sing-along, bookmark crafting, lawn games, face painting, a book sale and more.
The bookstore is stocked with donations and able to offer books, games, puzzles, CDs, DVDs, VHS, and greeting cards at bargain prices for the community. Proceeds from bookstore sales include support for the library's "Lunch and Learn" programs, technology additions, staff development, "Summer Reading Club," and Student eCards (cards are given, free of charge, to all students in the Rogers School District. These cards allow access to the library's online resources, including databases and downloadable or streaming resources).
The Friendly Bookstore has been able to provide books to local organizations working in the area of literacy, and to libraries and schools which have been devastated by natural disasters.
Date: Saturday, July 23
Time: 10 a.m. to 2 p.m.
Location: The Friendly Library's new building, 1114 W. Poplar Place, Rogers
There will be free ice cream samples and a fierce ice cream eating contest as Yarnell's Ice Cream brand takes over the Farmers Market.
Date: July 30
Time: 7:30 a.m. to 1 p.m.
Location: Downtown Bentonville
The Encanto sing-along film concert is coming to Northwest Arkansas.
Date: July 30
Time: Gates open at 6 p.m. and the music starts at 7:30 p.m.
Location: Walmart Amp, Rogers
We the People: The Radical Notion of Democracy recently opened at Crystal Bridges and will remain on view through Jan. 2, 2023. The family-friendly programming for this free exhibition includes museum-wide activities to coincide with Constitution Day on Saturday, September 17. The exhibit is free, but you'll need to get a timed ticket.
Date: Now through Jan. 2, 2023
Location: Crystal Bridges Museum, Bentonville