In this nwaMotherlode segment, Savvy Banking, you'll find the answers to a variety of pressing money questions submitted by Northwest Arkansas moms. Our sponsor, First National Bank of NWA, always does a great job of finding the best person at the bank to answer these questions.
This month's question is:
Q: What determines my 'net worth'?



A: Written by Kyle Kerwin:
"The truth in my verses, versus, your metaphors about what your net worth is" – Jay Z
Yes, a middle-aged boring banker just dropped Jay Z at the beginning of his post.  Well, "I'm just schooling the youth. They can't lock me down 'cause my tool is the truth."  Whaaattt? NWAMotherlode.com is about to crazy up in here today!
I can't help it that I find inspiration about an article on net worth in the rap industry. If there's a more entertaining area to look, then I challenge you to find it for me. For my money (no pun intended), the lyrical geniuses in the rap industry provide some interesting commentary about personal net worth.
There is some serious braggadocio that goes on, and hilariously many of them are not good at calculating their own net worth. Many of them way overestimate (shocker).  If you get a free moment you can check out this entertaining one and a half minute video produced by Bloomberg News on some of rap's biggest names and how accurate they are in measuring their own net worth.
Even if you don't watch the video, it doesn't take a genius to know that net worth is an easily-inflatable number, because much of it can be related your own estimate of what your assets are worth. What is net worth? Simply put, your personal net worth is your personal assets minus your personal liabilities.
Assets are anything of economic value owned with an expectation that in the future it will provide a potential benefit. Assets can include cash in the bank, real estate owned, stocks, bonds, retirement accounts, autos, recreational vehicles, extensive collections of jewelry, art, etc.  Like I mentioned, assets can be difficult to value, but once you've listed your assets and what the values are you add those figures together to get your "total assets."  The internet is a great tool when you're trying to estimate values on your assets.
Liabilities are your legal debts or obligations. Liabilities can include loans like home, auto, personal, etc, and credit cards. And let me answer a commonly asked question by the "funny" customers I have – no, your spouse or your children are not liabilities, BUT if you do have student loans then by all means those should be included as well!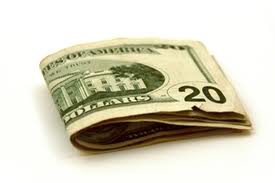 If you co-signed for a family member on a loan or with partners (sometimes referred to as contingent liabilities) you need to list that as well. So, if you signed with Uncle Rico on a loan and he bails to Mexico to live life as a nomad wandering the beaches with no intentions of paying back the debt, then I will be calling on you to make good on the remainder of the loan. Once you have listed your creditors and how much you owe each one then you add those figures together to get your "total liabilities."
Once again, your total assets minus your total liabilities equals your net worth (TA-TL=NW).
It's advisable to update your personal financial statement at least yearly especially if you have a significant net worth and/or borrow money frequently for investment or business purposes. There are many places online and applications for your phone that implement a net worth tool that can help you figure out yours.  There are .pdf forms that you can fill out in Adobe, or print up and fill out by hand.
Many people will even use basic software like Microsoft Office and type out their personal financial statement. At First National Bank of NWA, we have a standard Personal Financial Statement that we can email or print up for customers and prospects to fill out to figure out net worth.
The personal financial statement is something those of us in the commercial lending department see and review on a daily basis when reviewing loans the bank holds, or when reviewing potential loans the bank is looking to make. If you have questions filling out a personal financial statement form always feel free to ask your banker or someone you trust, but please remember this is a document you should fill out and sign yourself. Also remember if you are married and include assets owned jointly (like a house or a business) then you need to include your spouse on the statement as well along with their signature.
Hopefully this article will help in calculating your personal net worth, but don't get too caught up in being overly concerned about your net worth or lack thereof, because life is not all about net worth.  Many times, "the more money we come across, the more problems we see."
Kyle, his wife Rebekah, and their daughter Caroline have called NW Arkansas home since 2001.  He is a front runner so you will find him cheering for the Razorbacks, OU Sooners, and OSU Cowboys at various times throughout the year depending upon who is doing better.  He is an avid sports fan in general and enjoys playing golf, reading, writing and he and his family are active members of Keypoint Church. Kyle claims to like almost everyone at #FNBNWA.