By Kyle Kerwin
As a commercial lender at First National Bank of NWA, sometimes I feel a little like fellow banker Uncle Billy from the classic movie "It's a Wonderful Life."
I find myself needing strings around my fingers to remember everything I need to get done in a day. Despite the hectic pace that the holiday season brings upon many of us, I still eagerly look forward to the season every year especially when the classic movies start airing nightly.
Am I the only one who sings along with "Buffalo gals won't you come out tonight"? Maybe, but the movies at this time of year are sentimental, funny, touching, and at times just plain ridiculous. I love them all, and sometimes they remind me of my finances during the holiday season as well.
How so? Let's look at five money lessons I've reminded of during the holiday season:
1. "Two hundred fifty strands of lights, 100 individual bulbs per strand, for a grand total of 25,000 imported Italian twinkle lights." ~ Clark Griswold in "Christmas Vacation"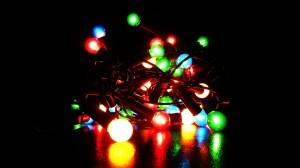 It is great fun to decorate for the holidays, but please don't end up in bankruptcy court in January because you spent all of your excess cash and maxed out your credit cards on holiday decorations.
It costs about 25 bucks for a strand of 300 of the small clear lights, so it would run you a cool two grand to purchase 25,000 twinkle lights! Throw in dancing Santas, inflatable Frostys, and musically-choreographed lighted trees, and you could drop a lot of coin trying to be the Clark Griswold on your block.
If you just happen to have too much cash then go for it, but most of us will just regret it when those January credit card bills come in the mail and you didn't get that bonus Mr. Shirley promised you. Plus, we know that half of those lights won't work by the end of the holiday season or by the time you get them out and put them up again next year.
You are not a Christmas failure if your house is not visible from space, and your neighbors, especially Todd and Margo, will probably appreciate it. Save the neck for me, Clark!
2. "I'm sorry I ruined your lives and crammed 11 cookies into the VCR." ~ Buddy in "Elf"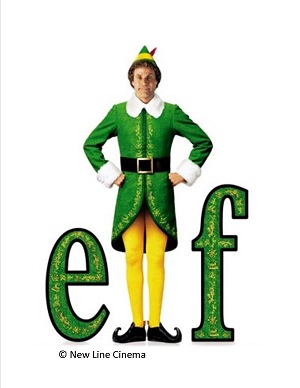 First of all, this reminds me that VCRs are a bad Christmas gift, but if you still own and use a VCR then don't be surprised if someone crams cookies into it just because you're still using technology from pre-2000.
Secondly, if you're going to buy an electronics gift from a major retailer this season or multiple retailers, nothing can ruin lives during this season financially speaking than opening up a credit card at every major department store you stop in.
Sure it's great to save 10% on those towels Papa Elf has always wanted or on a pair of those overpriced wireless headphones for Jovie or Michael, but bringing on new credit (and a lot of it) in a hurry is one sure-fire way to drop that credit score. Also remember – no one likes a cotton-headed ninny muggins.
3. "Meatloaf, smeatloaf, double-beatloaf. I hate meatloaf." ~ Randy in "A Christmas Story"
Poor little Randy and his hatred of meatloaf. How does the piggy go? We all have our meatloafs in life. Mine is actually Meatloaf. Sorry if you're a fan. I'd do anything for love, but I won't listen to Meatloaf.
For many this holiday season your meatloaf might be non-stop Christmas music at work (unless your bank manager is a grinch and refuses to play Christmas music… no names… David) or maybe it's traveling 17 hours to Aunt Clara's only to get a pink bunny costume.
Or maybe your meatloaf is actually fruitcakes which I think are delicious…ly awful! I'm sorry if you like fruitcakes, but I digress.
The point of this one is that baking is an easy way to make a gift and to save some money in the long run. It also says "I spent some time on you. I didn't grab a pink Snuggie as a last -minute gift while standing in the checkout line at Wal-Mart."  Save yourself some money and invest some time by baking your gift for others – I triple dog dare you!
4. "One man's toxic waste is another man's potpourri." ~ The Grinch in "The Grinch Who Stole Christmas"
I'm amazed at the creativity of people in general, but during the holiday season it seems to be amped up even more. People create wonderful music and food and art.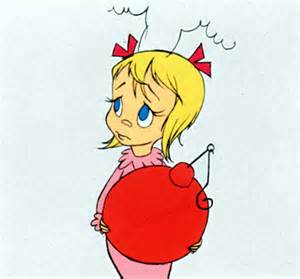 Awesome, memorable gifts can be created during this holiday season with just a little imagination and some time.
If your imagination is only as big as the Grinch's heart, just Google "do it yourself gift ideas" and you'll have days and weeks and a month's worth of ideas to choose from. Long after that big screen TV gives out you'll still be hanging little Cindy Lou's Christmas ornament she made in third grade on the Christmas tree every year. Save some money by giving the gift of your creativity. Blast this Christmas music! It's joyful and triumphant!
5. "Put that cookie down! Now!" ~ Howard (Arnold Schwarzenegger) in "Jingle All the Way"
Who didn't want a fictitious Turbo Man doll back in 1996 when Arnold Schwarzenegger was at his comedic genius and Sinbad was still alive?
Wait, Sinbad IS still alive. I just haven't heard from him since well, 1996. Anyway, he and Arnold battle against each other in a quest to get an elusive Turbo Man doll for their respective sons in this movie at the expense of every kind of lying, cheating, and deceptive tactic they can think of.
Sure it's great to get your children or friends or parents what they want for Christmas, but this movie helps remind me that the season is really about giving. And not just giving to family and friends, but make an effort to give to your church or your favorite charity or into the little red bucket outside of your grocery store.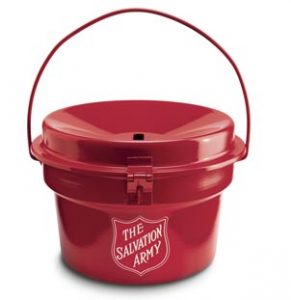 Resist the urge to take the bell and throw it across the parking lot and instead drop a few bucks into the pail. Give a few dollars to the homeless man standing at the exit ramp while you're sitting in your nice warm car. Resist the urge to be skeptical and think that the man is a scammer who doesn't want to get a job. Give this holiday season. You might even be able to deduct it on your taxes.
Thank you for your time and I just want to pass on our sincerest holiday season wishes from myself and the good people at First National Bank of NWA. I hope this silly little article maybe made you smile and think just a little bit, and that there are things to keep in mind financially as you navigate another holiday season. In closing, just remember that famous line (and my personal favorite) from little ZuZu Bailey in "It's a Wonderful Life": Every time a bell rings someone's getting some bling.  Merry Christmas!