So who won the big Mother's Day package last month?
Amy Helmich was the lucky mama who won the jewelry from Magnolia and Vine, treats from Edible Alternative and a $500 room makeover from a certified interior designer and Modoa Interiors. Amy is a long-time Motherlode reader and Beverly from Modoa said she was absolutely a dream to work with throughout the room update. "Motherlode has great followers!" Beverly said.
Today we wanted to reveal the results of the room makeover which are AWESOME: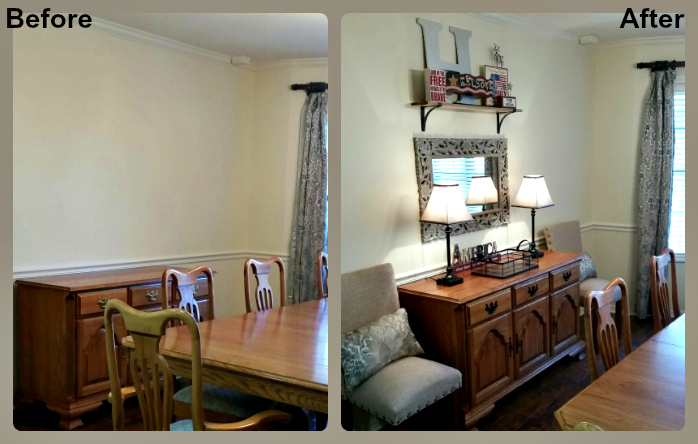 We also did a little interview with Beverly to get the scoop on everything she did to update the dining room, which was the room Amy was just itching to get some help with.
Beverly said celebrating special occasions is a top priority in the Helmich family.
"Children's birthdays and annual holidays are top on their  list," she said. "Creating a finished space to celebrate was Amy's wish for her dining room. In particular, Amy wanted me to focus on one particularly large, bare wall.  After listening to Amy's needs, I started to build upon current furniture within the Helmich dining room."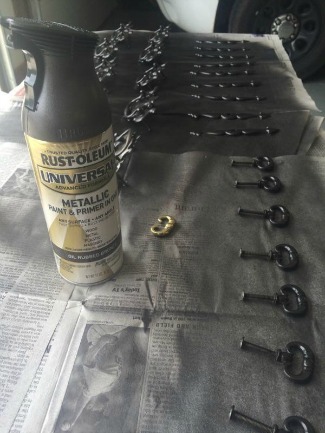 Beverly said removing the existing hardware on the buffet and china cabinet was the first order of business.
"A $5 can of spray paint painlessly transformed the furniture's shiny brass into modern-day oil rubbed bronze, and blended beautifully with the family's recently-installed chandelier," Beverly said.
Next up: To tackle the upholstery on Amy's eight dining table chairs.
"With the excellent foresight of a mother of three, Amy wisely purchased two back-up drapery panels, just in case something happened to the ones hanging in her windows," Beverly said. "These elegant drapery panels worked perfectly, as double duty upholstery fabric, and transformed her well-worn, stained dining chairs into elegant seating."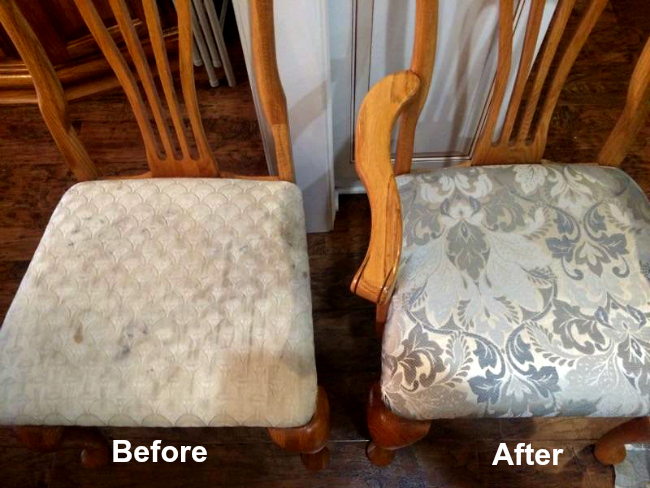 With fabric remnants, Beverly (pictured on the right with Amy's daughter) sewed and stuffed two rectangular, accent pillows to soften the look of the new parsons chairs placed on either side of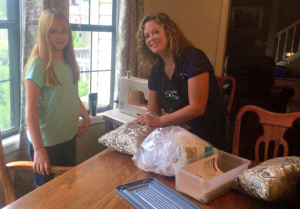 the family's serving buffet for additional, last-minute seating. No more hard, metal folding chairs.
Once the hard work was out of the way, the fun stuff got started. Lamps, artwork, mirrors, wall shelves and serving pieces were selected, to meet the needs of this clan's famously large parties and extended family gatherings.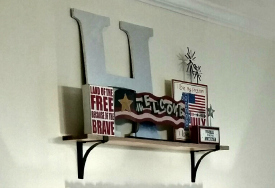 Amy's husband, Tom, brilliantly came up with the ideal name for the shelf, which proudly displays the first letter of the family's last name.
"That's the 'Theme Shelf' for our event decorations," he said, as Amy was already pulling out her next party pieces from the attic.
Everyone in the family is already looking forward to this year's Independence Day celebration, even the family cat who has taken the liberty of claiming the tin serving tray on the dining table for herself.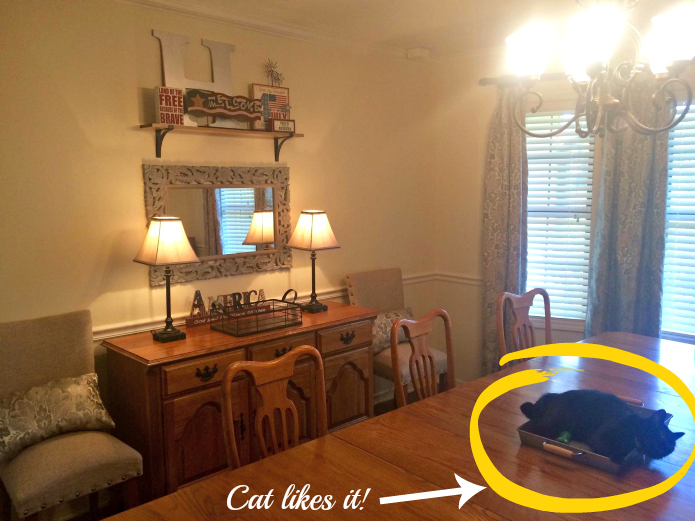 Beverly Odom of Modoa Interiors in Fayetteville is a local, certified interior designer who specializes in beautiful room makeovers on a budget. With a decade of experience in both residential and commercial design, Beverly launched Modoa Interiors with the founding belief that everyone should experience peace and tranquility in their environment. Beverly has a knack for walking into a room and instantly seeing what needs to be rearranged, enhanced or deleted to take it from blah to knock-out. CLICK HERE to visit Beverly's website or call her at 479-530-7357.