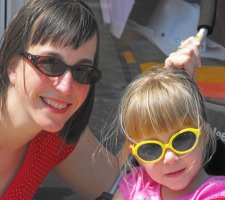 Name:  Kara Ault
Daughter's name and age: Aubrey, age 4
How did you tell your husband about your current pregnancy? I couldn't wait to surprise him so I called him at work and asked him if he was sitting down, then blurted it out! I'm due on May 22 and will find out if it's a boy or girl on January 1.
Please tell us about your role with NWA Playgroup and about the organization: I organize NWA Playgroup, a group of 180 moms in Northwest Arkansas. We all have children who range from infant to about age 4 and we have several organized activities each week. Some of our activities include park play dates, lunch with the kids at local "Kids Eat Free" restaurants, craft activities, holiday parties and more. We have a monthly Mom's Night Out dinner and a monthly mom's book club (The Literary Mamas). We also have family meetups like cookouts at Devil's Den where the dads can get involved as well. One of the things I'm proudest of is our participation in charity events like our Race for the Cure team and our annual Great American Bake Sale to raise money for childhood hunger. We also serve as Lunch Angels for Seven Hills Homeless Shelter in the summer.
Where were you raised? Greenwood, Ark.
What are your favorite hobbies? Reading, watching movies with my husband, taking walks, visiting the coffee shop.
What is your favorite thing about the holidays? Being with family.
If you went back to college, what would you study? I'd either go back and finish my nursing degree or renew my EMT license.
What's something you would never have believed about being a mom? It's hard to imagine until you are a mom how the job can be so difficult and yet so rewarding at the same time!
Your favorite place to hang out with your family in NWA? We don't really have one favorite place but we like to explore the area and we are so thankful we live in such a gorgeous area that has so much to offer.
What is stressing you out the most right now? My house is a perpetual mess and it bothers me that I can't keep it clean!
What's your favorite way to unwind? Soaking in the bathtub reading a novel.
Tell us something funny about you: Well.. last week I washed my coat and walked into Zaxby's with a kid's sock and a dryer sheet hanging off of the coat, unknown to me.. I do things like that all the time.  LOL
What's something you like to tell new friends about you? I organize a group of incredible moms and I'm so grateful for the blessings God has given me.
A favorite Christmas memory? My dad was a doctor and worked really long hours, often on the holidays.  One particular Christmas Eve, he had been up late into the evening dictating medical charts for transcription. When dictating, he would include words like "period, paragraph" as he described the case.  On Christmas morning, with all the family gathered at our house, my dad was chosen to lead the prayer. He began "Dear God, Thank you for this day, period, paragraph".  We still laugh about that to this day. Christmas was his favorite holiday and he took a lot of pleasure in making it special for his family but also making sure we knew the TRUE meaning of it.
One word to sum me up: energetic!