One of my Christmas gifts from my mom was a gift certificate to use at a new nail salon in Rogers. She had already been there once and liked it. I happened to get her the exact same gift, so we went together for a mother-daughter mani/pedi one day a few weeks ago. But instead of the usual manicure, I decided to try the new "gel" nail color I'd been hearing about.
The nail technician at Lux Nail & Spa, whose name was Andy, told me gel manicures last two weeks without chips, which sounded nearly impossible to me. I almost always wear a neutral nail color because I can't stand the way a dark nail color looks once it starts chipping. And let's face it: Mamas don't always have time to re-do our nails the minute polish starts to chip.
So I agreed to the gel experiment and picked out a much darker color than I'd normally choose. I wanted to see if the two-week with "no chips" promise was legit. The product Andy used on my nails is called Harmony Gelish. Here's a pic.
Between coats, he had me put my nails into this nail lamp (shown left), which basically "cures" or bakes the nail color on. NOTE: This type of manicure WILL take longer than usual. My mom had a regular manicure and was done at least 30 minutes before I was. But once the color was on and "baked", Andy said I could do anything — anything — without fear of chipping my nails. So that meant I could immediately dig around in my purse for car keys, go home and do the dishes or anything else that you'd typically avoid right after a manicure.
Here's a pic of my nails right after the manicure.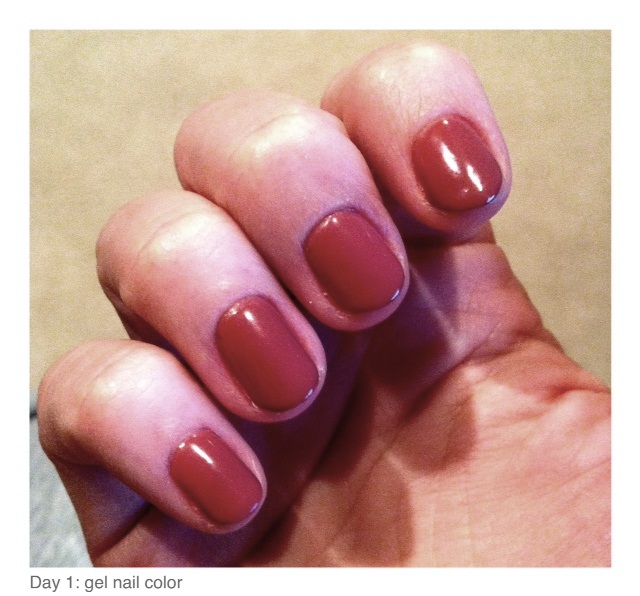 Out of sheer habit, I still tried to be careful right after the manicure because my nails were so glossy that they still looked wet. But that's the beauty of this gel nail color. It looks glossy and brand new for nearly two weeks. As for chips, I had one small chip on Day 6 after lots of heavy use of my hands, but it didn't continue to crack or spread or peel. Here's a pic of the tiny chip, which is hard to see but it's on the middle finger of this hand.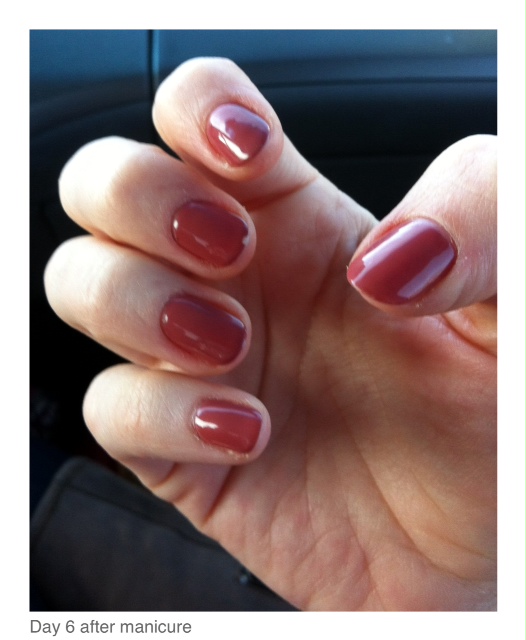 And here's a pic on Day 14 after the manicure. Still glossy! Note that, depending on how fast your nails grow, you will see some "new growth" near the nail bed where there's no color. You can see it in this shot. It didn't bother me until after the second week.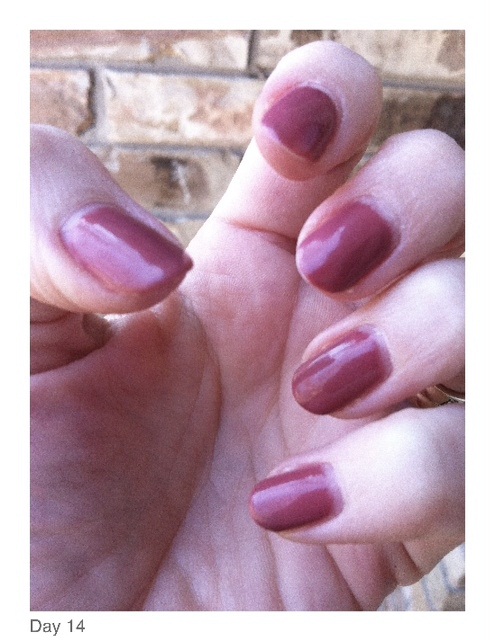 So… the million dollar question: Would I do it again? Definitely. Especially for a special occasion or a vacation when I didn't want to worry about re-doing my nails during the trip. A gel manicure does cost a little more than the traditional version. At Lux Nail & Spa, I paid $30 (whereas a traditional manicure costs $15). Also, the nail technician advised me to come back to the salon to have the color taken off (which requires you to soak your nails in acetone) but I managed to get the polish off at home on my own. I had read some reviews from a few women who said they felt that the gel color damaged the overall health of their nails, but I didn't find that to be true for me.
One last thing: This salon has an adorable area for little girls who like to tag along with mom for a manicure.  I'm looking forward to coming back here for a special occasion with my 5-year-old daughter, who is going to LOVE these little girl pedicure stations in the "bear chairs". Aren't they cute?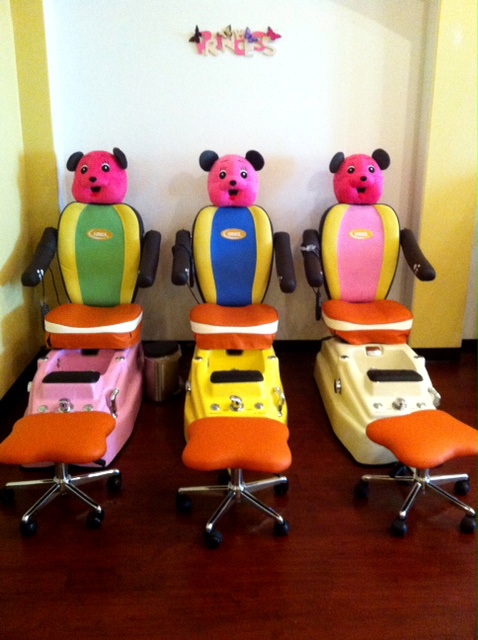 For more info on gel manicures, ask your nail technician or you can check out Lux Nail & Spa in Rogers, where I had mine done. It's near the intersection of New Hope and Promenade Road in Rogers (near the mall). Phone number is 479-631-8775.