By Andi Douglas, nwaMotherlode.com beauty editor and mama of 3
Every single year this happens:
I stockpile Christmas gifts all year
I budget and get the good deals on Black Friday
I make a list so everyone has the same number of gifts to open
I am the queen of Christmas, 90% done by December 1st, bask in my glory!
Then two days before Christmas I completely panic, go to Walmart and spend all the money on garbage that no one asked for. One year I was visiting family in a small town and was desperately trying to find a store open at 10 o'clock on Christmas Eve because I decided Brandon needed a toy guitar.
Apparently as Santa travels South so does my sanity.
And as my kids get older, I've learned to work around my crazy and reserve some gifts to buy during my inevitable blackout shopping spree, like family gifts for post-Christmas visits and stocking stuffers.
I can not wait until my girls are old enough to fill their stockings with makeup and nail polish, but for now I'm stuck with LOL Surprise dolls (which I do not understand) and blind bags that cost a fortune for a toy that they probably already own. Having to buy a toy with no clue as to what it contains is an unexpected form of anxiety that I have discovered.
Until I reach that fun milestone though, I will shop vicariously through you guys.
Here are a few of my favorite gift ideas this year:
For the low maintenance beauty in your life, this velvet bow scrunchie from Free People adds a fancy touch to a simple bun or ponytail.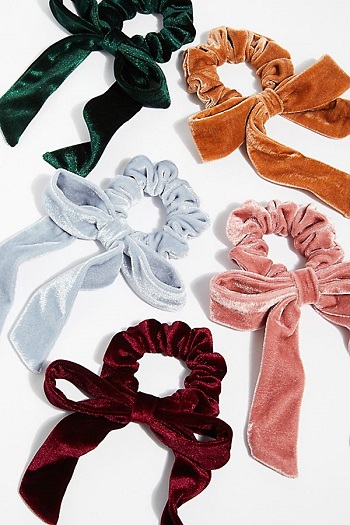 If you know someone who spends more time at their vanity than a computer then the iHome Reflect LED Vanity Mirror with Bluetooth. The built-in lights make for expert makeup application and selfie taking while listening to your favorite music, or an audio book if you're a nerd like me. I found this on several sites with a wide range of prices so make sure you shop around if it's not available at your Walmart.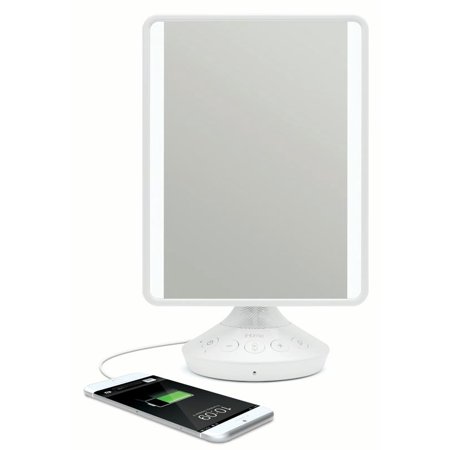 Pamper a new mom in your life with some spa quality face masks by Seoul Mamas. I used the revitalizing mask before my husband's office party and my makeup glided on like butter, or something that doesn't seem gross now that I say it. It was awesome, that much I know. If you don't have time for shipping, you can get the Rejuvenate sheet mask at Premier Dermatology in Rogers.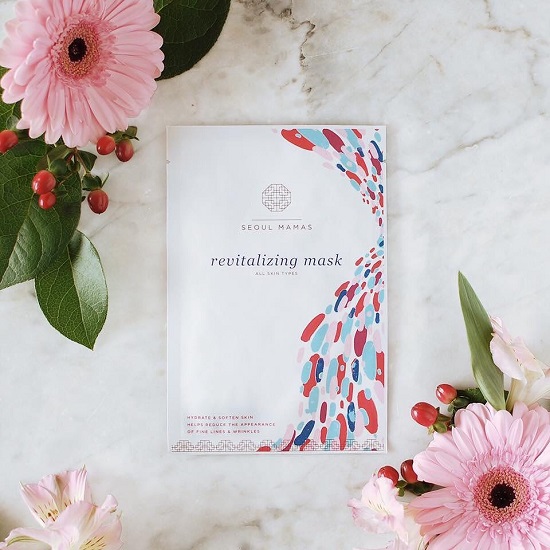 If nail art is more your girl's style, put together a nail kit for the perfect glittered nail polish using this tutorial by Kelli Marissa. I have done this successfully without the liquid latex, so that is a personal choice but the difference in the final look is well worth the extra time. I found a polish very similar to this Orly Turn it Up at the dollar store, so this can be both a fun and affordable gift.
Personalized items are always a fun way to show you care and a hairbrush with your girl's name on it is a great gift, especially if you're in a household heavy on estrogen. And most people don't realize that hairbrushes can wear out and should be replaced when the bristles start to break or the protective tips break off. Etsy is a great place to find a wide variety of designs or pick up your favorite brush and use paint pens or vinyl to personalize it yourself.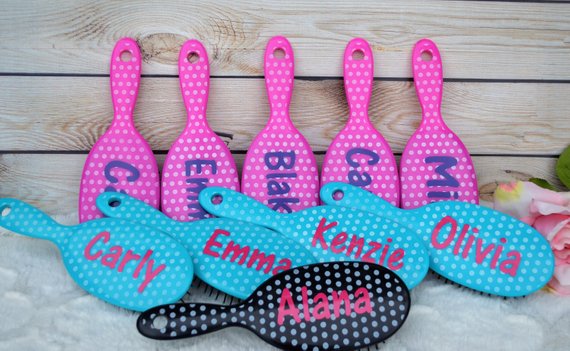 Now if you really want to blow the eyelash extensions off the ladies on your shopping list, a subscription to a wine of the month club, like WINC. Wine Club will be the gift that keeps on giving, or you can choose a one-time gift set. So, this isn't really beauty related, but don't we all feel a little more glamorous after a couple of glasses of Rosé?
In my opinion, girls are pretty easy to shop for because everything is so cute and perfectly stocking sized. But if anyone has any stocking stuffer ideas for a 13-year-old boy that isn't another phone charger, please share with me, or at least don't judge me when I'm wandering the aisles of Walmart at midnight Christmas Eve panic buying multi tools and travel-size deodorant.
Merry Christmas and Happy Holidays, mamas!!!!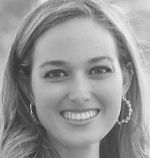 Andi Douglas always makes us laugh and is the mama of three especially cute kiddos. She loves talking about hair and make-up, so send her a question about either of those two topics and she'll be happy to help a mama out. Email her at mamasATnwaMotherlodeDOTcom.