By Andi Douglas, nwaMotherlode.com beauty editor
That's it! I'm officially sick of waiting for Spring to arrive. I have been teased enough by 75-degree weather only to wake up to 30-degree sludge the next day. How am I handling my fruitless rebellion? I am wearing my flip-flops, even if it is only around the house, so that means it is time to get my winter feet pretty enough to flaunt.
Now, this poses a dilemma for me, because I am 8 months pregnant and strongly believe in the Old Wives Tale that a pedicure and foot massage can induce labor, and since it's not worth paying $30 dollars for a spa pedi if you don't get the awesome foot massage, I will be tending to my tootsies myself. It may not be pretty, but I am determined to reach my toes, even if I can't see them!
Join me in my up-rise against Mother Nature with these easy steps for a DIY pedicure.
Remove any traces of color: Using acetone polish remover and a cotton ball to get rid of any trace of your dark winter color.
Soak your feet: If you don't have time to relax with a footbath, schedule your pedi for after your normal shower or bath. Just 10 minutes of hot water will make the rest of the steps go more smoothly.
Buff away dry skin: This step is always easier for me after a long winter of wearing socks and boots almost every day, so a simple exfoliator may be enough to smooth the dead skin away. But, if you have tough calluses from working out or wearing pumps to work, a biodegradable pumice stone, available at any drug store, is sure to smooth out your rough spots.
Trim and shape your nails: To prevent going too short, run your finger over the top of your toe. If your nail barely grazes your fingertip, then you have the right length. Use an emery board to achieve square tips for a more modern look.
Push back your cuticles: If you don't have a cuticle stick, or can NEVER find it, a Popsicle stick will work just as well. Apply a little olive oil along the base of your nails and push back the cuticle, but there is not need to trim, especially if you do this step regularly.
Buff the imperfections out of your nails: If you skip everything else, make time to get the ridges and nicks out of the surface of your nails to get an even coat of polish. A 3-4 sided buffing block will leave you with a smooth surface to paint or make your nails shine if you decide to leave them natural.
Add a fresh spring color: Pack away your burgundy and navy and try one of the new Spring colors out, like Sally Hansen's Complete Salon Manicure in Model Behavior ($7, at drugstores). Although this cerulean blue looks fierce on fingers as well, matching your toes and fingers is a little out-dated (like matching your shoes to your handbag).
Let the great Flip-Flop Rebellion of 2011 begin and relish the fact that under our rain boots and Uggs are 10 little fuchsia or teal flags of defiance waiting to be seen!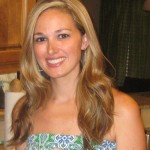 Have a question for Andi, beauty blogger and fellow mama? Andi welcomes your questions and feedback to Beauty Buzz. E-mail her at mamas@nwaMotherlode.com.