By Carrie Perrien Smith
We finally have the home gym we've wanted for years. As kids leave the home, it's a great new use for their old bedrooms. You might be reluctant to convert your beloved child's room at first, but once they pack up for that second year at college, you'll have fewer reservations. It's okay to keep a guest room for when they visit, but you've earned the right to repurpose that space after eighteen or so years of being at their beck and call. The empty nest is your space to spread your wings.
We bought a lot of our exercise equipment at a moving sale. We had just purchased a new house so we set up the gym in the upstairs game room. We hired bulky guys to take it up there. We aren't spring chickens, you know. It would be a shame to get hurt lifting heavy gym stuff.
The idea for the decor happened by accident. I needed a place to store my husband's rock memorabilia, and the gym was the only room that wasn't stacked with moving boxes. I leaned the framed sacred cows against the walls where they graced the baseboards for the next three months. Meanwhile, I tried to think of ways to make the gym look less boring.
I was lying on the yoga mat one day doing my hundreds (that's yoga-ese for these stomach crunch contortions). I was watching the Beatles look back at me, and it came to me. That's it! I'll hang my husband's memorabilia on the wall in the gym and do a rock and roll theme.
It turned out to be a marriage made in heaven. The colors worked together, and we didn't have to repaint the walls. Inexpensive decorator items were sourced locally to fill in the gaps. We even have room to expand his collection of old stuff.
We love having a gym at home. Our last house was two miles from Walmart's corporate fitness center where we have a membership. My husband never used it, but I've had a locker there for fifteen years and worked out three to five days week. The new house is eight miles away. Not having to make that drive is a major timesaver for me. I run my business from home so it's great to slip away for ten minutes for a little exercise. The best thing of all is that Tom is working out at least five days a week. Being more committed to exercise is going to buy us more healthy years together.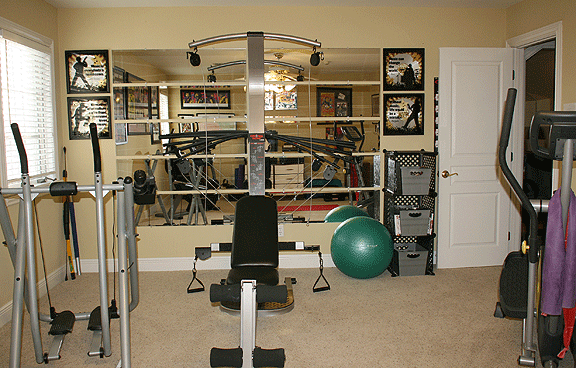 Among other things, we have a Tony Little Gazelle (left), Weider Cross Bow (center), and an Image elliptical machine (right). The last two were moving sale finds. I also wanted a mirrored wall. If you've priced a wall-sized custom mirror, you know it's expensive. This house is a short-term fixer-upper/investment for us. A giant mirror is a custom feature that doesn't appeal to every buyer so we went a different route. I scoped out the mirrors at Walmart (www.walmart.com). I created a design using Mainstays 12′ x 48″ beveled-edge mirrors. When we move, we can unscrew them, fill the holes, touch up the paint, and take them to the next house. I wasn't expecting the orientation of the mirrors to make me look thinner, but they do. The darling framed record album art came from Bed Bath & Beyond (www.bedbathandbeyond.com).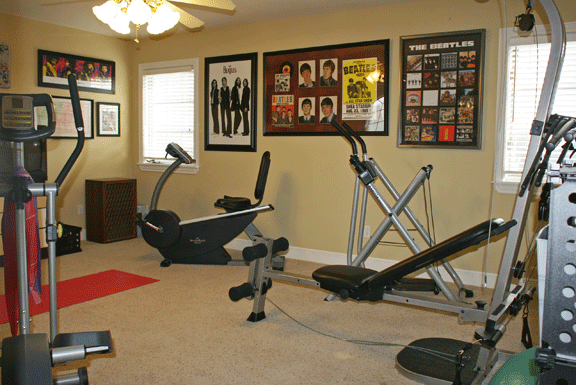 This is a side view. The two Beatles pictures near the windows came from Bed Bath & Beyond. The center is framed memorabilia. The Nordic Track recumbent bike is a moving sale find also. The bench on the Cross-Bow converts to a flat or incline position which makes it versatile for using dumbbells. The one thing I would like to have is an incline/decline bench. I've worked out at Walton Life Fitness Center in Bentonville since 1994 and still go there for Zumba classes. It's much more fun to get your groove on with a gym full of equally jiggly, uncoordinated girls. Besides it's the only place at my age that I can legitimately attempt hip-hop moves. I'm able to do most everything else at home now. We even have a pool and hot tub.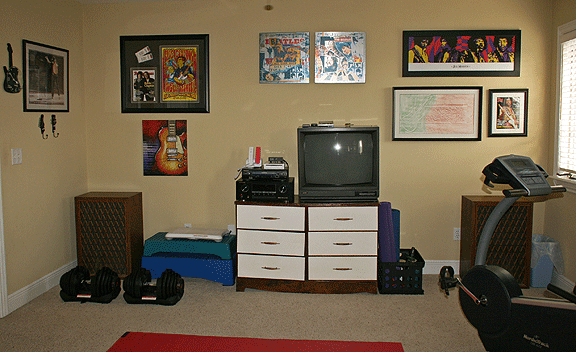 This is the view opposite the mirror wall. Yes, if you've been on earth for more than four decades, you might recognize those antiques from the 1970s. Those monstrosities in the corners are audio speakers. Those are hallowed artifacts my hubby purchased when he sold audio equipment at the beginning of his retail career. The dresser was mine from when I was a toddler. I begged Tom to get rid of that television for ten years. Glad he didn't now. The only time I ever get to watch television is when I'm working out.
Not all of our electronics belong in the Smithsonian. We have a Wii Fit with a balance board. Tom plays the games, and I use it for yoga and other exercises. A planned future purchase is an armoire to tuck all the electronics away.
The guitar art (lower left) and Beatles art (center) came from Bed Bath & Beyond recently. The Jimi Hendrix art (upper right) was purchased at Kirklands (www.kirklands.com) a few years ago. The rest is memorabilia that I had framed at Hobby Lobby. Custom framing is pricy so I use ready-made frames when possible. Get on their e-mail list and wait for a sale. They run different framing sales each week.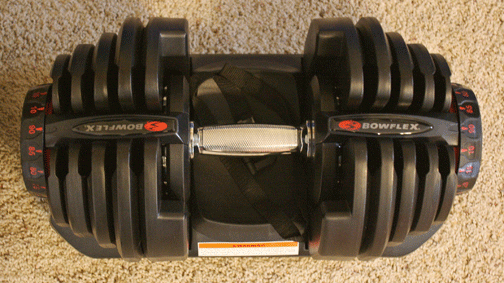 These bad boys were the one extravagant purchase we made. We bought a pair of Bowflex adjustable dumbbells through Direct Buy (www.directbuy.com). There are some less-expensive brands on the market that don't go up to 100 pounds like these do. The heaviest weights I ever use are twenty pounds.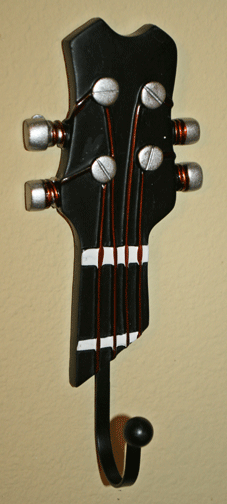 Bed Bath & Beyond sells these cuties in a three pack. I put one behind the door to hang the straps and bands on. The other two are ready for jackets. I hang my bathrobe on it in the morning when I stagger in there with pajamas, slippers, and cup of coffee (I can't do that at WLFC).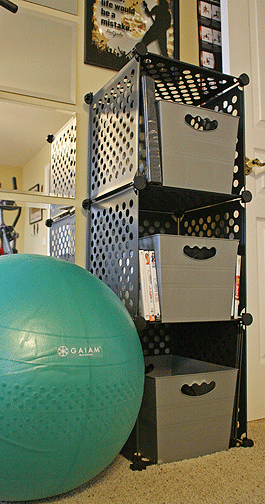 All this equipment comes with baggage, and it's got to go somewhere. I picked up this shelf unit at Walmart. I paired it with these storage bins from Walmart. I store the product guides and CDs in a binder with plastic sleeves. The bins hold things like Wii CDs, exercise videos, ankle weights, elastic bands, and jump ropes. I bought the Gaiam exercise ball at Target. Target also has some darling modular storage bins in fun patterns. We opted for something understated since the memorabilia was colorful.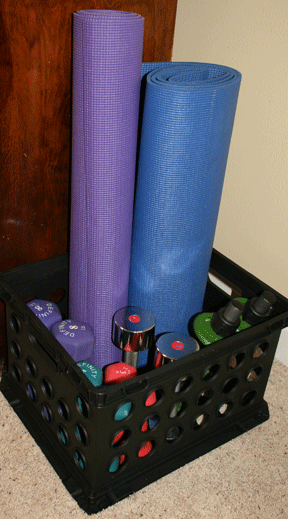 The file box from Walmart is sturdy and keeps my yoga mats and hand weights organized and easily accessible.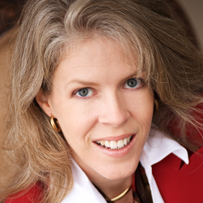 Carrie Perrien Smith is mama to Darcie and a pack of black dogs (Speckles, Snappy, Jazmin, and Midgieboy — in pack order), grandma to Robert, wife to world-traveler and Walmart-blue-bleeding Tom, daughter to Wayne and Phyllis, speaker bureau and publishing company owner, community activist, and home improvement junkie. Follow her on Twitter @soarwitheagles or contact her at carrie@soarhigher.com.