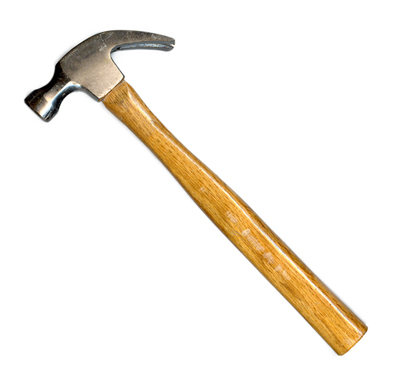 We mamas LOVE a chance to remodel our homes and make them better. Last year, Americans spent more than $216 billion (yes that says BILLION) on home remodeling, according to a report from the National Association of Home Builders. That same report says that remodeling is expected to outpace new home building in about 10 years.
So if you're one of the millions of moms who will be remodeling a home sometime soon, there are some things you need to know. And you need to base many of your decisions on whether you're remodeling for your own benefit and enjoyment and plan to stay in the house indefinitely, or if you're remodeling with the intention of putting the house on the market for sale. If you're selling, you've got to make decisions based on what gets you the most bang for your buck.
Let's face it. Women are responsible for 80% of all home-buying decisions. The two rooms that influence us most? Kitchen and master bath.
Start in the kitchen…
Fact: In many cases, the kitchen alone can sell a home. On average, you'll get a much higher return on investment (ROI) by updating a kitchen with fresh cabinetry and new appliances versus making expensive changes to the other rooms in the house.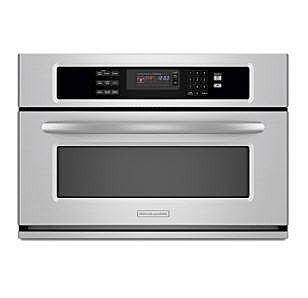 To update the kitchen, put a new coat of paint (or stain) on the cabinets and add new hardware. Appliances, on the other hand, should speak for themselves. You can replace appliances (even with some affordable options) and they'll automatically bring value to the home. When a buyer walks into a home and sees new appliances, she assumes that everything in the home has been updated.
If you're remodeling your home and plan on living in it for several years, then go with appliances that simplify your life. There are some great options out there for people who love to cook. But if you're a mom who is constantly on the go, a microwave with speed cook options might be more your style. (There are also built-in microwaves available, like the one shown above.)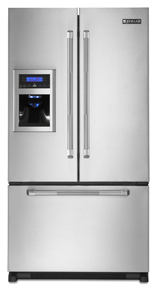 The two appliances that will impact your energy efficiency the most are the laundry machines and the refrigerator. The fridge accounts for 5% of your annual energy bill. You'll pay about twice that amount if your fridge is more than 10 years old.
The more time the fridge door is open, the more energy it takes. If your kitchen remodeling plans include changing the placement of appliances, be sure to put your refrigerator away from any heat sources like ovens and dishwashers.
Some of the most energy efficient refrigerators use the same wattage as a single light bulb. In most households, the fridge is the single biggest energy consuming kitchen appliance. Replacing a fridge bought in 1990 with one of the new "Energy Star" qualified models would save enough energy to light the average house for more than four and a half months. If you really want to live "green," then consider this: If one in 10 homes used "Energy Star" qualified appliances, it would be like planting 1.7 million new acres of trees.
Before we leave the kitchen, let's talk dishwashers – those wonderful little machines that have a BIG impact on a mom's day-to-day life. The new Electrolux dishwashers use 40% less water than they did 10 years ago. They've also designed their dishwasher to hold more dishes in each load so you save even more water and energy by not washing as often. (Did we mention this also cuts down on the number of times per week you have to unload and start all over?)
On to the laundry room…

Changing over from top-loading laundry machines to front-loading styles will make the laundry room look more modern and will also help with energy efficiency. The savings will actually pay for the machines over the life of the product. The average family does eight loads of laundry per week, taking a minimum of one hour per load. Going from a top-loading machine to a front-loader can cut the loads in half which saves you a minimum of four hours per week! Electrolux's newest laundry pair will wash and dry a complete load in 38 minutes. (Wow.)
When you're choosing a washing machine, opt for a high-efficiency front-loading washer and try to use cold water to wash whenever possible. Electrolux uses an Eco-friendly option available with most Electrolux wash cylces. It reduces the water temperature using up to 53% less energy than a hot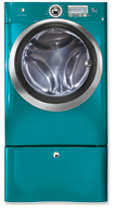 water wash.
Although dryers are not manufactured with an energy star rating, your savings will come with the energy efficient washer. If you can't update your dryer, be sure to use your dryer's moisture sensor when drying because it's designed to turn the machine off when the clothes are dry. (When clothes tumble for an extra 20 minutes unnecessarily, they experience more wear and tear.)
Note: Our thanks to Judy Bilyeu of Metro Builders Supply for the great info on remodeling and how it relates to energy efficiency. Click here to visit the Metro Builders Supply website for more info on any of the appliances mentioned here or call them at 479-750-2200.