With as much time as most moms spend in the kitchen feeding kids, it sure is nice to have something pretty to look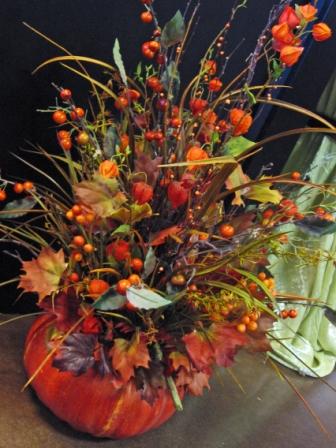 at on the kitchen island or table. So we asked our crafty friends over at Signed Sealed Delivered to give us some ideas on how to make great fall centerpieces to use anywhere in your house. They even threw in some ideas for pretty holiday centerpieces, too. Enjoy!
Idea No. 1: Everyone has a crystal bowl or pretty glass dish in their cupboard. Fill the bowl with water and float some fall flowers, flower petals or floater candles on the surface of the water for a lovely glow.  Surround them with preserved fall leaves or small gourds or pumpkins.
Idea No. 2: Hollow out a pumpkin and place a potted mum inside for an inexpensive and colorful fall arrangement that works inside and out.
Idea No. 3: Place tea lights inside hollowed out vegetables, mini pumpkins, or fruits and set around the table for subtle illumination.
Idea No. 4: For seasonal table décor, place moss balls, pine cones, Easter eggs, or Christmas ornaments in a decorative bowl or footed decorative glass vases, depending on the season.
Idea No. 5: Fill wine glasses, martini glasses or footed candle holders with various seasonal candies and nestle a tea light in the candy. Candy corn, red hots, gum balls, jelly beans… anything goes!
Idea No. 6: Wrap a potted flower, like a mum or a geranium, with burlap and tie with rope or ribbon.
Idea No. 7: Wide mesh is one of our favorite ribbons right now. We love to open it up and run it down the center of any table and decorate for fall and holiday events.
Idea No. 8: If you are decorating for a child's holiday event, start with a favorite toy (or a new one) that is tied with a beautiful fall or holiday bow. We love to theme even our holiday parties. Try filling a Tonka truck with candy for the boys and tea cups for the girls.
Idea No. 9: Let beautifully wrapped gifts become your centerpiece. Choose papers and ribbons that match the décor of the room or your holiday theme, and then wrap small, medium and a few larger boxes to make a statement. You might even fill each with a small gift and put a tag for each guest at the party to take with them when they depart.
Idea No. 10: Buy or grow a series of small evergreen trees and place them down your table's center.  Add fresh greens, berries and pine cones directly onto the table to add a bit of nature to your holiday.
Don't forget: Children love to help with the holidays. Let them create a series of holiday ornaments and décor with paper, Styrofoam, glitter, ribbon and add them to a fabric, mesh or ribbon covered center.  No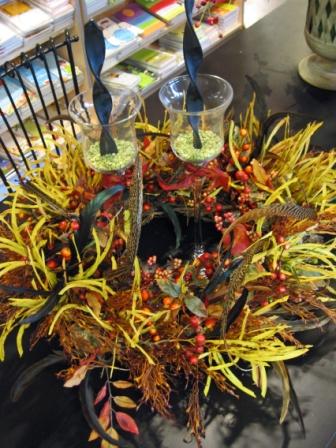 other table will look as special as yours and the kids will love to see their work.
Our thanks to the ladies of Signed Sealed Delivered for all the great ideas you see listed above. If you are short on the time or energy to create your own centerpiece this fall, you could always swing by Signed Sealed Delivered and take home something you really love. The store's designers, Terri, Shirley and Barbara, have become well-known for their gorgeous centerpieces and arrangements that have a real "wow" factor. They can even design arrangements specifically for your event, home decor, colors, etc. (The centerpieces you see pictured in this post are available at Signed Sealed Delivered, too.) For more info, click here to see their website or call the store at 479-271-7747.