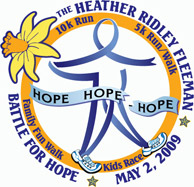 The 5th Annual Heather Ridley-Fleeman Battle for HOPE is coming up May 2nd. A great morning is planned to raise awareness for colon cancer detection and prevention. Colon cancer is the 2nd deadliest cancer in the US for both men and women, second only to lung cancer.
HOPE, Inc. first presented this race five years ago thanks to the efforts of friends and family of a young woman named Heather, who lost a battle with colon cancer at the age of 28. Since that first year, the event has grown to include a variety of options for runners and walkers of all abilities and ages:
10k run
5k run and walk
1 mile Family Fun Walk
50 yard dash presented by Fresh Express
Kids' Races
In addition to these events, there are activities for kids, free massages, snacks and much more. Prizes and medals are given to the top finishers in each division and times are posted on ArkansasRunner.com after the races have been completed.
This year they'll welcome their first special guest to the race – Terri Valentine is a colon cancer survivor, and is featured as the July model on The Colon Club's annual "Colonder". She was 45 when she was diagnosed with colon cancer, and will be sharing a little bit about her experience and the need for early screenings and open discussion about this disease. You can see more about Terri here: http://www.colonclub.com/2009July.html
You can register online or find more event information at the race website at www.heathersraceforhope.com. HOPE's website is www.hopenwa.org. Teams are forming now, and sponsorships are still available – give HOPE a call for more information: 479.571.4673.
HOPE, Inc. is a non-profit cancer support agency that provides emotional and financial support to patients undergoing cancer treatment in Northwest Arkansas. All money raised stays here in our communities and is used to help cancer patients and their families get through the difficult treatment phase of cancer, and improve their chances at a successful recovery. A staff of oncology social workers meet and follow up with patients, and an RN oversees a clinical trials research program, offering cutting-edge treatment options to local patients.