OK, this is so stereotypical, we admit, but you know how guys often wander aimlessly around stores on the eve of any gift-giving holiday? You know, looking for inspiration on what to give their girl? Well, Lewis & Clark Outfitters in Springdale is coming to the rescue for Valentine's Day!

Actually, they're letting the girls rescue themselves. Lewis & Clark is inviting women to stop by the Springdale store at 6:30 p.m. on Sunday, Feb. 8, to snack on hors d'oeuvres, enjoy chair massages, win door prizes and shop for their Top 10 Most-Wanted gifts for Feb. 14.
"We'll take their Top 10 list of ideas and put them in a file," explained apparel manager Dawn Rutledge who enjoys dreaming up cool events for the Springdale store. "Then, we'll send an invitation out to their husband or significant other inviting them to come in and shop for their wives. The guys will receive discounts and they'll be spared having to fumble around the store looking lost."
On or around Valentine's Day, both members of the couple will be entered to win a really awesome getaway for two. How romantic is that?

While there, you can also make a quick list of what you'd like to buy your man for V-Day. While I was shopping there for my husband recently (when I'm stumped, I can always go there for ideas) I came across some great items that I know he'd love. First, something that's perfect for cold weather outside activities (like cutting branches): $50 Marmot gloves with a Polartec shell and fleece lining or the Gortex Windstoppers (pictured right), which have the benefit of being waterproof.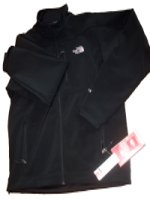 A little more expensive is this $129 jacket (pictured left) bearing The North Face logo. Dawn said these light-weight, cold-weather jackets are hot right now. "It's warm enough that you can do spring skiing in it. It's water and win resistant, it's very tailored and it looks great with khakis or jeans," she added.
If your guy likes to work on bikes (the kind he can pedal), Lewis & Clark has a Park Tool set for $99. It says on the box: "Shop quality tool set for the home mechanic."
If he doesn't own a bike, but has been talking about getting back into the sport, the store has a great selection ranging from $350 to $500. My guy has a great mountain bike from the Springdale store and our daughter has a Giant Lil puddin (without training wheels!).
There are many other gift options (including camping gear and t-shirts) so stop by the Springdale store this Sunday to shop and enjoy a fun event with other women who love the great outdoors as much as you do. Dawn wants to make sure she has enough snacks for everyone, so shoot her an e-mail to 3kidsandme@cox.net if you want to drop by.
Lewis & Clark is an Arkansas-based company with locations in Springdale, Rogers and Little Rock.