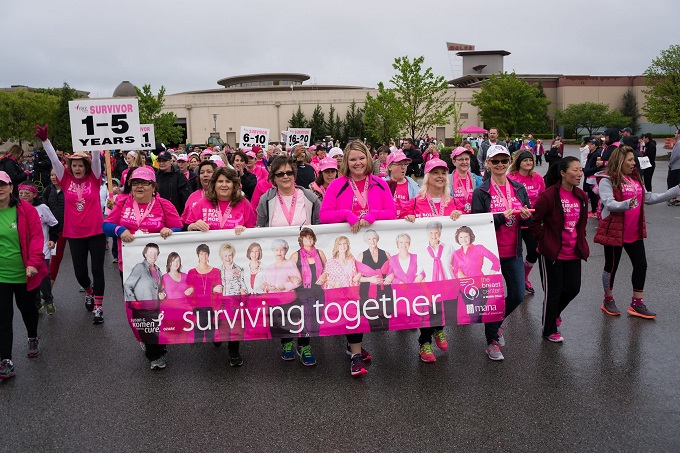 The Komen Ozark Race for the Cure raises funds and awareness for the fight against breast cancer, celebrates survivors, and honors those who have lost their battle from the disease.
On April 28th, thousands of people will come together to celebrate the strong women and men who have fought or continue to fight this disease. This is the 20th Anniversary Race held in Northwest Arkansas — a great time to participate if you've never been involved!
The event is at Pinnacle Promenade Mall in Rogers and this is YOUR chance to be part of something amazing in our community. We always feel so good (and sometimes emotional) at the end of the event.
We're so proud to partner with the Race for the Cure to help spread the word about this amazing event. Participating in the Race helps provide free services for every step of the breast cancer journey, including education, outreach, screening & diagnostic services, emergency assistance, transportation, and research.
How can you participate?
Events include a Survivor Breakfast & Parade, timed 10K and 5K runs, a non-timed 5K and a one-mile fun walk. Registration will also be available for Paws for the Cure, Kids for the Cure, and Virtual participant. CLICK HERE to register for one of these events!
Here are some interesting Komen facts you might not know:
Komen Ozark has awarded $11 million in funding to local organizations to help local women receive access to breast health services
Komen Ozark has awarded $3 million in funding to cutting-edge breast cancer research
The Susan G. Komen for the Cure mission is to save lives by meeting the most critical needs in our communities and investing in breakthrough research to prevent and cure breast cancer.
1:8 women will be diagnosed in the U.S. with breast cancer in their lifetime
429 women will receive a new diagnosis of breast cancer in the Komen Ozark service area
2 families will lose a loved one each week to breast cancer in the Komen Ozark service area
Last year, 21 breast cancers were detected using Komen Ozark funding
Of money raised, 75% stays to help local women receive access to life-saving breast health services.  25% of money raised goes towards cutting-edge breast cancer research
Komen Ozark participates in public policy efforts to ensure that our lawmakers are protecting our local women
John and Brandy Furner will serve as the honorary race chairs for the 2018 Komen Ozark Race for the Cure. John Furner is currently CEO of Sam's Club.  He and his wife, Brandy, are active members of the Northwest Arkansas community, and also the proud parents of four children.
"We are honored and excited to have both John and Brandy Furner serve as our Honorary Race Chairs this year," said Lauren Marquette, Executive Director of the Ozark Affiliate.  "The Race for the Cure is our largest fundraiser and provides critical funding for local women and men who are in need of life-saving services.  John and Brandy's support will help build awareness of the local need."
"Like so many people, we know the pain and toll that breast cancer takes on patients and their loved ones," said John Furner. "We are honored to help the incredibly passionate and effective team at Komen Ozark raise awareness and funds for families in Northwest Arkansas."
For more information about the 20th Anniversary Race for the Cure, please visit www.komenozark.org.