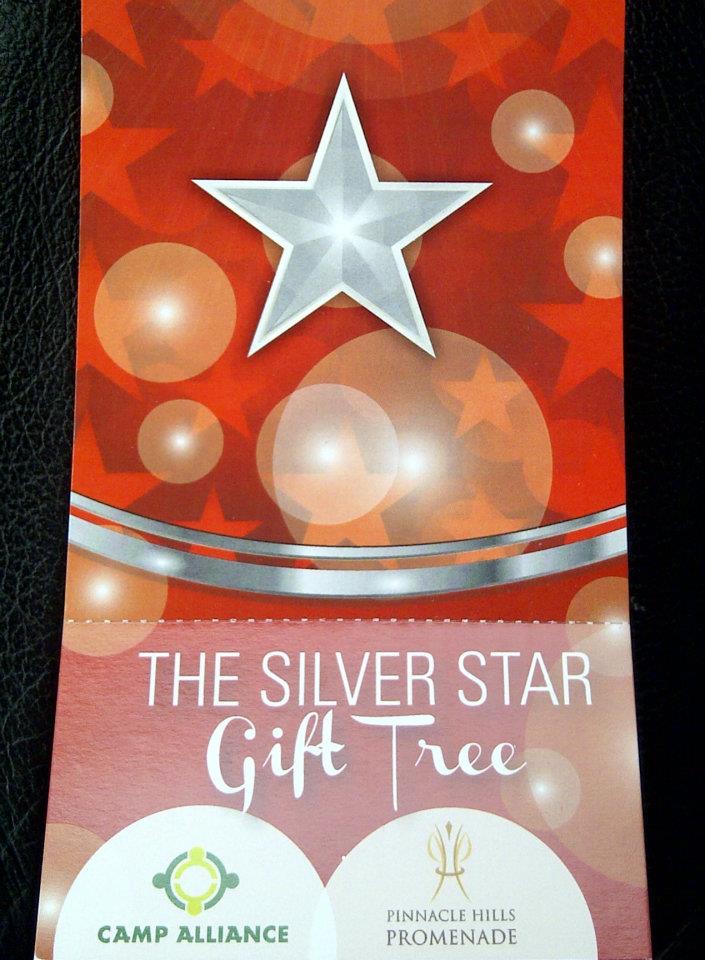 We mamas are always looking for ways to instill gratitude and empathy in our kids. And at Christmastime, opportunities to help others in need are abundant.
Since today is #GivingTuesday, we wanted to highlight one of those opportunities. We also plan to share some other Ways to Make  Difference in Northwest Arkansas this holiday season over the coming days.
Today we're shining a light on the Silver Star Tree Holiday Program at Pinnacle Hills Promenade Mall.
We absolutely love this initiative for military families in our area. Pinnacle Hills Promenade will once again be working with Camp Alliance to host the Silver Star program. It's a way to say "thank you" and raise the spirits of local service members and their families.
DATE: Silver Star tags may be chosen through Dec. 18 (drop off unwrapped gifts by Dec. 19)
LOCATION: Food Pavilion at Pinnacle Hills Promenade
DETAILS:Look for the Silver Star Tree at Pinnacle Promenade's food pavilion and select a nominated service member or family off the tree to buy a gift (or gifts) for this holiday season. After shopping, drop off your unwrapped gifts at the food pavilion Silver Star tree. There will be volunteers there to take your gifts and wrap them. The presents will be distributed to the military families on Dec. 20, from 5-7 p.m.
For more information visit www.campallianceinc.com or www.silverstargift.org