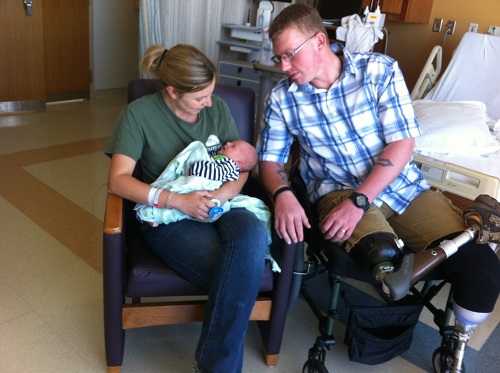 All the babies born at Mercy Hospital are special, but the birth of Kellen Jason Kennedy caused an extra special flurry of excitement.
Baby Kellen was an honor to his family, of course, but he also honored the navy corpsman medic whom he was named after. Just two years prior Kellen's father, Marine Sergeant Marshall Kennedy suffered a great tragedy when he lost both of his legs and suffered severe damage to his left arm after stepping on an IED in the Iraq War.
In 2011 Sergeant Kennedy was on his fourth deployment since joining the Marine's at the age of 17, this time his destination—Sangin, Afghanistan. Five months later he was hospitalized after a near fatal accident involving a mine field.
Kennedy recalls the details of the accident. "It was June 13, a Monday," he said.
Kennedy, a squad leader, was told by his lieutenant that a few locals knew where a cache of mines were located. Kennedy separated his squad of 11 into two groups to look for the cache. While one group was checking out the claim, his group decided to check the compound next to it. "I was 6'5". I took a knee and was leaning up against a wall and my foot hit a pressure plate and I was blown up," Kennedy said.
When Kennedy regained coherence, he was helped by the navy corpsman medic, Jason Martinez.  Jason helped save his life. "He was lucky to have Jason," said Chelsea, Marshall's wife. She was happy to have a son because it was a way to honor the man who helped bring her husband back home to her.  
Procter & Gamble partnered with Mercy Hospital to donate a year's worth of diapers to the Kennedys. "Pampers believes every baby is a little miracle,"  said David Mullaly, Brand Manager, Baby Care P&G Walmart Global Customer Team. "We were very touched by the Kennedy's story and felt this was the least we could do to give a little back to a family that has done so much to support all of us. We wish the Kennedy family the best, and congratulate them on the birth of little Kellen."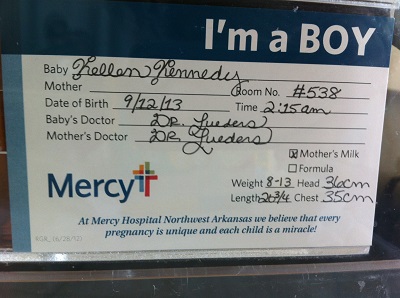 Mercy's staff truly appreciates the service of men like Marshall Kennedy and is happy to be able to contribute to his new son's well being.
"I feel blessed to care for newborns in general, but taking care of a family who has sacrificed for all of our personal families, community and country is humbling," said Laura Burns, the nurse who cared for the Kennedy family.