Kids + Legos = Learning. Is that genius or what? We think so!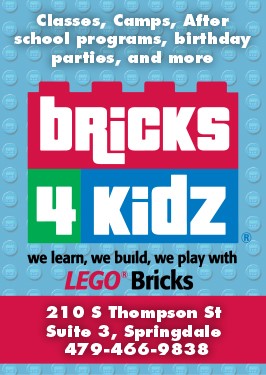 That's why we're so excited to tell you about this awesome new business in Northwest Arkansas called Bricks 4 Kidz®. Local mama of four, Shaista Sandhu, opened this new location in June and is enthusiastic about enriching the lives of kids here.
We've been hearing RAVE reviews about the program from local parents. We love how it introduces kids to principles of science, technology, engineering and math through hands-on activities, but doesn't make them feel like they're "learning". They're just playing and be creative!
The classes are lab-focused and kids build, create their own inventions and generally have a blast. And get this: the plans they use to teach the theme-based classes are designed by engineers and architects. Kids build a new project every month.
There are Mommy and Me (dads are welcome, too!) pre-school classes, after school programs, classes for home schooled children and camps going on right now. Bricks 4 Kidz can even accommodate schools and home school groups with field trips to certain locations if it's requested.
Next month, when year-round school children are on their two-week break, they will host lots of fun camps. Shaista is also planning several Kidz Night Out sessions (the first on Friday, Sept. 20!) from 4-8pm, ages 6 and above. The price is $40 for four hours (siblings are $35). What a great way for parents to have a date night while the kids do something fun and new!
CLICK HERE to see the full NWA Bricks 4 Kidz schedule!
We also love, love that Bricks 4 Kidz is offering birthday parties. It's great to have a unique birthday place in town!
And look at the cool cake the kids get when they party there: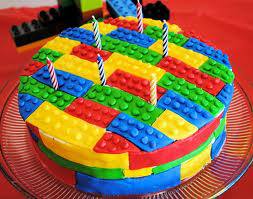 Shaista told us she plans to offer classes around the holidays for parents to get their Christmas shopping done while the kids are engaged in LEGO learning.
Based on high demand, Bricks 4 Kidz recently started offering 3-hour classes on Saturdays from 3 to 6 p.m. Shaista is working hard to accommodate everyone's needs and has been adding new options over the past few months since she opened the doors.
The program has some admirable goals that the mamas like:
For children to play and socialize with friends while learning fundamentals of engineering and architecture in a noncompetitive setting.
To build problem-solving skills, provide an opportunity for creative expression and foster an appreciation of how things work.
To help students understand that Architecture and Engineering are viable career choices.
Visit the Bricks 4 Kidz website here, like them on Facebook here and click here to enroll your kiddos in Bricks 4 Kidz. You can also call Bricks 4 Kidz at 479-466-9838.