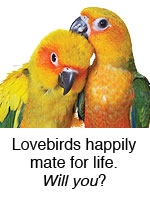 Have you noticed the lovebirds on Motherlode? It's for NWA Healthy Marriages, an nwaMotherlode.com sponsor that's working to slow the local divorce rate by teaching couples the skills and disposition needed for a successful marriage.
The non-profit offers pre-marital events, marriage enrichment events and small group experiences. Through these different opportunities, couples learn how to communicate, love, respect and have the foundation they need for a lifelong marriage. With this kind of enrichment, couples feel confident to continue the pursuit of healthy relationship during difficult times.
Here's more about this crucial organization:
Is it true that the divorce rate in Northwest Arkansas is higher than the rest of the state? How do we rank in the country? Unfortunately, it is true. And the state of Arkansas ranks second per capita behind Nevada. The growth rate of divorce has dropped but so has the rate of marriages as well.
How is the non-profit helping improve marriages in NWA? We are funded through a federal grant for community teaching. This in turn helps us provide all that we offer at low to no cost. We have events open to the community as whole. We also offer our program and teaching to all faiths, churches, and civic groups.
Can you tell us a little about the small groups? How can a couple get involved? Small groups are designed to fit a couples schedule and to connect them with people they already know. We train leaders, called Marriage Champions, to facilitate small groups in the four spheres of life: where you live, where you work, where you worship, and where you play. Groups can be started among friends or as a way to make new friends. It's easy to sign up through our website (LINK). And if there is a lack of small groups in your area, we will find or train leaders to start one.
What if my husband isn't comfortable joining a small group or attending a seminar? For those whose spouses choose not to come or participate, we still encourage you to attend. However, we have found many men that attend have commented that the humor and presentation made them feel at ease and comfortable. The material is easy to grasp, easy to model, and easy to share. The material and skills will help you understand him and provide ideas for open lines of communication.
What about couples considering marriage? Do you offer pre-marital counseling? Yes, we offer this to couples who are considering or planning their marriage. We offer premarital events and opportunities for couples to meet in a small group or to meet individually with a Marriage Champion. Research has shown that couples who receive quality premarital preparation are twice as likely to have a successful marriage. There is no greater advice for your children then to suggest they prepare well for their marriage.
What if I know a couple on the brink of divorce? What do you suggest? Couples in crisis should get professional help to stabilize their relationship. They also need the healthy skills for relationship building. We recommend both.
What if I've already got a good marriage? If you already have a good marriage, you can make your marriage grow from good to great. Come to one of our events annually to continue to grow and nurture your marriage. You can also join our team called Marriage Champions. We will train you to facilitate small groups and make a difference for our community. We believe as a marriage goes so goes the family. As the family goes, so goes the community. Great marriages don't just happen. They have to be nurtured to grow into something great. There is no better way to master the material we present than by teaching it.
I know an older couple that has a great marriage – is there a way for them to help? Yes. Encourage them to join us as well. We need marriage champions all over Northwest Arkansas. Together, we can make this beautiful place to live a place known for healthy marriages.
CLICK HERE to vist the NWA Healthy Marriages website! It has information about upcoming seminars as well as resources  like quizzes, articles and "couple checkups".