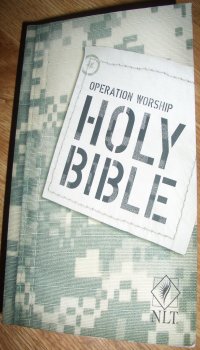 We just heard about a really super way to support soldiers who are overseas. The Family Christian Store on Joyce Boulevard in Fayetteville (next to GameStop) is selling Bibles for $4.99 (+ tax) to send directly to the soldiers with a message from you inside.
What's really cool is that the message actually gets sewn into the Bible. You just pick which branch you want it sent to and they'll send it for you.  Candice Hull, a Motherlode reader and mom to 21-month-old Elijah, is married to the store manager there, so she knows the Bibles all make it to their destination.
"I just think it is a really great thing that they are doing, and I have a lot of friends over there and know how much things from home really mean to them and how much they need their faith right now," she said.
Candice said the store sends the Bibles back to the publishers, The Nelson Group, and they sew the notes into them.
Candice added, "My husband just got transferred to this store from Texas two months ago, but has worked for the store for a few years.  We really love the Family Christian Store because they do a lot of things like this and you can always trust your money or item is going where it says.  They use World Vision for their adopt a child program and over 87% of the money goes to the child instead of the charity like a lot of others."
Call the store with any questions at 479-521-3611 or stop by to purchase a Bible and write your own personal message to a deserving soldier. You may also visit the website: www.familychristian.com.