Editors' note: Congrats to Crystal Bridges Museum of American Art, one of our website sponsors who recently earned a Mom-Approved Award in the "Best Family Outing" category. Get info on all Crystal Bridges has to offer in today's featured profile.

Voted as a 2017 Mom-Approved Award Winner in the
"Best Family Outing" category
Winner: Crystal Bridges Museum of American Art
Location: 600 Museum Way, Bentonville
How to reach them: Call the museum at 479.418.5700 or click here to visit the Crystal Bridges website.
Hours: Sunday: 10am-6pm; Monday: 11am-6pm; Tuesday: CLOSED; Wednesday, Thursday and Friday: 11am-9pm; Saturday and Sunday, 10am-6pm. There is NO COST to view the museum's permanent collection, which is on view year-round. General admission to Crystal Bridges is sponsored by Walmart.
Closed on Thanksgiving and Christmas.
Crystal Bridges trails and grounds are open from dawn to dusk daily and museum hours.
Buckyball:
Leo Villareal's sculpture, Buckyball, is illuminated from 10 a.m. to 11 p.m. every day. The light display changes from the white-light daytime sequence to a vibrantly colored evening sequence shortly after dark.
Skyspace: James Turrell's Skyspace, The Way of Color, located on the Art Trail, is open for the sunrise experience every morning approximately 30 to 45 minutes before sunrise. Precise times vary according to the time of year. The sunset experience begins about 10 minutes before sunset. Seating in the Skyspace is limited. Guests are encouraged to arrive 30 minutes early to secure a seat. Each experience takes about 30 to 40 minutes.
What's available for families at Crystal Bridges:
The museum offers a variety of temporary exhibitions. Pick up a free calendar to find out what's coming up.
Free, drop-in family tours are offered every Saturday at 1 p.m.
Stop by the Experience Art Studio for art-making activities, puppet play, games, and more anytime the museum is open.
Crystal Bridges offers Family Days, Preschool Playdates, and classes or workshops for children, teens, and families. CLICK HERE to visit the museum's calendar.
Youth art classes. CLICK HERE to see a line-up of classes at Crystal Bridges.
Winter Break events:
Bring the kids to the museum over their school break to enjoy special family-friendly activities each afternoon, including artmaking, music, puppets, dance, and more. Winter Break Wonders are from 1-4 p.m. beginning Dec. 21st. Free, no registration required.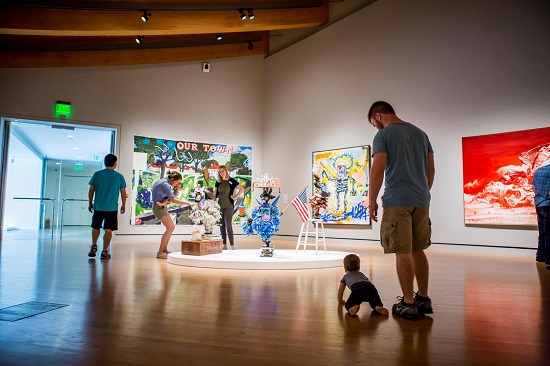 Testimonials from local museum visitors:
"What I love most about Crystal Bridges is that it is an immersive experience. To really experience it best one should park not at the museum but right off the town square in Bentonville and take the Compton Park Trail to the Art Trail. This leads to the museum's south entrance which is not even a 1/2 a mile down the trail. It's got art and structures along the way that lead you into a mindset towards art and beauty."
"I've been to a lot of great museums in the US and this is one of my favorites. The temporary exhibits they bring in are amazing and the permanent collection is wonderful as well. Very impressed with what our little town has to offer."
"Crystal Bridges was absolutely awesome. The grounds, the art & the people were outstanding. I highly recommend this as an addition for your 'bucket list'."
Congrats to the staff at Crystal Bridges Museum!
Click here to visit the Crystal Bridges website.