Editors' note: Congrats to the Amazeum, one of our website sponsors who recently earned a Mom-Approved Award in the "Best Family Outing" category. Get info on all the Amazeum has to offer in today's featured profile.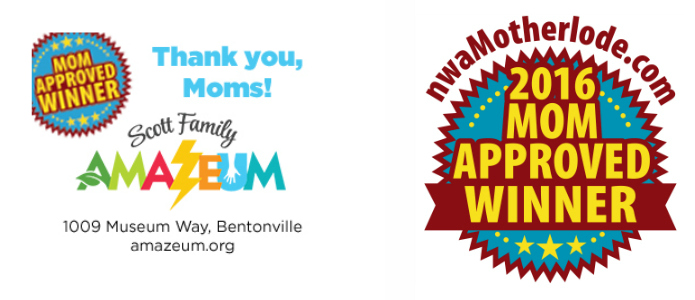 Voted as a 2016 Mom-Approved Award Winner in the
"Best Family Outing" category
Winner: Scott Family Amazeum
Location: 1009 Museum Way, Bentonville, Arkansas 72712
Phone: (479) 696-9280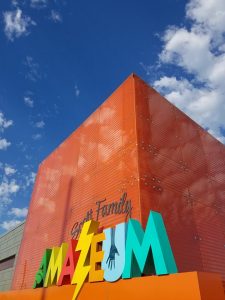 Admission: $9.50 for guests age 2 and over. (Kids under 2 are admitted free.) Memberships offer unlimited admission (which is great for local parents who visit often.) Click here to see info about memberships.
Size: 50,000 square feet of fun inside the building plus 1 acre of outdoor space
This museum is perfect for: Kids who want to have fun, and parents who love it when fun also includes a little learning, imagination and active play. Most of the exhibits in the museum are perfect for kids in the 4 to 9 age range, but there are also two dedicated spaces for toddlers age 2 and under.
For older elementary-aged kids and middle school students, the Amazeum has learning spaces like Innovation Alley, including the 3M Tinkering Hub, the Art Studio, and Hershey's Lab.
What kids love about it: One of the most exciting exhibits is called Nature Valley Water Amazements, and kids LOVE this area of the museum. (Expect to see water tornadoes and lots of other cool things.)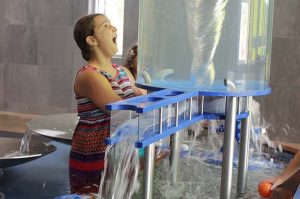 It's pretty common for kids to get wet in this area, so it's a good idea to bring a change of clothes, just in case. Kids who play hard get hungry often, but you can find healthy snacks at the Amazeum's Zing Cafe. If you want a souvenir to take home, there's also a shop called the Curiosity Corner Store.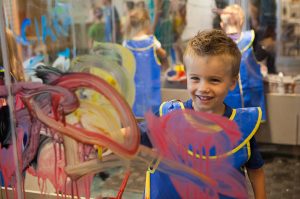 What you might not know about it: Thanks to a grant from Tyson, the Amazeum offers an opportunity called "Priceless Nights," which means that — instead of paying regular admission prices — families are encouraged to simply pay as they wish. Priceless Nights happen on designated Wednesdays from 4 to 7:30 p.m., and these are the remaining dates for 2016: November 30th, December 7th, December 14th, and December 28th.
Testimonial from a local mom: "Kids had a blast! Going after school to play and a couple Sunday afternoons a month…. plus you can have a picnic outside or eat at the cafe tables with food/drinks from home, pretty great!  — Tasha Chandler
Congrats to the staff at the Amazeum!
Click here to visit their website.