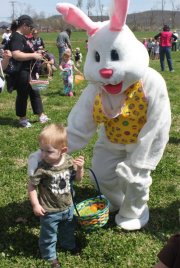 Here comes Peter Cottontail!
Yes, Easter is almost here and lots of Northwest Arkansas cities are hosting egg hunts, some starting this Saturday. We rounded up some of the region's best, but please let us know if we left anyone out. We're happy to add an event!
Bring your cameras, kids and Easter baskets to these NWA Easter egg hunts:
Saturday, March 31 events:
4th Annual Easter Egg Round-Up, Parsons Stadium
Age groups: 4 and under; 5-7; 8-10; 11 and up. The rodeo is also partnering with For Pet's Sake for the 1st Doggie Easter Parade following the Easter Egg Roundup.
Time: 11 a.m.
Location: Parsons Stadium, Springdale
More info: Rodeo of the Ozarks site
The 3rd Annual Kiwanis Easter Eggstravaganza
Here, you'll find 40,000 Stuffed Easter Eggs, 3 age divisions with several prize eggs in each division, FREE face painting, $1 pictures with the Easter Bunny by Birdsong Photography, Farmington Methodist Church providing 500 hot dogs & chips, Live Music Provided by Inside Out Studio's, Games & Activities too! There will be a canned food drive for the Homeless and would appreciate any donations. If postponed due to weather decision will be made at 10 am and rescheduled for the following Saturday 1-3 pm
Time: 1 to 3 pm
Location: Williams Elementary School on Broyles Rd. in Farmington.
More info: Like Farmington Easter Eggstravaganza on Facebook for more details or call 479-236-7196. Farmington Schools and Farmington Kiwanis.
Rogers Mayor's 2012 Easter Egg Hunt
Boys and Girls ages 0-8 are invited to participate. Prizes awarded in 3 age groups. Register one of 3 ways: on the city website; by calling the City of Rogers, 631—0336 * 631—3350 * 621—1117 *; or on site from 2—2:45 pm
Time: 3 p.m.
Location: Veteran's Park, Rogers
More info: City of Rogers site
Hershey's Easter Egg Hunt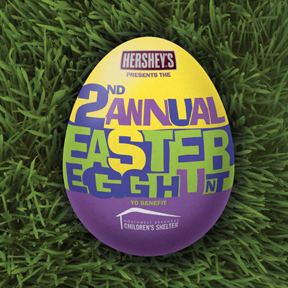 Proceeds from this event benefit the Northwest Arkansas Children's Shelter, so to Hershey's, we say a big, "Thanks!" Bring your camera and your Easter basket (not provided at the hunt) and join us for activities including: search for thousands of eggs filled with Hershey's chocolates and candy, hundreds of Golden Ticket Eggs (redeemable for valuable prizes), a Bunny Hop, coloring area, face-painting, crafts and games, Hershey Kiss and Reese's characters, and a special appearance by the Easter Bunny!
Time: 3-4pm
Location: Orchards Park (Bentonville)
More Info: $3 Individual/$5 Family (Suggested donation.) http://nwacs.org
April 1 event:
Easter at the Boys & Girls Club of Fayetteville is open to the public. There will be 16,000 eggs for kids ages 2 to 11 (4 age divisions) to hunt. In addition to egg hunting, there will be games, coloring and face painting booths, frisbee golf and climbing wall for $1.
Time: 3 p.m.
Location: The Donald W. Reynolds Boys & Girls Club of Fayetteville (Rupple Road)
More info: Call 442-9242
April 7 events:
8th Annual Easter Egg Hunt, Bella Vista Village
There will be 10,000 plastic eggs filled with candy and prizes for children 12 and younger. Parents may take pictures of their children with the Easter Bunny before and after the egg hunt. A free carnival with an Easter basket raffle will immediately follow the egg hunt. Tickets, limited to the first 250 children are available at Riordan Hall.
Time: 10 am
Location: Riordan Hall (map)
More Info: www.BellaVistaPOA.com Call (479) 855-5073
2nd Annual NWA helicopter drop
A FREE family event! 30,000 Plastic Easter Eggs; 30,000 Prizes; 1500 Golden Ticket Prizes; 3 Age-Graded Fields; 1 HELICOPTER; A prize in every egg!; Over 1500 Golden Ticket Prizes! Golden Ticket Prizes include:  Chocolate Eggs…PEZ…Hershey Bars …Gift Certificates for Free Helicopter Rides…. and more. Everyone must register to participate. Go to www.NWAEggDrop.com for more information and to print the registration form.
Time: 10:00 – 11:00
Location: First Baptist Church, 3364 W. Pleasant Grove Road, Rogers
More info: www.NWAEggDrop.com
Fayetteville Egg Drop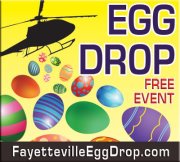 Fayetteville's first ever Helicopter Easter Egg Drop. This is a free event opened to all children up through 6th Grade. Pathway Baptist Church is providing 15,000 candy-filled eggs that will be dropped over the Gary Hampton Softball Complex (next to Holcomb Elementary).
Time: 2-3 p.m.
Location: Gary Hampton Softball Comples
More info: Visit www.FayettevilleEggDrop.com for more information and to preregister your kids.
April 8 event:
War Eagle Mill Easter Celebration
The fun starts at 2 p.m. and goes until 4 p.m.  Crafts and activities for children of all ages. There will be candy, prizes and chances to earn "Bunny Money" to spend at War Eagle Mill.
Time: 2-4 p.m.
Location: War Eagle Mill
For more info: Contact Tammy Bennett at tammy@wareaglemill.com