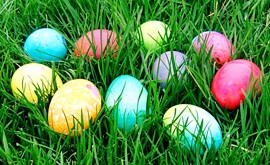 We keep hearing about new Easter egg hunts around Northwest Arkansas, so we decided it would be a good idea to post an updated round-up!
Please share any others you might know about in comments below.
Pinnacle Hills Promenade Egg Hunt
Children can hunt for eggs with the Easter Bunny starting at 1:30 p.m. on the lawn area in front of the Malco Theater. Fabulous Easter baskets full of delicious Ghirardelli Chocolates and prizes will be awarded the winners in each age category. Appearances will be made by the Naturals baseball team mascot "Strike" between 1:30-2:30 p.m., as well as the Build-a-Bear Workshop mascot and the Easter Bunny! Games, Inflatable Bounce, Balloon Twisting, Face Painting and more!
Date: Saturday, March 30
Time: 1:30-4 p.m.
Location: Pinnacle Hills Promenade mall
More info: Click here
Cross Church Egg Drop, Magician
We will have a GIANT Easter Egg Hunt with 20,000 EGGS kicked off by a HELICOPTER EGG DROP over the baseball fields on our Springdale Campus. We are also excited to welcome Curt Anderson, a magician known for his unique and powerful gospel presentation. You don't want to miss this FREE community outreach event. It's going to be epic!
Date: Saturday, March 30
Time: 10 a.m. to 12:30 p.m.
Location: Cross Church, Springdale campus baseball fields
More info: Click here

Pathway Church Egg Drop, Fayetteville
The drop itself will begin at 2:00pm but we have inflatables for all ages and a netted paintball target shoot for older kids. These have been donated so they're free of charge. The gates will open at 12:00pm. Try to be there AT LEAST 30 minutes early as the last minute rush might keep you from getting your kids registered in time.
Date: Saturday, March 30
Time: Starts at noon, drop is at 2 p.m.
Location: Washington County Fairgrounds, 2536 N McConnell Ave, Fayetteville
More info: Click here
The City of Lowell's Easter Egg Hunt
The egg hunt will be held at Ward Nail Park in Lowell and there will be prizes for ages 3-12. Refreshments will be provided.
Date: March 30
Time: 2 p.m.
Location: Ward Nail Park, Lowell
More info: Click here
Easter Bunny at the NWA Mall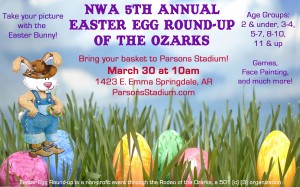 Easter Egg Round-Up, Parsons Stadium
Pictures with the Easter bunny, egg hunt, games, face painting.
Date: Saturday, March 30
Time:  10 a.m.
Location: Parsons Stadium, Springdale
More info: Click here
Easter at Orchards Park, Saturday and Sunday, Bentonville
Free Easter Week-end Celebration for all, brought to you by the City of Bentonville, Arvest and Bentonville First United Methodist Church.
Saturday
2 – 7 pm — free inflatables and games for children
2 – 5 pm — free face painting for children
2 – 7 pm — food vendors
3 – 3;30 pm — free Easter egg hunt
3:30 – 8:30 pm — free "Jesus Jam" Contemporary Christian Concert
Sunday
7 – 8 am — Community Sunrise Service featuring former American Idol contestant Patrick Hall and a community orchestra. Bring lawn chairs and blankets.
More info: Click here
War Eagle Mill Celebration
Fun for the entire family. 8:30 am – 4 pm: Breakfast and lunch at Bean Palace Restaurant; Kids crafts starting at 11am: Decorate eggs and pictures! 2 pm: Easter Egg Hunt outside the War Eagle Mill on the grass fields. Starts at 2pm SHARP! Don't forget your basket! 4 pm – 5pm: "Tea Time" serving delicious cobbler and ice cream in the Bean Palace Restaurant.
Date: Sunday, March 31
Time: See in above description
Location: War Eagle Mill
More info: Click here
Easter Brunch & Egg Hunt at the Crescent Hotel-Sunday, March 31st
Bring the family and enjoy brunch, served from 9am-3pm and reservations are required by calling: 479-253-9652. There will also be the annual Easter Egg Hunt at 1PM in the Crescent Gardens. There are two age divisions: 0-5 years old and 5-12 years old. Two golden eggs will be hidden and the Easter Bunny will be available for photo ops after the hunt on the boardwalk for pictures.
Date:  Sunday, March 31
Time: Easter Egg Hunt, 1 p.m.
Location: Crescent Hotel, Eureka Springs
More info: Click here