September 2022: Northwest Arkansas Calendar of Events
Happy September, mamas! We've pulled together some of the most fun and family-friendly events in Northwest Arkansas. Click on the name of any event below to find more info!
Crystal Bridges' North Forest is coming to life once again with a brand-new outdoor, nighttime experience. Wednesday, Thursday and Sunday nights. Advance tickets are encouraged.
Dates: Aug. 31 through Jan. 2, 2023
Time: Varies
Location: Crystal Bridges Museum of American Art
A twist on the event: The game of I Spy springs to life on Fayetteville's Downtown Square during First Thursday. Discover the unexpected during this one-night-only pop-up art installation at First Thursday: A Closer Look. From 5:30-9 p.m., seek and you will find a curated collection of delightfully itty-bitty, out of the ordinary, miniaturized, not-what-you-expected-to-see-there art pieces hidden all around the Square. There's also music, vendors, food trucks and a kids area.
Date: Thursday, Sept. 1
Time: 5:30-9 p.m.
Location: Fayetteville Square
Date: Friday, Sept. 2
Time: 11 a.m. to 9 p.m.
Location: Bentonville Square
 This event has been canceled due to forecasted inclement weather. Mark your calendars for the our next Art Trail at Night on October 7.
Come experience an evening of drop-in, creative fun under the stars with music, food, artmaking, and more. The museum transforms the South Lawn and Art Trail into a glowing garden of light and imagination that's fun for all ages. Kick off the night with a one-of-a-kind sunset view at Skyspace, with live music. Then visit the themed artmaking stations to flex your creative muscles. Free, no tickets required. Drop in anytime from 8 to 11 p.m.
Date: Friday, Sept. 2
Time: 8-11 p.m. (drop-in)
Location: Cyrstal Bridges Museum, Bentonville
The Prairie Grove Clothesline Fair is held at the Prairie Grove Battlefield Park over the Labor Day Weekend each year. The CLF is a partnership between the Prairie Grove Battlefield Park and the Prairie Grove Lions Club. 
Dates: Sept. 3-5
Time: Varies
Location: Prairie Grove
Enjoy Sesame Street segments, dance, sing songs, and enjoy a bedtime story.
Date: Thursday, Sept. 8
Time: 6:30 p.m.
Location: Online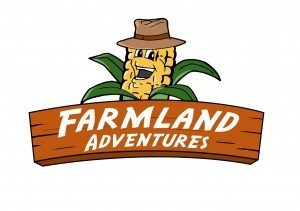 Farmland Adventures opens on Sept. 9 and will run through November 5th, 2022. Fridays from 1:00 – 9:30pm and Saturdays from 9:00 am – 9:30 pm. Additional hours Thursdays in October from 3:00 pm – 9:30 pm. (Closed on Sundays.) There will be several "Mother's Day Out" days for parents and their children to enjoy.  This year, they will be September 21st, September 27th, October 5th, October 10th, October 20th, and October 27th.  Open from 9:00 am – 2:00 pm on each of those dates.  New this year will be a giant hillside tube slide. Sweet Scoops Blender Bar will also be on hand for a cool treat this fall. Corn mazes, farm animals, a kids zone, and more.
Celebrate Art & Culinary Week with a family-friendly dinner and a movie on Friday, September 9th at 6:00pm. Bring a chair or picnic blanket and enjoy a free viewing of Cloudy with a chance of Meatballs. K'Zoli's Italian Food Truck will be on the Bentonville Square to serve up spaghetti and meatballs – plus other Italian Favorites. 
Date: Friday, Sept. 9
Time: 6 p.m.
Location: Bentonville Square
Date: Saturday, Sept. 17
Time: 7:30 a.m. to 1 p.m.
Location: Bentonville Farmers Market, Bentonville Square
Food, dance performances, art, crafts. Bring blankets, lawn chairs, and picnic supplies. This event is the last day of "Welcoming Week" (Sept. 9-18), a series of events nationwide bringing together immigrants, refugees and native-born residents to raise awareness about the benefits and importance of welcoming everyone. All ages welcome. Free admission.
Date: Sunday, Sept. 18
Time: 3-7 p.m.
Location: Botanical Garden of the Ozarks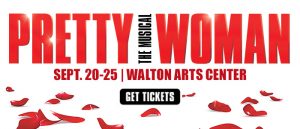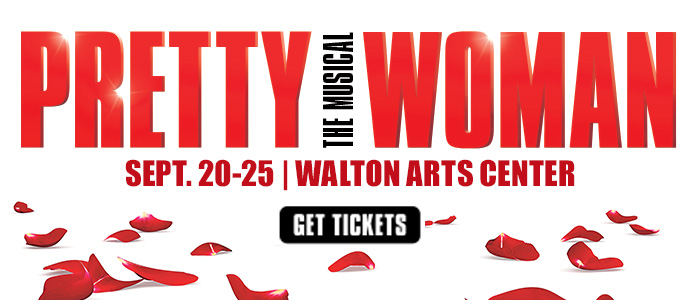 Based on one of Hollywood's most beloved romantic stories of all time, this musical springs to life with a powerhouse creative team led by two-time Tony Award®- winning director and choreographer Jerry Mitchell (Hairspray, Kinky Boots, Legally Blonde).
Brought to the stage by lead producer Paula Wagner, PRETTY WOMAN: THE MUSICAL features an original score by Grammy® winner Bryan Adams and Jim Vallance ("Summer of '69," "Heaven"), and a book by the movie's legendary director Garry Marshall and screenwriter J. F. Lawton. PRETTY WOMAN: THE MUSICAL will lift your spirits and light up your heart. "If you love the movie, you'll love the musical!" (BuzzFeed News).
Date: Sept. 20-25
Time: Varies
Location: Walton Arts Center
The Bentonville Community Center will host a magical afternoon of superhero and princess fun. Everyone is welcome to come dressed as their favorite character. The event includes a DJ, photographer, face painting, games, crafts, light refreshments, and more. Ticket cost = $45 per couple (2). Additional person = $15. Ages 4 and up
Date: Sept. 24
Time: 2-4 p.m.
Location: Bentonville Community Center
Terra Studios will have activities and live music on Saturday-Sunday, Sept. 24-25. There will also be a new addition to the bluebird family. Support for Terra Studios is provided, in part, by the Arkansas Arts Council, an agency of the Department of Parks, Heritage, and Tourism, and the National Endowment for the Arts.
Date: Sept. 24-25
Time: 11 a.m. to 4 p.m.
Location: Terra Studios, outside of Fayetteville
A free pop-up park at Turnbow Park in downtown Springdale. Learn about the endangered Monarch Butterfly, its habitat, and yearly pitstop in Springdale during its migration from Canada to Mexico. At 6:30, butterflies will be released. The first 50 kids will receive butterfly wings. Hosted by the Downtown Springdale Alliance.
Date: Thursday, Sept. 29
Time: 6-8 p.m. (At 6:30, butterflies will be released)
Location: Turnbow Park, downtown Springdale