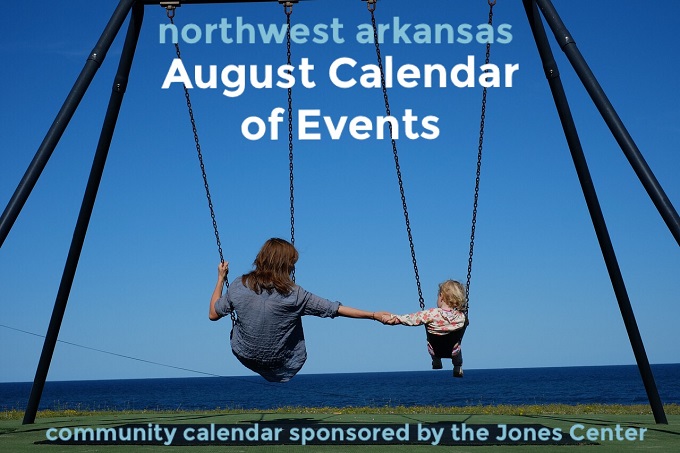 First Thursday Fayetteville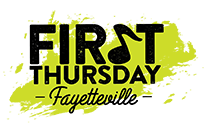 On the first Thursday of each month from April to October, First Thursday Fayetteville transforms the city's historic Downtown Square in to a vibrant arts district, featuring the work of more than 40 visual artists, live music, street performers, food and drink, and children's activities. First Thursday Fayetteville is a monthly event held on the Downtown Fayetteville Square, celebrating original works of art. On the first Thursday of each month, an outdoor art walk, live music, and a local craft beer garden take over the Square, while participating galleries and art-related venues offer free access to visual and performing art starting at 6:30 p.m. Starting in May, the Kids Stage act will be from 6 pm – 6:45 pm.
It's a safe, family-friendly, community event for people of all ages, free to the public, and a lot of fun. First Thursday feels like a giant gallery opening, with all the energy and excitement of a street festival.
Date: Aug. 4
Time: 5:30 p.m.
Location: Fayetteville Square
More info: Click here
Gulley Park Summer Concert Series
Last concert of the season! Effron White from 7-9 p.m. Free event. Bring your blankets, picnics and drinks.
Date: Aug. 4
Time: 7-9 p.m.
Location: Gulley Park, Fayetteville
More info: Click here
First Friday Bentonville
On the First Friday of every month, Bentonville Square is transformed into a themed community block party with live music, outstanding food and family friendly activities. Thousands of members come out to celebrate the community. The theme for this First Friday is back to school.
Date: Aug. 5
Time: 11 a.m. to 8 p.m.
Location: Downtown Bentonville
More info: Click here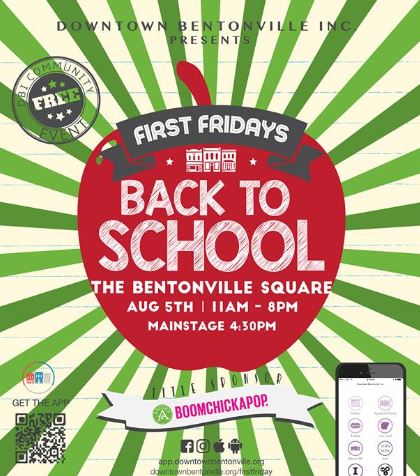 Dog Day of Summer at the Siloam Springs Farmer's Market
The annual Dog Day of Summer event at the Farmers Market will have: Special Dog-Themed Vendors All Day; 9:30am – Dog Walk; 10am – FREE Contests:
Cutest Dog
Cutest Puppy
Dog/Owner Look Alike
Best Costume
No registration required – contests are FREE! Farmers Market Vendors will be the judges.
10:30am – Live Music from Sam Thompson
Date: Aug. 6
Time: See above
Location: Downtown Siloam Springs
More info: Click here
Astronomy Night at Hobbs State Park (Features the Milky Way and the Perseid Meteor Showers)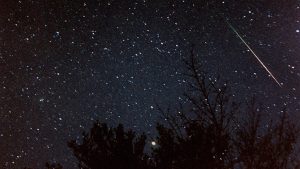 The Sugar Creek Astronomical Society (SCAS) will once again partner with Hobbs State Park for another FREE night sky viewing on August 6th. Each astronomy event at Hobbs is different because the night sky constantly changes.
According to Katherine Auld, President of the SCAS, "The Perseid meteor shower bursts into light as Earth passes through the long trail left by Comet Swift-Tuttle.  The Perseid meteor shower runs through most of August, but it will not peak until the following week so the number of meteors we will spot will likely only range up to 20 per hour.  During the lecture we will talk about the Perseid meter shower; its source, location in the sky and viewing practices so that you can have the best possible chance of viewing this spectacle.
With only a wee sliver of a moon this night, we will have the dark skies necessary for a beautiful view of the Milky Way.  Members of SCAS will have telescopes set up for the public viewing.  We will be able to explore The Great Rift (massive clouds of starlight-soaking dust extending from Sagittarius across Cygnus).  We will also have the chance to view several deep sky objects including M51, the Whirlpool galaxy, and M39, an open star cluster in Cygnus."
What to Bring:
Flashlight (covered with a red cloth or red balloon)
Binoculars and/or telescope (if you have)
Folding chair – one per person`
Star chart (if you have one)
Date: Aug. 6
Time: Beginning astronomy class at 7:30 p.m.; observation using binoculars, telescopes and the naked eye will begin shortly after sunset, about 8:30 pm
Location: Hobbs State Park visitor center located on Hwy 12 just east of the Hwy 12/War Eagle Road intersection.
More info:  Call 479-789-5000 or visit http://www.friendsofhobbs.com/
Coffee & Cars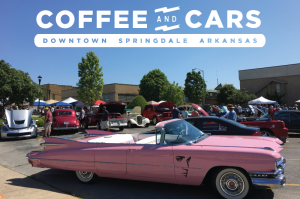 Coffee & Cars in Downtown Springdale will be Aug. 6 from 8a.m. – noon. This family friendly event is FREE and open to the public. Downtown Springdale will be filled with antique cars, muscle cars, show cars, motorcycles, and your favorite classics the first Saturday of the month through October across from the Shiloh Square. You're invited to bring your own car or motorcycle to register for FREE! Five trophies will be awarded by various community leaders including Mayor Sprouse and the Downtown Springdale Alliance.
Complimentary coffee and pastries will be available from Springdale's own Pontiac Coffee House while supplies last. The Mill Street Market is just one block over – meaning lots of tasty treats and fantastic shopping.
Date: Aug. 6
Time: 8 a.m. to noon
Location: Downtown Springdale
More info: Click here
Tontitown Grape Festival
FREE parking, FREE admission, FREE entertainment, armband SPECIALS each night, & much more.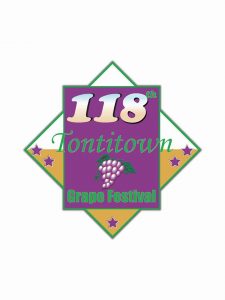 FREE NIGHTLY ENTERTAINMENT schedule:
Tues 8/9 – 7pm: Backroad Anthem, 9pm: Clayton Anderson
Wed 8/10 – 7pm: Eye for a LiE, 9pm: Maren Morris
Thurs 8/11 – 7pm: Kelly Road Band, 9pm: Shenandoah
Fri 8/12 – 7pm: J.R. & The All Stars, 9:30pm: J.R. Moore
Sat 8/13 – 6pm: Kyla Horton Stephens, 7pm: Kevin Upshaw & One Night Stand, 9pm: John Berry
Date: Aug. 9-13
Time: Varies
Location: Tontitown
More info: Click here
Summer Concert Series, BGO
Gates open at 5 and the Garden is free to enter! Bring a picnic and a blanket or lawn chair and enjoy some mid-week entertainment. Featuring The Silvershakers.
Date: Aug. 16
Time: 7 p.m.
Location: Botanical Garden of the Ozarks
More info: Click here
Eureka Springs Bluegrass Festival
Date: Aug. 18-20
Time: Varies
Location: Eureka Springs
More info: Click here
Secchi Day on Beaver Lake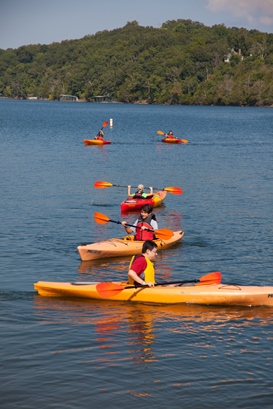 The public is invited to attend the 11th annual Secchi Day on Beaver Lake from 9 a.m. to 1 p.m. on Saturday, Aug. 20, 2016, at Prairie Creek on Beaver Lake, five miles east of Rogers, Arkansas, on Hwy. 12. The Science Education Festival includes activities for all ages, with a mobile aquarium, on shore scavenger hunt with prizes, free lunch and ice cream, kayak test rides, microscope activities, a photo contest and more. This event is free. Email awilson@bwdh2o.org. The event is named for the Secchi Disk, a black and white device lowered into the water to measure clarity.
Date: Aug. 20
Time: 9 a.m. to 1 p.m.
Location: Prairie Creek on Beaver Lake
More info: Click here
Buckin' in the Ozarks PBR
Date: Aug. 20
Time: 8 p.m.
Location: Parsons Stadium, Springdale
More info: Click here
'80s Night at the Rink

This special 1980's-themed ice skating session sounds awesome. Dress up in your favorite neon, windbreakers, or poofy hair to introduce your children to what life was like in the 80's. This is a free ice skating event for member only and their families. Become a member or renew your membership online here http://bit.ly/1Nmq9Vs or by calling 479-756-8090.
Date: Aug. 21
Time: 5-7 p.m.
Location: The Jones Center, Springdale
More info: Click here
Frisco Festival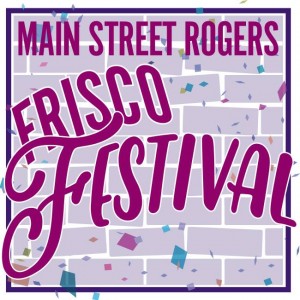 Live music on Friday night and Saturday from 3pm until 11pm. Musicians include: Got It Covered, CalleSoul Salsa, Voxana, The Show and Tellers and Crescent City Combo. Expanded kid zone includes magicians, street performers and games. There will be Southern BMX Stunt Show performing on Saturday, dancing, food and craft vendors and a BBQ contest and chicken cook-off. There are still more surprises planned so stay tuned.
Date: Aug. 26-27
Time: Varies
Location: Downtown Rogers
More info: Click here
Model Railroad Show
Enjoy a model train display in the Annex of the Rogers Historical Museum on the Saturday of Frisco Festival.
Date: Aug. 27
Time: See link below for more info
Location: Rogers Historical Museum
More info: Click here
Dickson Street Slide

This event will have you slip-slidin' on a water slide spanning Dickson Street from Collier Drug Store to WAC! This benefits Solider On Service Dogs, which will be working with the Dickson Street Merchants Association and the City of Fayetteville, local businesses and nonprofits to provide food, fun, and entertainment.
Date: Aug. 28
Time: 9 a.m. to 9 p.m.
Location: Dickson Street
More info: Click here
The Northwest Arkansas Calendar of Events is sponsored by The Jones Center for Families in Springdale. There's ALWAYS something fun happening at The Jones Center, plus they have all kinds of classes for adults and kids — and great birthday party options at the indoor swimming pool, gymnastics or ice skating rink! CLICK HERE to visit the Jones Center website to see more!