Northwest Arkansas Calendar of Events for October 2023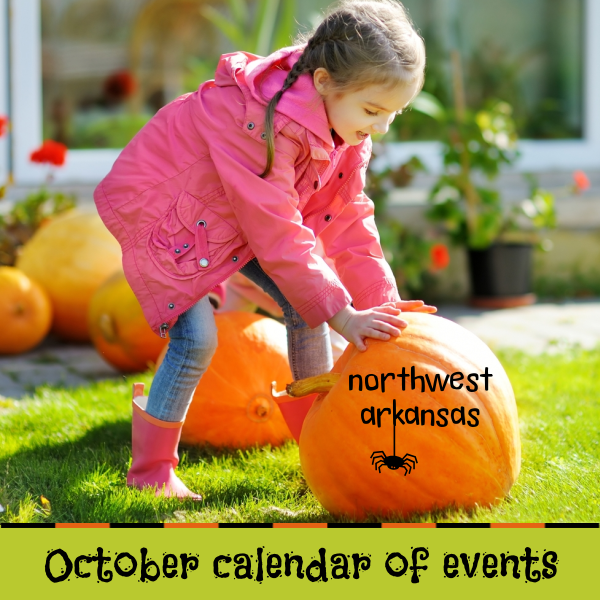 It's Halloween month, mamas! As always, we've curated some of the most fun and family-friendly events in Northwest Arkansas. This is the list of regular calendar events. Look for our 2023 Halloween-specific post soon!
Click on the name of any event below to find more info! Scroll to the bottom for a list of craft fairs mid-month.
Celebrate Oktoberfest at Crystal Bridges this year as they bring this traditional German festival to the heart of the Ozarks. Guests can enjoy award-winning beer from local breweries like Lost 40, Bike Rack, and Bentonville Brewing, and authentic German cuisine from Bauhaus Biergarten's food pop-up. They'll also have art, games, and live polka music, so you can bring the whole family for an afternoon of fun. Free, no tickets required. Open to all ages, wristbands available for guests 21 and older.
Date: Oct. 1
Time: Drop by anytime between 1 and 5 p.m.
Location: Crystal Bridges Museum's North Forest
First Thursday on the square, an annual event series produced by Experience Fayetteville, is a free, community-centered event that features a combination of music, food, art, and fun. Welcome autumn with the last First Thursday of the season, which will take you Down the Rabbit Hole to a weird and wonderful world filled with music, fantasy art, and circus performers that grows curiouser and curiouser.
Date: Thursday, Oct. 5
Time: 5:30-9 p.m.
Location: Downtown Fayetteville
Date: Friday, Oct. 6
Time: 11 a.m. to 9 p.m.
Location: Downtown Bentonville
Spend the evening paddling on Beaver Lake while guided by a Hobbs State Park interpreter. Learn the basics of paddling and enjoy the sunset on the lake, weather permitting. All equipment is provided. Space is limited to 10 people. Bring a bottle of water, insect repellent, flashlight, and dress for the weather. Minimum age 9. Adults: $18; Age 9-12: $12 Registration and pre-payment required. Call (479) 789-5000 to register.
Date: Tuesday, October 10
Time: 6-8 p.m.
Location: Beaver Lake
Arkansas PBS is bringing this free public event to the community. This year's theme is "'I' is for Imagination," and will feature PBS costume characters, free snacks, live entertainment, hands-on kid's activities and games, giveaways and prizes, and a PBS pop-up shop. Special guests for the day include Clifford the Big Red Dog, Curious George, Daniel Tiger and Katerina Kittycat from "Daniel Tiger's Neighborhood." Families are invited to meet and take photos with the characters. Families are encouraged to RSVP via Eventbrite.
Arkansas PBS is proud to partner with the Northwest Arkansas Food Bank at this event to gather donations of after-school and weekend snacks for families who struggle with food insecurity. Following the theme of "'I' is for Imagination", PBS is asking Family Day attendees to "imagine a world where no child goes hungry" by bringing non-perishable kid-friendly food items as a donation. Suggested items include granola bars, juice boxes, gummy/fruit snacks, noodle cups and raisins.
Date: Oct. 14
Time: 10 a.m. to 2 p.m.
Location: The Jones Center, Springdale
 Kids of all ages will be able to view, touch, and climb all over their favorite types of trucks and heavy equipment. Free. All children should be accompanied by an adult. "We do understand that not all children do well in crowds or around loud noises. For those children, we are inviting their participation starting 60 minutes prior to opening for the general public. Our hope is that all children will be able to enjoy this event within their own comfort level."
Date: Oct. 14
Time: 10 a.m. to 2 p.m.
Location: Ward Nail Park, Lowell
The True Lit Festival is back for its 10th year to showcase author events. From October 14–26, students and patrons are all invited to attend writing workshops designed to help new talent find publishers, poetry readings, art classes, and more meant to spark the creativity in everyone. The 2023 festival welcomes several notable authors, including bestselling author of the Goosebumps series, R.L. Stine.
Dates: Oct. 14-16
Time: Varies
Location: Fayetteville Public Library
October is the perfect time to learn about our forest friend, the bat. Meet at the cave exhibit entrance inside the Visitor Center to learn more about these winged wonders. After visitors go "caving", you will have the opportunity to make your very own bat hat to wear. Recommended ages 4+.
Date: Saturday, Oct. 14
Time: 10:30-11:30 a.m.
Location: Hobbs State Park
Come to the Hobbwarts School for young wizards and witches for this fun, kid-friendly program as we learn about the owls of Hobbs State Park with Professor Whoratio Owliver (a.k.a. Park Interpreter Chris). Everyone is welcome to come dressed in a costume or your robe to represent your house.
Date: Saturday, Oct. 14
Time: 1-2 p.m.
Location: Hobbs State Park
If bats could speak (or sing the Bad Rap Bat Rap), what would they want to tell us? Park Interpreter Chris will help "interpret" bat during this batty encounter suitable for all ages. Find out more about the mysterious cave-dwellers at Hobbs that are endangered or threatened, and how we can help bats everywhere.
Date: Oct. 14
Time: 3-3:30 p.m.
Location: Hobbs State Park
You're invited to an elegant evening of live music by acclaimed Ukrainian pianist and past Van Cliburn Competition-winner Vadym Kholodenko. Featuring Kholodenko's signature refinement and style, this installment of the 2023 concert series brings some of the most iconic works of the classical world to Bentonville for a night of virtuoso performance. Set against the beauty of the Great Hall and the museum's natural setting, this concert is not one to miss. Tickets are $45 ($36 for members, $10 for students and teachers), reserve your seat online or with Guest Services at (479) 657-2335.
Date: Oct. 15
Time: 3-4:30 p.m.
Location: Crystal Bridges' Great Hall
Circle of Life will host its annual Wave of Light Ceremony for those in the community who have experienced pregnancy and infant loss of a child. The remembrance will feature a memorial service with music, readings, candle lighting and a memory walk. The day is observed annually in the U.S. on October 15. The ceremony seeks to ease the pain of families who have lost a child by offering another means of acknowledging and remembering a deeply loved and missed family member.
Date: Oct. 15
Time: 6:45 p.m.
Location: Botanical Garden of the Ozarks, Fayetteville
Maker Faire is a gathering of fascinating, curious people who enjoy learning and who love sharing what they can do. From engineers to artists to scientists to crafters, Maker Faire is a venue for these "makers" to show hobbies, experiments, projects. It's a family-friendly showcase of invention, creativity, and resourcefulness.
Date: Saturday, Oct. 21
Time: 9 a.m. to 5 p.m.
Location: Fayetteville Public Library
Craft Fairs:
There are several fun craft fairs planned for mid-October this year, including the It's Fall Y'all Craft Fair in Bentonville on Oct. 19-22, 2023; the Ozark Regional Arts & Crafts Fair in Fayetteville on Oct. 19-21, and Springdale on Oct. 20-21. One of the most popular craft fairs in the region is War Eagle and it will run Oct. 19-22. The White River Nursery Arts & Crafts Fair is Oct. 28. The Spanker Creek Farm Arts & Crafts Fair in Bella Vista is canceled for 2023.
Save the date for this November event:
Mark your calendar for this year's Northwest Arkansas Boutique Show, scheduled for November 17-18, 2023. This year's event looks to be better than ever with an expanded selection and more booth space for shopping with more than 175 different vendors! We always get so much of our holiday shopping done at this event. Look for more details in an upcoming post or visit the Boutique Show's website by clicking here.