March 2022 Northwest Arkansas Calendar of Events and Spring Break Activities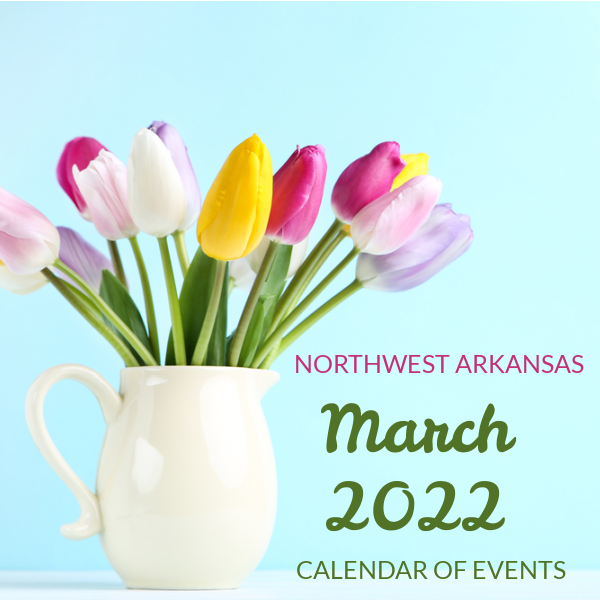 Happy March, mamas! We hope you enjoy a month filled with shamrocks, leprechauns, and Spring Break fun! Here's a roundup of some of the best family events and Spring Break activities happening around Northwest Arkansas this month.
Family Day: All Bentonville Reads
A wrap-up celebration of the All Bentonville Reads program. The museum grounds will be filled with Charlotte's Web-inspired games, outdoor activities, art projects, and more, featuring friends from Bentonville Schools, Bentonville Public Library, the Amazeum, the Museum of Native American History, and Trike Theatre. There will be dramatic readings and spider tales, county fair-style games on the Frank Lloyd Wright House lawn, and guests can meet real-life versions of the adorable farm animals in this year's novel.
Date: March 6
Time: Noon to 4 p.m.
Location: Crystal Bridges Museum, Gallery 5
Little Sprouts St. Patrick's Day Party
The BGO St. Patrick's Day Pop-Up Party will include music, garden activities and a fun craft.
(FYI: Weekly Little Sprouts sessions will start beginning May 4 and continue each Wednesday morning through October at 9:30 am and 10:30 am.) The pop-up party is free for those with a family membership. General admission prices apply for nonmembers: $10 for adults, $5 for kids 4-12, free for children 3 and under.
Date: Wednesday, March 16 (Rain date March 18)
Time: 9:30 to 11 a.m.
Location: Botanical Garden of the Ozarks, Fayetteville
More info: Register for the pop-up party.
First Day of Spring Forest Therapy Walk
Celebrate the first day of spring and experience the seasonal awakening of the Garden with an afternoon of "forest bathing." Inspired by the Japanese practice of Shinrin-Yoku, Forest Therapy is a research-based holistic practice which uses immersion in natural environments to enhance health and wellness. Health benefits include reduced stress, improved mood and sleep, and increased immune functioning.
Date: March 20
Time: 1-2:30 p.m.
Location: Botanical Garden of the Ozarks, Fayetteville
Rogers Historical Museum: Our Favorite Things
n a typical year, the Rogers Historical Museum can only display a small portion of its massive collection of objects. "Our Favorite Things" gives our museum staff an opportunity to exhibit their personal favorites by picking some of the most unique and often overlooked items in our collection. Along with seeing some rare pieces, visitors will also get the chance to vote on their own "favorite things".
Date: Now through March 26
Time: 10 a.m. to 4 p.m.
Location: Rogers Historical Museum
Spring Break Events:
Movies at the Fayetteville Public Library
Visit the Fayetteville Public Library's Event Center at 2 p.m. each day of Spring Break week (March 21-25) for a free family movie. Seating is first-come, first-served. (No food or drink in the Event Center.)
Monday – Clifford the Big Red Dog
Tuesday – PAW Patrol: The Movie
Wednesday – Encanto (Spanish)
Thursday – The Addams Family 2
Friday – Ron's Gone Wrong
Amazeum Spring Break Camps: Academy of Superheroes and Villains
Join the Amazeum for a week of honing your hero and villain skills. Test your forensic abilities and probe your problem-solving skills in hero classes while exploring the ins and outs of sneaking and concealing as villains. In-person camp with COVID safety protocols. For ages 6-11.
Dates: March 21-25
Time: 9 a.m. to 3 p.m.
Location: Scott Family Amazeum, Bentonville
Spring Break at The Jones Center
You can enjoy extended skating in the ice arena from noon – 8 p.m. each day, swimming in the pool from noon – 6 p.m. each day, plus showings of movies at 1 PM, 3 PM, and 5 PM Monday – Friday. The week also includes:
Crafting in the lobby on Monday
Dive-In Movies at the pool on on Tuesday
Inflatables in the gym on Wednesday
Runway Bike Park borrow a bike/helmet, plus free music, games & more on Thursday
Frozen Friday in the ice rink on Friday — feel free to wear a costume.
A $3 wristband/person gives all-inclusive access for any activity happening that single day/evening. No registration required.
Dates: March 21-25
Time: See description above.
Location: The Jones Center, Springdale
Spring Break Specials at Crystal Bridges
Celebrate the turn in the weather and a week off school with creative activities for all ages every afternoon. Create with artists in the studios, explore the pages of rare books in the library, enjoy live performances as a family, spend time with a board game bar in the Lower Lobby, learn about birds and blooms from guest speakers, and more. Free, no tickets required.
Dates: March 19-27
Time: 1-4 p.m.
Location: Crystal Bridges Museum, Bentonville
Digging Into Spring Break, Rogers Historical Museum
Enjoy Spring Break fun at the Excavation Station and Connecting-The-Pots. Ages 6-12. 30-minute timed reservations are required for these two free events.
Dates: March 22 & 24
Time: 10 a.m. to noon
Location: Rogers Historical Museum
Community Creative Center Art Camps
Clay and wheel camps for ages 7-16.
Dates: March 21-25
Time: Varies
Location: Community Creative Center, Fayetteville
Spring Break: Peel Compton Foundation events
The Peel Compton Foundation is offering unique, hands-on camps and experiences at Coler Mountain Bike Preserve, The Quiver Archery Range, Osage Park, and Peel Museum & Botanical Garden. Your child can explore everything from archery to cycling at Peel Compton Foundation's community spaces. Programming includes:
A week-long camp at Coler Mountain Bike Preserve where kids will build on skills that include biking, wellness, art, "leave no trace" principles, and map reading.
Day camps at The Quiver Archery Range for teens 12-17 who want to try their hand at archery.
Free wetland tours daily at Osage Park where families can explore this unique wetland ecosystem and learn about the animals that call it home.
Day camps at 

Peel

 Museum & Botanical Garden all about life in the 1800s with make-and-take activities, yard games, and garden exploration.
Dates: March 21-25
Time: Varies
Location: Varies
Click here for more info on each camp.
First Tee Northwest Arkansas Spring Break
Activities like putting, short game, full swing, and the golf course. The camp will be held outdoors as weather allows, but will be held in an indoor facility if necessary. Ages 7-17.
Dates: March 21-24
Time: 8:30-11:30 a.m. or 12:30-3:30 p.m.
Location: First Tee, Lowell
Young Chef's Academy Spring Break Camp
Students will explore a wide variety of authentic cooking techniques, cultural flavors, and learning moments. Campers are introduced to the latest trends in the culinary world. Ages 6-14.
Dates: March 21-24
Time: 9 a.m. to noon
Location: Young Chef's Academy, Rogers