Hey, mamas! We'll be talking about all things mama-related on the Magic 107.9 morning show Wednesday morning around 8:45ish with radio hosts Jennifer Irwin and Guy Westmoland. We'd love it if you'd listen in and post your comments on the Magic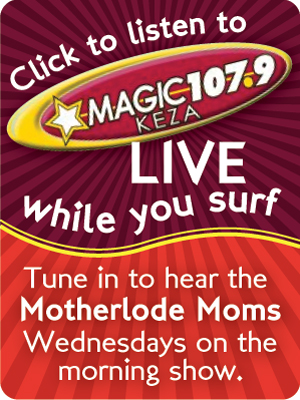 in the Mornings Facebook page, which you can find by clicking HERE.
To listen to Magic 107.9 while you surf the Net, just click HERE or on the graphic on the right and you'll be able to hear 107.9 music, news headlines and weather forecasts through a live feed to your computer. For free! Love that!
Tomorrow we'll be talking about how moms use technology, and we'll tell you about some cool tricks and tips you can use to make your life a little easier.
What electronic gadgets (smart phone, GPS, netbook, iPad, laptop, electronic book reader, etc.) do you use most often and what do you like (or dislike) about the newest technologies on the market? Click the big orange button below to post your comments, and we may incorporate your opinions into our radio segment in the morning. Thanks!