It's down to the wire now, mamas. So if you need a little last-minute holiday help, tune in to Magic 107.9 this morning (we'll be there WEDNESDAY this week) from 7:40 a.m. to 9 a.m with the mamas and radio hosts Jennifer Irwin and Guy Westmoland. We'll tackle a few subjects that busy mamas might be interested in today,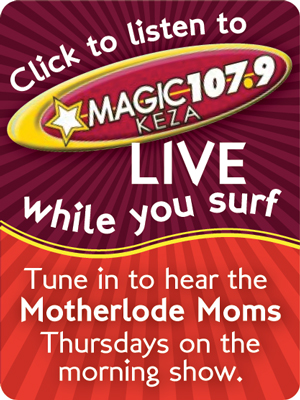 including last-minute holiday recipes, last-minute gift buying tips, how to get your house cleaned up in a BIG hurry, and so much more.
Click on the graphic at right if you'd like to listen to Magic 107.9 live on your computer. (This is THE station to hear Christmas music all day and night!)
If you're a little freaked out that all the festivities start tomorrow, don't worry. You're not alone. We procrastinators are large in number, and we're resourceful when we need to be. We'll get it all done.
Here are a list of quick links which will take you to great articles on last-minute holiday advice:
Crisis Cleaning: Tips on getting the house presentable in a HURRY! (from Flylady.net)
Quick Tips on Wrapping Gifts (from FunTimesGuide.com)
Quick Christmas recipes for parties (from our Mealtime Mama category)

Christmas cookies that take less than 30 minutes!
Last-minute holiday gift ideas
Local moms give tips on traveling with kids (from the readers of this website!)

Save