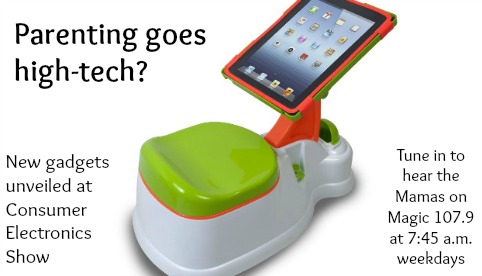 Happy Monday!
This week in our Mamas on Magic 107.9 segments (7:45 a.m. every day — we'd love for you to listen!) we're we're talking about some of the best gadgets for kids and parents from the Consumer Electronics Show a few weeks ago in Vegas.
In particular, we talked about these cool ones today:
The "I'm Here" GPS tracker. This device works using the same technology that's found in smart phones.
The iPotty, a child's potty seat with an adjustable iPad docking station attached.
The iBaby HeartSense for parents-to-be who hate waiting for those ultrasound appointments.
The electronic HAPIfork, which will vibrate in your hand if you eat too quickly, among other things to help with weight control.
Click on the blue bar below to hear more about each of these: