If you're still on the fence about whether or not you should come to this year's NWA Mom Prom, let us help you decide.
YOU SHOULD COME. Because it's fun. Because you deserve some time with your friends. Because there's no other local event like it.
The great news is that we WILL be selling tickets at the door this year. (Last year, we sold out of tickets before the event, but this year we've moved to larger venue so we can welcome more women to the party. Ticket price at the door is $50 and we do accept credit cards.)
So text or call a friend right now and convince her that you guys should go to the Mom Prom tonight (Saturday, May 30, 2015 starting at 7 p.m.). She might say, "But I have nothing to wear!" Yeah, we've heard that line before. But the truth is you DO have something to wear.
You do NOT need a formal dress to attend this event. There's a WIDE range of options, and each year we see everything from formal dresses to simple maxi dresses. (This year's theme is "A Night in the Tropics" so we're betting you already own a cute summer dress that would work perfectly. No need to go buy anything!) For more ideas on Mom Prom outfits, click HERE.
Once you're at the Prom, you can eat, drink and — most importantly — DANCE! We play all your favorite dance songs and our DJ is so much fun. And you don't have to dance in those pretty (yet painful) high heels because we have a "Shoe Bank" (sponsored by First Bank) where you can park your heels and dance barefoot. If you'd like to join us for a fun "flash mob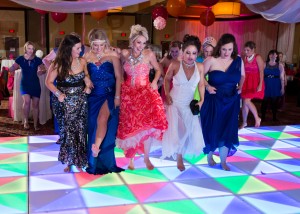 dance," you can learn the moves by clicking HERE. (Or you can just join in that night and follow along.)
You can also get professional prom pictures made with your friends and then download them for FREE after the event, thanks to our amazing Photography Sponsor — MJW Photography. How often do you get a chance to get dressed up and have great pictures made with your friends? This is a big deal, and you'll enjoy these pictures for years to come.
You'll also have the chance to buy raffle tickets at the event (they're only $2 each) and throw your raffle ticket into one of 8 different raffle prize drawings. One of our raffle packages includes a brand new washer and dryer from Metro Appliances & More. Winners are announced during Prom night!
Around 11 p.m. on Prom night, we'll crown the Prom Queen, who is always chosen AT RANDOM from among all ticket holders. Anyone can win, and the Queen takes home a $500 Visa shopping card, courtesy of our sponsor Tropical Smoothie Cafe.
The NWA Mom Prom will happen at the Metroplex Event Center in Springdale. The address is 881 Metroplex Drive, Springdale, Arkansas. Here's a map for how to get there: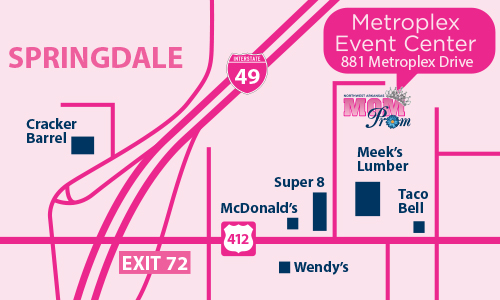 We don't want you to be one of those ladies who sees all the fun pictures AFTER the Mom Prom and then wishes she had come to the party. Don't over-think it. Just come. You're gonna have fun. See you on the dance floor!