Editors' note: Congrats to Whitlock Orthodontics, one of our website sponsors who recently earned a Mom-Approved Award in the "Best Orthodontic Clinic" category. Get info on all the clinic has to offer in today's featured profile.

Voted as a 2017 Mom-Approved Award Winner in the
"Best Orthodontic Clinic" category
Winner: Whitlock Orthodontics
Locations & how to reach them: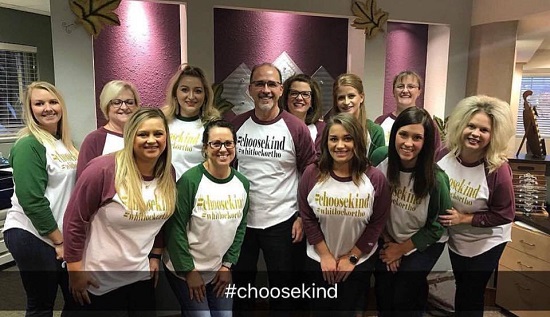 2890 W. Huntsville Avenue
Springdale, AR 72762
(479) 751-1103
2386 N. Green Acres Road
Fayetteville, AR 72703
(479) 527-6998
3224 Old Greenwood Rd.
Fort Smith, AR 72903
(479) 434-4332
Operating since: 2018 will mark Dr. Whitlock's 25th year in practice.
Whitlock Orthodontics is known for: 
Dr-Whitlock has assembled a premier orthodonics staff, offering the highest quality of care for Northwest Arkansas, including Traditional Braces, Invisalign self-ligating braces, SureSmile advanced orthodontic system and Headache Relief Technology. "We strive to make every patient and their family feel like our family every day."
Meet Dr. Whitlock: I went to Oklahoma State University for my undergraduate degree, receiving my Bachelor of Science degree in Psychology. I then completed four years of dental school at the University of Oklahoma Health Sciences Center where I earned my Doctor of Dental Surgery degree. I completed a one year general practice residency at the Children's Hospital in Oklahoma City, OK. Ultimately, I received my Master of Science degree in Orthodontics after three years of study at the University of Missouri in Kansas City.
I exceed the minimum requirements for continuing education because I always want to improve the overall quality of experience for my patients, often resulting in shorter treatment time, less discomfort, and better results.
I had the honor of having been published in the American Journal of Orthodontics and Identifiably Orthopedics and have spoken nationally about the use of SureSmile. I am an active member of the American Association of Orthodontists, the American Dental Association, the Arkansas State Dental Association, and the Northwest Arkansas Dental Association.
I have been married to my wonderful wife, Karen, for 24 years. We have three children, Alyssa, Kylie, and Bo, who we love spending time with. I am active in my community as a member of Grace Church of NW Arkansas and also participate in Lifesource, Bethany Christian Services, and Smile for a Lifetime.
What sets Whitlock Orthodontics apart? The fun atmosphere! "We are accommodating, fun-loving people that want to make a difference in people's lives, not just their smiles. There's always something going on here whether it is a theme day, a patient contest to win a Wii, or a special visit from the zoo! There is never a dull moment!"
Community involvement! "Community involvement is very important to us. Our patients have chosen us as their orthodontic provider and we are honored to give back to them. We support several local charities, sports teams, and extracurricular activities that our patients are involved in."
The first visit is complimentary including complimentary photos and a 3d image. Dr. Whitlock also accepts most insurance and is in network with Delta Dental.
The convenience factor/taxi service at Whitlock: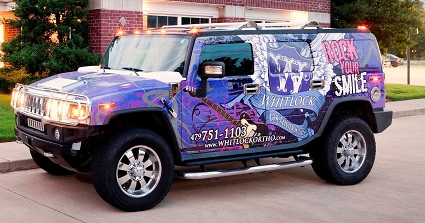 The Whitlock schedule is designed to accommodate patients because they value your time. Whitlock offers new patient exams as early as 7:15am and as late as 3:45pm. They also offer an Ortho Taxi Service that transports patients to and from their appointments in a cool Hummer.
Testimonials from local moms:
♦ "My husband and 2 of my daughters are in treatment with Dr. Whitlock and his staff. Everyone is so amazing and helpful. They answer all of our questions and explain everything in detail. The treatment they receive is definitely worth the drive from Rogers!" ~Daphne T.
♦ "The experience at Whitlock has been amazing! Dr. Whitlock addressed health concerns from my daughter's jaw that other orthodontic clinics never talked about. Not only will she have a beautiful smile, but her jaw and neck issues will be corrected as well. I'm glad we chose Whitlock!" ~Stacey L.
♦ "Wonderful staff, affordable prices and kid friendly atmosphere!!!" #happymama ~Lindsey H.
Congrats to the Whitlock Orthodontics staff!
Click here to visit their website.