Editors' note: Congratulations to Bentonville Eye Care, one of our website sponsors who recently earned a 2019 Mom-Approved Award in the "Best Eye Clinic" category. Get info on all that Bentonville Eye Care has to offer in today's featured profile.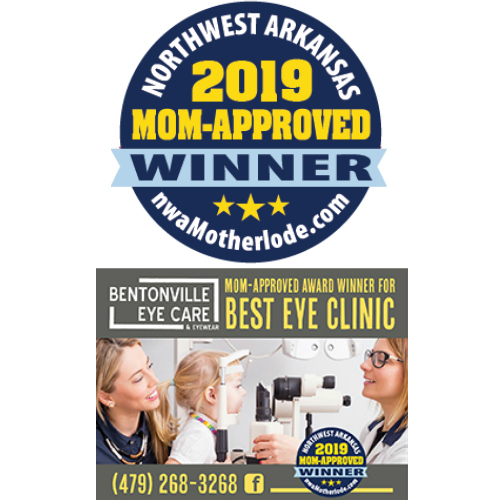 Voted as a 2019 Mom-Approved Award Winner in the
"Best Eye Clinic" category
Winner: Bentonville Eye Care

Location: 800 SE Walton, Suite 12, Bentonville, Ark.
Contact information: (479) 268-3268
Open since: 2012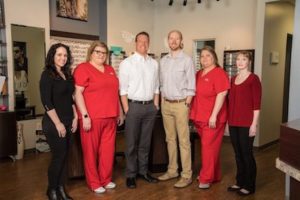 Doctors on staff: Dr. Derrick Pierce, O.D., and Dr. Jeff Coats, O.D.
What you might not know: This clinic offers extended hours of operation that help accommodate a family's busy schedule. (We love that!) They're open from 7 a.m. to 7 p.m. Mondays through Thursdays. Friday hours are 7 a.m. to 5 p.m.
This clinic also gets RAVE reviews for being mom-friendly. Below we've posted some of the notable reviews we found from local moms, and you can read more patient feedback on the clinic's Facebook page of reviews.
Clinic areas of expertise:
farsightedness
nearsightedness
astigmatism
aging eyes
lazy eye
inflammation of the eyelid or eyelashes
cataracts
computer vision syndrome
dry-eye syndrome
eye misalignment (cross-eye)
pink eye
diabetic eye disease
glaucoma
macular degeneration
Featured products: You can find frames at Bentonville Eye Care from the brands pictured below.
What local moms are saying: 
"I'm just quite certain this is the best eye care place in NWA. They have seen my 5-year-old, my husband and my elderly father who lives with me, as well as myself. They are good with ANY age. Dr. Pierce is AMAZING. Dr. Coats seems equally amazing. Alllll the ladies are awesome. My favorite ones are Holly & Katherine. But they are all super amazing. They have fixed broken glasses. They have worked with our insurance to get us the best deal. I mean literally have never let us down! I'd recommend BEC to anyone, any place!!! ♥️♥️♥️"  – Taylor Campbell
"I love Dr. Pierce and his staff! My kids and I have been seeing him since he opened his office in Bentonville. At the time I had a 4 year old and he was amazing with my kids! It was my 4 year olds first time seeing an eye doctor and she was scared! Dr. Pierce made it fun and my kids love to go see him! He is so caring and compassionate and I trust what he says. He knows his stuff. Thank you Dr. Pierce for taking good care of us these last 5 years! The staff there is amazing and goes above and beyond to deal with any difficult things that may cross your path! Bentonville is blessed to have you all! Thank you!" — Nikki Looney
"I wanted to schedule THREE children, back-to-back, AFTER school and, guess what?!?! They were SUPER helpful and accommodating! Not only did I get everyone in pretty quickly (with the time I needed), there was NO wait! Everyone was VERY, VERY nice! Dr. Jeff Coats was SUPER personable and did extremely well with my children. He asked them lots of (non-eye related) questions and made us feel like we were his only patients for the day. Great, great, great experience!" — Christy Martin
"My son has special needs and Dr. Coats and his tech were amazing. They were both very patient with my son. I would highly recommend them. You can tell they both have big, caring hearts. Thank you both for making us feel welcomed as new patients in your office. ❤️" – Christy Hendrix
"Dr. Pierce and his staff are wonderful! Little to no wait, extended hours on certain days, and friendly faces–what's not to love?! And the best part for our family–Dr. Pierce is incredibly patient and caring with our special needs daughter. That in itself is worth gold. We've been patients since we moved here almost 6 years ago, and I highly recommend everyone needing an eye doctor to check out Bentonville Eye Care. You won't be sorry!" — Velva Rowe