Guest post by Debbie Arnold, Dining With Debbie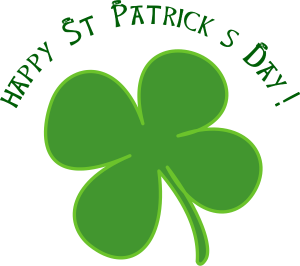 I'm Irish at heart.
You can ask anyone who really knows me. When and why I became fascinated with anything having to do with St. Patrick's Day and Ireland I do not know. It seems that I always have been. It may have something to do with my "I hate winter" mantra that I begin spouting around the first of October – who knows!
I am definitely ready to "March into spring" by the time the month gets here. My family and friends have always indulged (and tolerated) my Irishness.
Approaching March 17, shamrock plants would adorn my desk, leprechauns would appear in various locations around my house and classroom; buttons sporting "Shake Your Shamrocks," "Kiss Me I'm Irish," and "World's Tallest Leprechaun" became part of my daily wear.
I even have a pair of shamrock sunglasses and one of those silly headbands with shamrocks on springs that wibble-wobble when you shake your head. You don't EVEN want to know about all of the shamrock earrings and other assorted pieces of "green" jewelry that I have. I guess you could say that it all makes up my "pot o' gold" at the end of the rainbow.
I enjoy the adventure of trying Irish-related foods and springing them on friends and family.  One of the more well-known "Irish" dishes is Corned Beef and Cabbage with Horseradish Sauce which really is more of an American dish. That certainly doesn't make it any less delicious.  I make colcannon, a mashed potato and cabbage dish, into colcannon croquettes which is just a fancy way to say "potato pancakes." And then there's Irish coffee if you're so inclined.
The recipes I have chosen to share may be less familiar, but are ones I can certainly recommend. My blog, DiningWithDebbie.blogspot.com, contains several others you might enjoy trying. You can find those by searching for "Irish" on my web page.
May joy and peace surround you,
contentment latch your door,
and happiness be with you now
and bless you evermore.
2 pounds well-trimmed beef chuck, cut in 1 1/2-inch cubes
1/2 cup flour
salt and pepper
2-4 Tablespoons olive oil
1 clove garlic, minced
5-6 carrots, peeled and cut into 1/2-inch diagonal slices
3-4 parsnips, peeled and cut into 1/2-inch diagonal slices
1 – 1 1/2 lbs. baby yellow gold potatoes unpeeled and cut in half
4 stalks celery, cut into 1-inch diagonal slices
12 ounces frozen pearl onions
1 8-ounce container of baby portabella mushrooms, stems removed
1 cup water
4 cups low-sodium beef broth
1 1/4 cups Guinness stout
1 teaspoon Worcestershire Sauce
2 Tablespoons red wine vinegar
2 Tablespoons Dijon mustard
2 Tablespoons brown sugar
dash ground allspice or cloves
1/4 cup bittersweet chocolate chips
3-4 sprigs fresh thyme or 1 teaspoon ground thyme
3 bay leaves
1 6-inch (approx.) stem fresh rosemary
2 teaspoons kosher salt
freshly ground black pepper
Minced parsley for garnish, optional
Directions: Prepare carrots, parsnips, potatoes and celery.  Set aside.
Heat the olive oil in a large skillet.  In a small bowl or plastic bag, season the flour with the salt and pepper.  Dredge the beef chunks in the flour mixture and brown in the heated skillet and olive oil.  Brown well on all sides and do not crowd the skillet.  Drain on paper towels.
Lower the heat in the skillet and sauté the minced garlic just until softened. Place the beef and the garlic in the slow cooker.
Mix 1 cup of the beef broth with the Worcestershire Sauce, vinegar , Dijon mustard,brown sugar, and allspice or cloves.  Pour over the beef in the slow cooker.  Add the remaining broth, water and Guinness stout.  Stir in the chocolate chips. (Trust me on this one!)
Add in all vegetables except the pearl onions and mushrooms.  Sprinkle with the 2 teaspoons of kosher salt and the freshly ground black pepper.
(I sometimes add cubed turnips in addition to or in place of the parsnips. Lamb or mutton can be used in place of the beef.)
Add bay leaves, thyme and rosemary to the top of the vegetables.
Cook on HIGH for 6-7 hours before adding in the pearl onions and mushrooms during the last hour.  The stew is done when the vegetables are tender.
Remove the thyme and rosemary stems and the bay leaves before serving.  Adjust seasonings.
If necessary, you can thicken the stew broth with 2-3 Tablespoons of cornstarch whisked with 1/4 cup of cold beef broth.  Stir into the stew and cook an additional 20-30 minutes.
Garnish with the minced parsley if desired.
Serve with Irish soda bread rolls, Irish soda bread muffins or cornbread.
Adapted from: IrishCentral.com
Irish Soda Bread Muffins
I've tried any number of Irish soda bread recipes, but I've never been quite satisfied with the way they turned out.  This muffin recipe, while it isn't Irish soda bread as it would be known in Ireland, is a good and easy addition to your "Irish for a Day" experience.
(Makes 12)
1½ cups all-purpose flour
¾ cup whole wheat flour
2 teaspoons baking powder
¼ teaspoon baking soda
½ teaspoon salt
⅓ cup granulated sugar
1½ cups currants, raisins, dried cranberries or blueberries
½ to 2 teaspoons caraway seeds, to taste
1 large egg
1 cup buttermilk, plain Greek yogurt or sour cream
6 tablespoons butter, melted; or ⅓ cup vegetable oil
Sparkling white sugar, for topping
Directions: Preheat the oven to 400° F.
Spray with cooking spray or lightly grease a standard muffin pan or line with papers and grease /spray the papers.
Whisk together the flours, baking powder, baking soda, salt, and sugar in a medium-sized bowl.  Stir in currants or other dried berries and caraway seeds.
Whisk together the egg, buttermilk and melted butter (or equivalent).
Quickly and gently combine the dry and wet ingredients with a few stirs.  As soon as everything is evenly moistened, stop.   Additional stirring will cause the muffins to be tough.
Spoon the stiff batter into the prepared pan, filling the cups about ¾ full (I use my ice cream scoop.). Top with sparkling white sugar or granulated sugar, if desired.
Bake the muffins for 20 minutes, until a cake tester inserted into the center of a muffin comes out clean. Remove them from the oven. Tip the muffins in the pan, so their bottoms don't get soggy. Wait about 5 minutes before transferring the muffins to a wire rack to cool.
Serve them plain or with Irish butter and/or jam.
Adapted from KingArthurFlour.com
Irish Tea Brack
Irish tea brack is a moist, sweet bread with a cake-like texture. It is sometimes referred to as "speckled bread" and is typically served for breakfast or with afternoon tea.
Traditionally, items are added to the brack before it is baked as predictions for the person who discovers the item in his or her piece: a coin brings wealth, a piece of cloth brings poverty, and a pea indicates plenty.  A female who discovers a thimble in her piece will remain a spinster while a male who finds a button will remain a bachelor.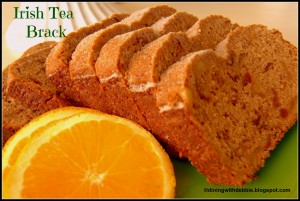 1 and 1/2 cups raisins  (dried cranberries or a mixture of other dried fruits, chopped)
1 cup sultanas (golden raisins)*
1 cup soft brown sugar
1 Tablespoon finely grated orange zest
2 cups black or orange flavored hot tea
3 and 1/2 cups cake flour
2 teaspoons baking powder
1 teaspoon pumpkin pie spice
1 teaspoon nutmeg
2 eggs
1/4 cup orange marmalade*
2 tablespoons freshly squeezed orange juice, Cointreau, or Irish whiskey
Directions: Brew the tea (I prefer orange.) and pour it while still hot over the dried fruit, brown sugar and orange zest, leaving the tea bags in the bowl with the fruit.  Refrigerate and allow to sit overnight.
Preheat the oven to 325 degrees.  Grease a 5 x 8-inch loaf pan or a 9 x 3-inch round cake pan.
In a large mixing bowl, sift together the flour, baking powder and spices.  Add the tea and fruit mixture in three portions; mix well after each.
Whisk together the eggs, orange marmalade and orange juice.  Add the tea and fruit mixture and stir all into the flour and spices a third at a time.
Pour the batter into the prepared pan.  I prefer a loaf pan which will take approximately 80 to 90 minutes to cook.  The round cake pan will take slightly less time.  The brack is done when a skewer inserted in the middle comes out clean.
Allow to cool in the pan on a wire rack for 10 minutes before removing.  It can be eaten while still warm but will slice better if allowed to cool completely before doing so.  It can be rewarmed in a 200 degree oven or in the microwave before serving.
Spread with orange marmalade or Irish butter.
*My husband doesn't care for raisins so I use  a variety of other dried fruits: blueberries, peaches, apricots, apples, cranberries, cherries, etc.  I also substitute applesauce for the marmalade occasionally.
Adapted from:  IrishArmericanMom.com, Clodaghmckenna.com, DoChara.com, Goodfoodchannel.co.uk
Irish Cream Bundt Cake
Preheat oven to 325 degrees.
Butter and flour (I use Wondra.) a 10-inch Bundt pan.
Cake:

11/2  cups chopped nuts (I used pistachios.), reserving 1/2 cup for garnish
1 (15.25 ounce)package yellow cake mix
1 (3.4 ounce) package instant vanilla pudding (white chocolate and pistachio also work well)
4 eggs
1/4 cup water
1/4 cup canola oil
1/4 cup coconut oil
3/4 cup Irish cream liqueur
Green food coloring, optional
Glaze:
1/4 cup water
1 cup coconut sugar (or granulated sugar)
1/2 cup Irish cream liqueur
Directions: Sprinkle 1 cup of the chopped nuts over the bottom of the buttered and floured cake pan.
Combine the cake mix and pudding mix in a large mixing bowl.  Beat in the eggs, 1/4 cup water, 1/4 cup canola oil, and 1/4 cup coconut oil.  Add in 3/4 cup Irish liqueur and  food coloring; mix well.
Pour the batter over the nuts in the Bundt pan.  Tap the pan two or three times on the countertop to settle the batter.
Bake for 55-60 minutes until the cake springs back when lightly touched and a toothpick inserted in the center comes out clean.
Cool for 10 minutes in the pan before inverting onto a wire cake rack.  Set the rack over a sheet of aluminum foil or waxed paper.  As it cools, punch a multitude of holes in the cake with a skewer.
Meanwhile, prepare the glaze.  Over medium-low heat, melt the combine the butter, water, sugar and 1/4 cup of the liqueur.  Bring to a boil, stirring constantly for about 5 minutes.  Add in the additional 1/4 cup liqueur and cook until thickened.   (Remove the pan from the heat before adding in the liqueur to avoid a blaze.)
Drizzle the glaze over the cake, spreading some on the sides.  Allow to set for a few seconds before each addition and the glaze will seep into the cake better.
After last addition of the glaze, garnish with the remainder of the chopped nuts. You may want to reserve a small portion of the glaze to use as a plate garnish.
Serve with fresh fruit or whipped cream, if desired.
Irish Cream Liqueur
1 1/4 cups heavy whipping cream
1 14-ounce can sweetened condensed milk
2 1/2 teaspoons instant espresso granules (or coffee)
2 Tablespoons chocolate syrup
1 teaspoon almond extract
1 teaspoon vanilla extract
1 375 ml bottle of Irish whiskey (about 1 2/3 cup)
Combine all ingredients in a blender and blend on high speed for about 45 seconds. Store in a sealed jar in the refrigerator.  (Or bottle and share.) This will keep for approximately two weeks. Shake the container before using.
Adapted from AllRecipes.com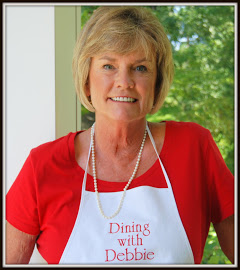 Debbie Arnold can be found blogging at Dining With Debbie where she writes about food, faith, family and fun. Her restaurant reviews are located at Deb Eats.  She and her husband, Circuit Judge Gary Arnold, split their time between their homes in Benton and on Beaver Lake in Rogers.  Their daughter, Dr. Emily Hinton, lives in Fayetteville with her husband, Dr. Tommy Hinton, and the Perfect Ones, Connor and Kate.