Recipes by Amy James, Our Everyday Dinners
Amy and her husband of 13 years, John, have 3 little ones: Kate, Abby and Alex.
Before kids, she was an MBA working in HR and John was a Family Practice doctor.
"We ate out every night, stayed up past midnight, spent our weekends at the lake with our dogs, and our vacations traveling.  Now, well, our lives are very different and certainly not what we imagined (we thought we'd be those people taking their kids to Paris-we're not), but we wouldn't change a thing!"
John gave up medicine several years ago to pursue his love of entrepreneurship, founding  Acumen Brands in Fayetteville.  Amy is now a full-time, stay-at-home mom and part-time blogger.
Her blog, Our Everyday Dinners, really is about what they eat for dinner every night. (And let us say right here that we want to move in with Amy because she is an amazing cook!)
She says, "Every night after I cook, I snap a photo, then I eat.  Oh, and then I clean the kitchen and blog about dinner.   There are about 500 other things I do, too, in between all that, but that's basically how it goes."
Here are a few of Amy's current faves:
SOY GINGER SALMON
Amy says, "To quote my husband, 'This is the best salmon I've ever had.'" Maybe he was just throwing out compliments, but think I kind of agree.  The ginger gives it a crunchy and spicy (not hot) crust.  Adding the Sriracha really kicked it up a notch (remember Emeril? I loved watching him way back when.).  Add as much as you can take!
(serves 2)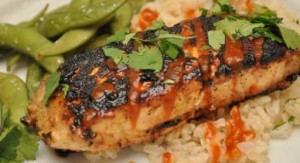 2 salmon fillets
Marinade:
1 tablespoon freshly grated ginger (grate with a microplane to get it really fine)
zest of one lime
1/4 cup soy sauce
juice of half a lime
2 teaspoons honey
1 tablespoon olive oil
Garnish:
cilantro
Sriracha
lime juice
Whisk together the marinade ingredients and add salmon.  Marinate for 10 minutes, no longer.  Heat nonstick pan to high and cook for on one side for 5 minutes, or until it's really brown.  Lower heat and cook on the other side for 6-8 minutes, depending on the thickness of the fish.  You can cover the pan with some foil to speed up the cooking after you flip it.  To plate, squeeze the juice of the other half of the lime over the top, drizzle some Sriracha, and sprinkle on some chopped cilantro.  Serve with Cilantro Lime Rice and edamame.
FARFALLE WITH ARTICHOKES AND KALE
Need a quick dinner?  Here ya go.  Waiting for the pasta to boil takes longer than anything else. If you can get someone to clean the kitchen for you, you'll be sitting down to the Real Housewives in about 20 minutes!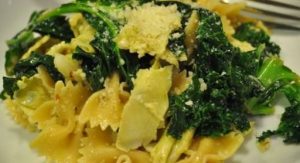 1 can non-marinated artichoke hearts (drained, rinsed, and dried with paper towels)
2 cups fresh kale, chopped
3 cloves garlic, minced
pinch of red pepper flakes
1/4 to 1/2 cup white wine
olive oil
1 box farfalle pasta
1/4 cup parmesan cheese
salt to taste
Cook pasta according to package directions.
Meanwhile, heat olive oil to coat the bottom of the pan over medium heat and add chopped garlic.  Cook for about a minute (don't let garlic burn), and add artichokes.  Raise heat to medium high, saute for 3 minutes, then add kale, red pepper flakes, and salt.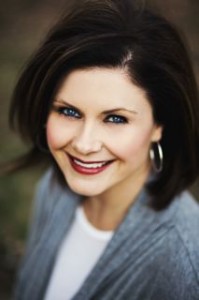 Cook until kale is wilted, about 5 minutes, and then add wine to the pan.  Bring it to a boil and simmer until pasta is ready.
Drain pasta, and add to the pan with the artichokes and kale.  Toss, then add parmesan cheese, salt if necessary, and serve with a little extra parmesan cheese.
Amy James lives in Fayetteville with her husband, John, and their three children. She chronicles what she cooks for dinner at www.oureverydaydinners.com. You can follow her on twitter here.