By Amy Pope James, Our Everyday Dinners
About a year ago, out of desperation, I came up with some dinner strategies to help make my life less crazy from 4-6 p.m. (some moms I know call that time "happy hour", but not me, of course).
Here are my Dinner Preparation Guidelines (aka The Rules):
Make nothing too complicated. I like to cook, but I cannot read a recipe while helping with homework, moderating tattle-fests, wiping bottoms, answering a million questions, and playing dinosaurs (and um, facebooking).
Cook something everyone will eat or at least eat part of (no short order cooking for me!)
It has to be something that can wait for the husband in the warming drawer if necessary.
Dinner must be quick to the table (Again, it's hard to chop and saute with 3 kids running circles around you.)
Then, I started blogging our menus for myself, and I noticed how much healthier we were eating because I was planning our dinners. And then, I realized my grocery bill was shrinking, too. That made us all happy!
Here are a few of our favorite (everyday) dinners:
Pan Roasted Chicken:
Amy says: "Pan roasting chicken is the absolute BEST way to cook the ubiquitous boneless skinless chicken breast. It's fast and easy, and you can cook a little extra for a salad the next day."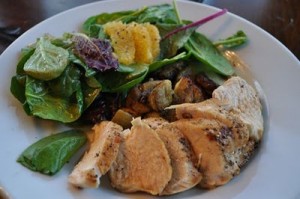 3-4 chicken breasts
salt and pepper
1/2 cup chicken stock
A non-nonstick skillet with an oven safe handle (got that? one that is not non stick)
To cook the chicken: Preheat oven until 400 degrees.  Dry chicken breasts with paper towels.  Salt and pepper both sides.  Drizzle olive oil in a hot skillet and cook chicken breasts on one side for 3-4 minutes, or until very brown.  Don't mess around with them while they are browning or they won't get good and crusty.  Flip chicken and immediately put the whole skillet in the oven for 5-8 minutes or until the chicken feels firm to the touch (the time depends on the thickness of the chicken).  Remove chicken from skillet, cover with foil, and let the chicken rest for 10 minutes or so while you make the pan gravy.
To make the pan gravy: Pour the stock (you can use broth, white wine, or even water) in the hot pan and cook, stirring up the browned bits from the bottom of the pan, until reduced by half, 3-4 minutes. Turn off the heat and stir in any juices from the resting chicken. Season the sauce to taste with salt and pepper and spoon over the chicken.  You can also add a tablespoon of butter or some cream at this point, but I didn't to keep the calories down.
Lemon and Garlic Roasted Cauliflower:
Amy says: "This Lemon and Garlic Roasted Cauliflower is so good!  If you think you don't like cauliflower, then try this recipe.  The kiddos love it, too."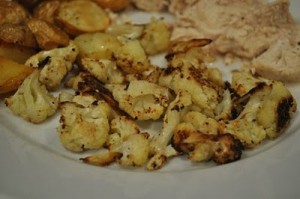 Directions: After washing and drying the cauliflower, cut it into small pieces.  You can spend time separating each floret to make it beautiful, or you can just chop it up into similar sized pieces (like I did).
Add 2-3 cloves of minced garlic, squeeze half a lemon on top, drizzle with olive oil to coat, and toss it all together.
Cook at 450 for 20-25 minutes.  When it comes out of the oven, squeeze the other half of the lemon over the cauliflower.  See how it gets really brown and crispy on the edges?  So good.
Chicken Berry Salad:
Amy says: Here is a Chicken Berry Salad recipe I made up based on one of my favorite local restaurant salads.  Because the dressing is kind of sweet, even my daughter who "doesn't eat green things" likes it.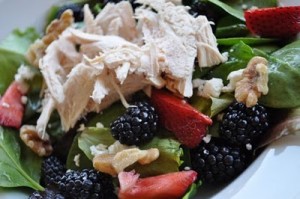 Fresh greens
Roasted chicken breast (I use a rotisserie chicken from Sams, so dinner is ready in about 5 minutes.)
Whole walnuts
Goat cheese
Top with fresh strawberries and blackberries, and homemade honey vinaigrette
Honey Vinaigrette
Equal parts honey, champagne vinegar, and olive oil.  Salt and pepper.  Shake in a small jar or whisk to combine.  It's a little sweeter than most dressings, but with the tart blackberries, it's perfect.  You can always adjust the amounts to your taste!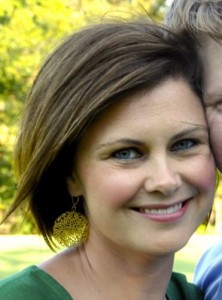 Amy James lives in Fayetteville with John (30something), Alpha (7), Beta (5), and the Baby (3). She chronicles what she cooks for dinner at www.oureverydaydinners.com. You can follow her on twitter here.