Our foodie friend, Ceri Wilkin (who blogs at Recipe Doodle) sent us this awesome recipe for truffle eggs. Aren't they beautiful?
Ceri said these adorable eggs are fun (and easy) to make — plus they taste delicious!
Truffle Eggs
1/4 cup cream
1 tablespoon butter
1/2 teaspoon light corn syrup
4 ounces semi-sweet chocolate chips
2 tablespoons nutella
1/2 pound white candy coating disks
5 to 6 drops of blue food coloring
1/2 to 1 teaspoon instant coffee granules
Directions: In a saucepan, bring the cream, butter and corn syrup to a boil. Add chocolate and nutella and remove from the heat (do not stir). Let stand for 5 minutes. Whisk until combined.
Transfer to a small bowl, cover and refrigerate for 45 to 60 minutes or until thickened, stirring every 15 minutes.
Shape 1 tablespoon of chocolate mixture into an egg. Place on a parchment lined baking sheet. Repeat with remaining mixture. Refrigerate until firm, about 5 to 10 minutes.
Meanwhile, in a microwave-safe bowl, melt candy coating, stir until smooth. Stir in food coloring. Dip eggs into cane coating, allow excess to drip off. Return to baking sheet and immediately sprinkle with coffee granules. Let stand until set.
Enjoy!
Recipe adapted from Taste of Home, Easter Recipe Cards, April 2012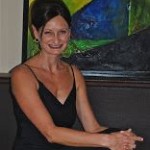 More about Ceri: I am a wife, mother and recipe follower. For years I have tackled one new recipe a day – some are fabulous, some are not. In a past life I was an Occupational Therapist, Rugby and Netball player, Belly Dancer, lesson taker of golf, tennis and wine appreciation. My Husband owns Pizzerias, my Father was a butcher, my Mother a caterer, my older Brother makes the absolute best birthday cakes and desserts you will ever taste, my younger Brother owns restaurants in New Zealand and my kids love to eat. (Find more of Ceri's great recipes at Recipe Doodle)