Happy Monday, mamas! We love a recipe that uses ingredients that are "in season." Since the blueberries and strawberries are SO good right now, we thought this Red, White and Blueberry Parfait would be a perfect dessert for the Fourth of July next week. It has a little chocolate, but it also has fresh fruit (which we say cancels out those calories from the chocolate. A girl can dream.) This is a recipe your kids can definitely help you make, and we love the patriotic colors. Hope you love it, too!
Click HERE to get a printer-friendly version of this recipe on the Harps website.
Ingredients
4 cups skim milk, divided
1/2 cup sugar
1/2 cup white chocolate chips
1/2 cup cornstarch
2 teaspoons almond extract
2 cups fresh blueberries
2 1/2 cups fresh strawberries
whipped topping or shaved white chocolate for a garnish
Directions
Prepare White Chocolate Pudding: Heat 3-1/2 cups milk in heavy saucepan or double boiler until steam rises from the surface. Remove saucepan from heat. (For microwave preparation, heat 3-1/2 cups milk for 8 to 10 minutes in microwavable bowl until steam appears.)
Add sugar and white chocolate to hot milk and stir to dissolve.
In a small bowl, whisk cornstarch in with remaining cold milk. Add to white chocolate mixture, using a rubber spatula to be sure all cornstarch is removed from bowl. (If you used a microwave for first steps, transfer all to heavy saucepan or double boiler at this point.)
Cook gently, stirring occasionally, over medium heat 7 to 10 minutes until pudding thickens and coats back of spoon. Remove from heat and stir in almond flavoring. Pour into a shallow dish to cool, stirring once or twice to release steam. Cover and refrigerate until set, about 20 minutes.
Meanwhile, gently wash and thoroughly drain berries. Slice strawberries in half.
Cover bottom of dessert glasses with blueberries. Top with a layer of pudding. Place strawberries around glass, with red sides facing out. Top with another layer of pudding and a final layer of blueberries. Garnish with white chocolate shavings or whipped topping, if desired.
Photo and food styling by Webstop
For more meal inspiration, click here to check out the HUGE collection of recipes on the Harps website. You can register (for free) on the site and save all your favorites (or share one with a friend) by clicking one button. It's super easy to search for ingredients, and we love how organized the recipe collection is. While you're there, sign up to use the Harps Digital Coupon program. (No more forgetting your paper coupons at home!) Just enter your phone number at checkout and your coupons will be applied to the total. It's so easy, and it's one more reason we love shopping at Harps.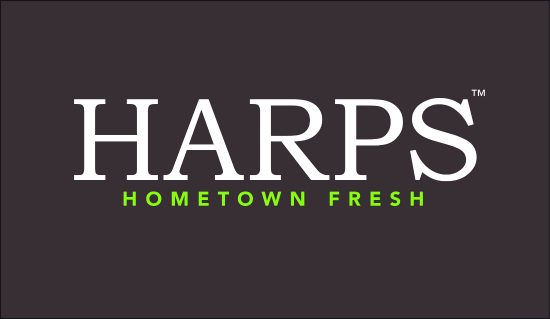 Save
Save
Save
Save
Save