Happy Monday, mamas! If you're looking for a new idea for dinner, you've come to the right place. Here's a recipe for pork chops we found on the Harps website. One reviewer (who gave the recipe 5 stars) said she uses this same recipe for chicken breasts, too. Try it with both proteins to see what you like best.
Click HERE to get a printer-friendly version of this recipe.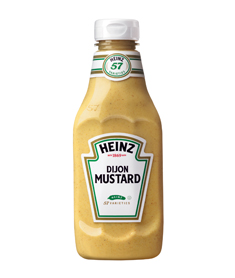 Ingredients
4  pork chops (3-ounces each)
2 teaspoons Dijon mustard
1/4 cup Italian seasoned bread crumbs
3 tablespoons finely grated Parmesan cheese
Cooking spray
Directions
1. Preheat oven to 350 F.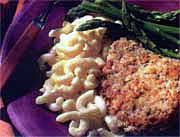 2. Brush both sides of pork chops with dijon mustard.
3. Combine bread crumbs and parmesan cheese in a shallow bowl.
4. Dip each pork chop into the bread crumb mixture and turn until evenly coated.
5. Place pork chops on a lightly greased baking sheet, using cooking spray.
6. Bake in oven until done, approximately 12 – 14 minutes for thin chops, 20 minutes for thicker cuts.
Meal Solution Tip:
Serve with steamed asparagus spears, Gouda Mac and Cheese*, whole wheat dinner rolls and low fat or fat free milk.
*Gouda Macaroni & Cheese – Prepare Macaroni and Cheese according to package directions and add 3 oz. shredded gouda when making sauce. Season with 1/2 teaspoon Tabasco sauce before serving, if desired.
For more meal inspiration, click here to check out the HUGE collection of recipes on the Harps website. You can register (for free) on the site and save all your favorites (or share one with a friend) by clicking one button. It's super easy to search for ingredients, and we love how organized the recipe collection is. While you're there, sign up to use the Harps Digital Coupon program. (No more forgetting your paper coupons at home!) Just enter your phone number at checkout and your coupons will be applied to the total. It's so easy, and it's one more reason we love shopping at Harps.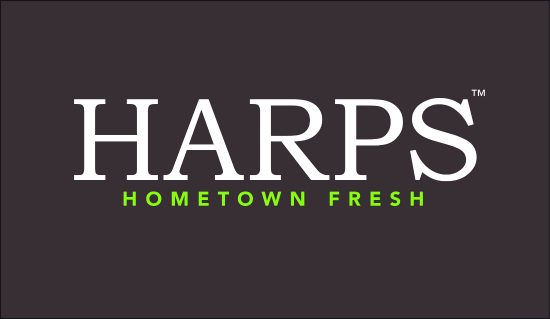 Save
Save
Save
Save
Save
Save
Save
Save
Save
Save
Save
Save
Save
Save
Save
Save
Save
Save
Save
Save
Save
Save
Save
Save