Happy Monday, mamas! We love trying new foods, but sometimes we're just in the mood for a good old-fashioned classic — a comfort food that always satisfies. So this week we're serving up a recipe for Classic Chicken Parmesan from the Harps website. Grab some garlic bread to go with it, and you're all set.
Click HERE to get a printer-friendly version of this recipe on the Harps website.
Ingredients
2 teaspoons olive oil
1/2 of a large onion, grated
1 green pepper, seeded and minced
3 cloves garlic, minced
1 teaspoon, dried oregano
1 can crushed tomatoes (28 ounces)
1 tablespoon regular or sun-dried tomato paste
1 pinch of granulated sugar
3/4 cup breadcrumbs or panko breadcrumbs
1/2 cup Parmesan cheese
1/4 teaspoon dried oregano
1/4 teaspoon dried thyme
1/4 teaspoon black pepper
1/8 teaspoon salt
2 eggs
4 boneless, skinless chicken breasts, pounded to 3/4-inch thick
cooking spray
1/2 cup shredded mozzarella cheese
1 box spaghetti (8 ounces) prepared according to package directions
10 fresh basil leaves, stacked, rolled and sliced to make ribbons
Directions
Preheat oven to 400 degrees F.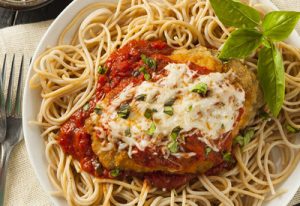 Line a large baking sheet with parchment paper.
Heat oil in a large saucepan over medium heat. Add onion and bell pepper and saute for 2 to 3 minutes. Add the garlic and saute for 1 minute longer. Add oregano, crushed tomatoes, tomato paste and sugar. Bring to a simmer, adjust heat to low and continue to simmer for 15 minutes.
Chicken:
In a shallow dish combine breadcrumbs (or panko breadcrumbs), Parmesan cheese, oregano, thyme, pepper and salt. In a separate shallow dish, whisk the eggs together. One at a time, dip a chicken breast into the egg, then the breadcrumb mixture turning to coat both sides and place on the paper lined baking sheet. Lightly coat chicken with cooking spray. Bake for 15 minutes.
Remove chicken from the oven and spoon two tablespoons of pasta sauce and two tablespoons of mozzarella over each piece. Return to the oven and bake for 10 minutes longer until the mozzarella begins to brown.
Place each piece of chicken over a bed of spaghetti and sprinkle with ribbons of fresh basil and serve with the extra pasta sauce.
For more meal inspiration, click here to check out the HUGE collection of recipes on the Harps website. You can register (for free) on the site and save all your favorites (or share one with a friend) by clicking one button. It's super easy to search for ingredients, and we love how organized the recipe collection is. While you're there, sign up to use the Harps Digital Coupon program. (No more forgetting your paper coupons at home!) Just enter your phone number at checkout and your coupons will be applied to the total. It's so easy, and it's one more reason we love shopping at Harps.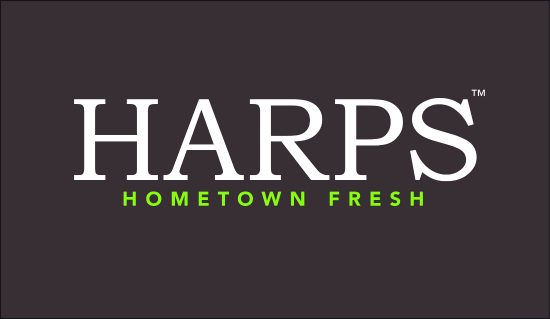 Save
Save
Save
Save
Save
Save
Save
Save
Save
Save
Save
Save
Save