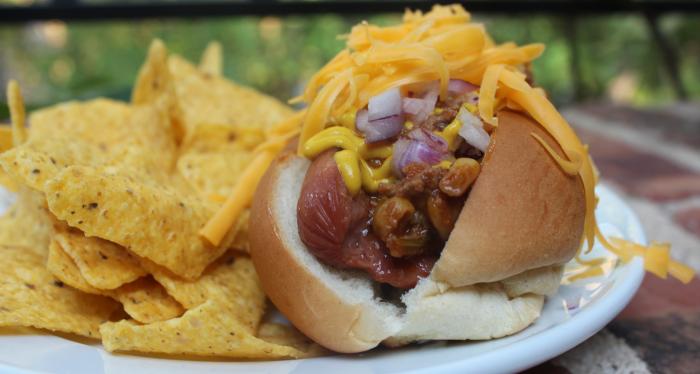 Just in time for Labor Day cookouts and tailgating, Helen at My Brother's Salsa is sharing a recipe with us for the Ultimate Chili Cheese Dog.
Doesn't that look amazing? We love football and fall 🙂
Here's the recipe for Helen's chili cheese dogs:
1 lb. ground chuck
1 Tbls. olive oil
1 tsp. chili powder (more if you like spicier)
1 tsp. salt
1 tsp. onion powder
1/4 tsp. cinnamon
1 Tbls. prepared mustard
1/2 cup My Brother's Original Salsa
1 16 oz. jar My Brother's Black Bean & Corn Salsa
Directions: Brown ground beef in olive oil.  Add the seasonings, My Brother's Original Salsa, My Brother's Black Bean and Corn Salsa.  Heat through, add 1 cup of the shredded cheese.  Stir to melt the cheese.  Spoon on top of your roasted hot dogs.  Top with mustard, chopped red onions and shredded cheese.
For more fabulous recipes, pop over to Helen's online table HERE. The website is full of fun stories and inspiration for dinner tonight!