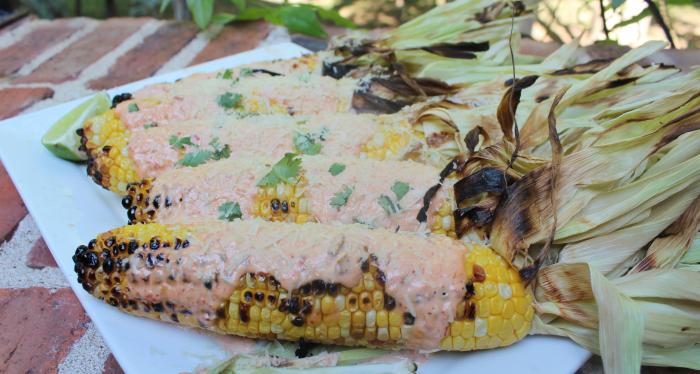 We've really been enjoying the recipes from our Mealtime Mama sponsor, My Brother's Salsa. And, oh my goodness, this Mexican street corn looks AH-mazing. Can't wait to try it!
This time Helen of My Brother's Salsa had a special guest helping her make the how-to video: her sweet granddaughter Caroline 🙂 Watch below:

You'll need:
8 ears of corn, grilled
2 Tbls. melted butter
1/2 cup mayonnaise
2  Tablespoons of My Brother's Original Salsa (we like to use HOT)
1 Tbls. freshly squeezed lime juice
1/4 -1/2 tsp. sea salt
Cotija cheese, grated
freshly chopped cilantro
Directions: In small mixing bowl combine the mayonnaise, My Brother's Original Salsa, lime juice, salt. Refrigerate until ready to use.
Grill corn – takes about 10-12 minutes to grill a freshly shucked ear of corn on your hot grill.  (You can use sauce on any cooked ear of corn if you have a different method of cooking you prefer)
Brush melted butter over cooked corn, spread sauce on each ear of corn, top with cotija cheese and choppped cilantro.