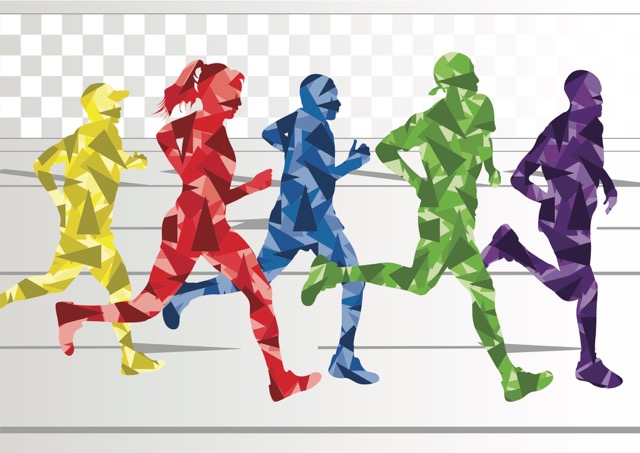 By Beth Gallini
Whether you're a new runner or an experienced runner, you have likely received an invitation to run with someone else or momentarily considered a group run hosted by a running store. If it hasn't happened yet, it will!
While part of you may think that sounds like fun, a larger part of you may be overcome with fear of running slower than your friend, not running as far as everyone else, being the only one who needs to stop, or any other concern that suddenly makes you feel really self-conscious as a runner. I know, I've been there and I have had all of those same fears!
However, more often than not, those fears are not things you need to be concerned about in reality and, instead, there are many reasons to run with others.
Here are some reasons why you should say "yes!" next time someone asks you to run with them or, better yet, why you should be the one to arrange the group run:
♦ Pace is not as important as you think. When runners are looking to run with others, they typically are not worried about pace, unless it is specifically discussed ahead of time. Many group runs are easy runs and this allows for runners of different abilities to run together at a comfortable pace and have fun. If you attend a larger group run, the ones often held by running stores, runners may naturally spread out and form smaller groups running at slightly different paces.
♦ You can become a stronger runner. When you run with someone else, you'll both naturally push and motivate each other to go further, faster, or push through a tough run. This means you'll keep running when you may have otherwise stopped, you may inch up your mileage, or you could find some new-to-you speed in your legs.
♦ It's okay if you need to stop. You might worry about stopping to use the bathroom or for a walk break if you are running with a friend or group. However, many of the same points regarding pace apply here as well – most runners won't mind a brief stop during an easy run.
♦ You'll skip fewer runs. If you're waking up at 5 am to run by yourself, it might be easy to find a reason to stay in bed and you'll risk missing your run. But if you know your friend is waiting for you, you won't want to be a no-show and you'll get up to meet her.
♦ You'll become a smarter runner. You'll get to learn from others and have a venue to ask questions about training, nutrition, gear, or any of the other things you may be curious about.
♦ Safety in numbers. You'll always be safer in a group. This is especially true if you run while it's dark outside.
♦ It's good for the soul. Something special happens when you find a good running partner. It's hard to put into words and it's best to experience it yourself, but it is worth trying to find someone who is a good fit for you. Running with others further unites two people who already have a lot in common, it can unify people who might otherwise not cross paths, or it can be the initial bond between people that leads to a great friendship. You are outside together doing something you both love, endorphins are up, barriers are down, and it's a good setting for a good conversation.
FYI: The Hogeye Marathon is offering two group runs on Saturday mornings for runners of all abilities and we would love for you to join us!  Check out our Facebook page and look under 'events' for more details. If you're thinking about registering for one of the Hogeye races, do so soon – prices go up again on February 17th.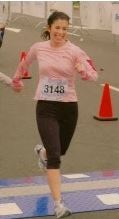 About Beth: Beth is mom, runner, running coach, and the blogger behind RUNNING around my kitchen.  She and her husband adopted two boys who are a month apart and are 1 year old. Beth serves on the board for the Hogeye Marathon and is interested in helping other moms with their training and answering any questions you have.   Be social, connect with other Hogeye runners, and let them hear from you by following them on Facebook, Twitter, and Instagram!  #hogeyemarathon