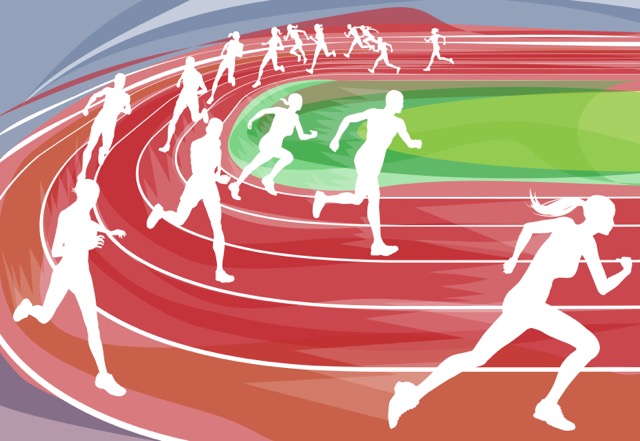 By Beth Gallini, runner mama of 2
When you first start running, just getting outside and getting used to running is exciting.
Your pace and distance are not important. Instead what is important is that you are out there and building consistency.  At some point, though, you will find yourself wanting more. You'll want to improve, you'll want to become a stronger runner, and you'll want to challenge yourself.  This is when you will likely start thinking about speed work.
Speed work is the best thing you can do to get faster and to see improvement, but it is critical that you do it the right way to reduce your risk of injury.
This post will cover the basic rules of speed work and help you learn what to do and what not to do. Next time we meet, I'll cover different types of runs, which will include different forms of speed work.
Speed work rules that work:
Build a base. It's important to have built a good base where you've been running consistently at least 3 times a week, for at least 3 months, with an average weekly mileage of at least 20 miles per week before you add speed work.
Add it slowly. Experienced runners may do a speed workout twice a week, one of which may be an intense track workout. That is not where you want to start. Start introducing speed work in small chunks and get used to doing one hard workout a week before you do more than that.
You could begin by adding quick bursts of faster running to an easy run, such as a running faster for two minutes three times during a run. You could also pick one run a week where you want to run an increasing amount of that run at a faster pace—you could start at five minutes and work up to a longer period from there.
Don't add too much. Regardless of your experience, you should always be careful not to do too much speed work.  A good rule of thumb is that speed work should not be more than 20% of your total weekly mileage.
Take easy days EASY. When you start to add speed work into your training, it becomes critically important to take easy days easy. Almost everyone runs too fast on easy runs and running slower than you want to run can be a hard adjustment. However, if you run too fast on easy days, you will compromise your speed workout because your body needs to be fully recovered from prior runs. Go hard on hard days and easy on easy days.
Include a warm-up and cool-down. Don't jump into speed work without allowing your body to warm up and do not end your workout without allowing your body to cool down. Your warm-up and cool-down should be about a mile or 10 minutes in length.
Let your body recover. It's important to take an easy day or a rest day the day before and after a speed workout so your body can recover. You should never do hard workouts on subsequent days.
Know when to skip speed work. If you think you may have an injury coming on or something does not feel right, your best bet is to skip any speed workouts and not risk making anything worse than it may already be.
Speed work can be is a great way to build confidence, see hard work pay off, and to improve as a runner.  These basic rules will help get you started while helping to keep you injury-free.  Next time, we'll cover different types of runs, which will include different types of speed workouts!
Remember: Prices for the Hogeye Marathon races go up again on February 17th!  Also be sure to check out our Facebook page if you are interested in joining us on Saturday mornings for one of our group runs!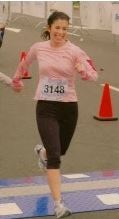 About Beth: Beth is mom, runner, running coach, and the blogger behind RUNNING around my kitchen.  She and her husband adopted two boys who are a month apart and are 1 year old. Beth serves on the board for the Hogeye Marathon and is interested in helping other moms with their training and answering any questions you have.   Be social, connect with other Hogeye runners, and let them hear from you by following them on Facebook, Twitter, and Instagram!  #hogeyemarathon