One of our advertisers here at Motherlode, First School, has been consistently voted tops with local moms in Northwest Arkansas.
In fact, they were voted Best Mother's Day Out in Washington County in our last Mom-Approved awards.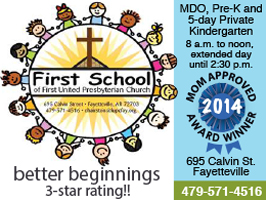 We wanted to give you a heads-up that registration for summer and for the 2015-16 school year is THIS SATURDAY (February 14).
Go HERE for more information and to register.
First School Director, Cathy Hairston, said you can print out the forms, complete them and then mail them in with appropriate fees. (Fall is $75 and summer fees are $50.)
Remember: Forms will only be accepted that are postmarked with Saturday's date, so be ready to print, complete, & mail then.
First School is a faith-based, part-time program that offers a mother's day out (for ages 12 months to 35 months), preschool, and a 5-day-a-week kindergarten.
During the school year, classes are M/W/F or T/TH, from 8 a.m. to noon or 8 a.m. to 2:30 p.m.
In the summer, First School offers a 9-week summer program that includes an elementary age summer camp for K-4th.
First School has a 3-star Arkansas Better Beginnings rating and offers low child-to-teacher ratios.